Elections – Call for Candidates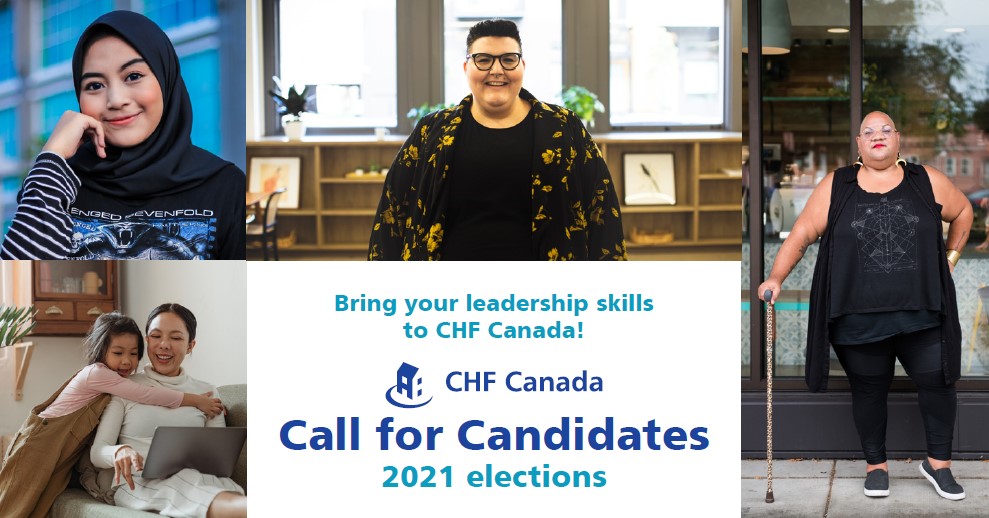 Bring your leadership skills to CHF Canada!
Positions up for election in 2021
Election dates
Nomination process and deadlines
Being on the Board
For more information
---
---
Bring your leadership skills to CHF Canada!
CHF Canada is looking for qualified people to run for positions on our Board of Directors and Finance and Audit Committee.
At CHF Canada's Annual Meeting last year, delegates passed a bylaw restructuring CHF Canada's governance. The resolution reorganizes the CHF Canada Board of Directors and the Ontario Council into a single governance body. The new governance body will be comprised of 16 seats in total with nine regional representatives, one Indigenous Communities representatives and six directors at-large.
Elections for this new governance body will be held in 2021 for all positions.
CHF Canada is a dynamic national association looking for people to represent members and key stakeholders to participate in the governance of a strong federation driven by co-operative values. CHF Canada has over 900 member co-ops, along with regional federations, co-op management companies, staff associations, and many other stakeholder organizations in all parts of Canada.
CHF Canada needs strong leaders, and it starts with you! Here are some of the qualities CHF Canada looks for:
Commitment to CHF Canada and the wider co-op movement
Integrity, honesty, effective listening and communication, collaboration, negotiation and innovative thinking
Skill and experience in areas such as financial literacy, strategic planning, governance and knowledge of the co-op housing sector.
A strong board has members with a diversity of lived experience. People with experience of poverty or homelessness, people of colour, 2SLGBTQ+ people, people with disabilities and people of all ages and cultural and religious backgrounds bring vital knowledge, perspective and community connections to our organization.
We strongly encourage people from historically underrepresented groups to run, and we commit to making sure your experience is safe and welcoming. We also feel it is very important for our younger members to get involved at a governance level, and so we strongly encourage emerging leaders to consider running for election.
Many new directors have no experience at all in association governance, and that's okay! CHF Canada offers an excellent governance training program. We'll help you, as a newly elected leader, to learn the meaning of good governance and how you can contribute to the good governance of your national federation.

Positions up for election in 2021
Regional Director (Board of Directors, three-year terms)
British Columbia/Yukon
Alberta/Northwest Territories
Saskatchewan/Manitoba
Ontario (three positions available)
Quebec/Nunavut
Nova Scotia/Newfoundland and Labrador
New Brunswick/Prince Edward Island
Indigenous Community
Elected online April 1 – 21  (Co-ops in these regions will elect their regional director by using an electronic voting system, and will be contacted separately about how to vote.)
At-large Directors (Board of Directors, three-year terms)
Elected at the Virtual AGM
Finance and Audit Committee
Elected at the Virtual AGM
You can run for these positions if you are:
a member in good standing, director, officer, or employee of a CHF Canada member
18 years of age or older
mentally competent
not an undischarged bankrupt
Election dates
Regional positions and the Indigenous Communities position will be elected via online elections held April 1 – 21.
At-large positions on the Board and the Finance and Audit Committee position will be elected at the AGM which will be held virtually in June.

Nomination process and deadlines
You can nominate someone (including yourself) for election by emailing a completed Nomination Form to our office before the nomination deadline. Candidates for all positions must fill out the Confirmation of Good Standing form before their nomination can be accepted. This is to make sure that all candidates are qualified to serve in the position they are seeking.
To send in your nominations:
Email them to CHF Canada's Corporate Secretary, Christine Seguin, at cseguin@chfcanada.coop. Please make sure your email requests a delivery notification. If you do not have access to email, please contact Karine Ethier at kethier@chfcanada.coop  or 1-800-465-2752 ext. 239 for support in making alternative arrangements.
We strongly encourage all members to declare their nominations as early as possible. We will help candidates by allowing them to tell members about themselves on CHF Canada's website and on CHF Canada's electronic voting site (for regional elections).
Please note that the nomination deadlines are different this year.  This year, different positions have different deadlines, unlike other years when all positions had the same deadline.
Regional and Indigenous Community Director nominations: March 15
At-large Director nominations:  April 30
Finance and Audit Committee nominations:  April 30
Nominations are due before 5 pm EST (Eastern Standard Time) on the deadline dates listed above.

Being on the Board
CHF Canada's Board of Directors governs CHF Canada between annual meetings according to the by-laws and rules approved by the members. It oversees CHF Canada's operations and sets its priorities based on resolutions passed by its membership. The Board makes sure that CHF Canada's management is performing well and is accountable to members. Directors serve a three-year term and can be re-elected for up to two consecutive terms.
The Board:
elects the president, vice president, treasurer among Board members
hires, supervises and evaluates the Executive Director
approves personnel policies and staff salary ranges
approves quarterly financial statements
presents financial statements to the members at the Annual Meeting
prepares resolutions to put forward at the Annual Meeting
reports to members on CHF Canada activities
brings the views of members in their region to CHF Canada discussions
keeps aware of issues facing housing co-ops in Canada and internationally
makes sure that CHF Canada acts with integrity and in the best interests of its members
works to secure the future of CHF Canada and the co-operative housing movement in Canada.
Time requirements for board meetings:
Monday, June 14, 2021: Post-AGM meeting, Videoconference
August 2021 (date to be announced): Orientation for new directors, Videoconference
September 9, 2021: Governance training session, Ottawa or Videoconference (TBC)
September 10-11, 2021: Board of Directors planning session and meeting, Ottawa or Videoconference (TBC)
November 19-20, 2021: Board of Directors meeting, Ottawa or Videoconference (TBC)
March 2022 (date to be announced): Board of Directors meeting, Ottawa, ON
June 2022 (date to be announced): AGM in Halifax, NS
Videoconference calls may be scheduled between meetings. Directors may also serve on CHF Canada committees or represent CHF Canada with other organizations.
Due to COVID-19 travel and gathering restrictions, the in-person meetings are tentative, with videoconferencing to be used as backup.
What costs are covered?
CHF Canada pays travel and hotel expenses for the Board meetings and annual meetings.
Directors receive a per diem, a daily allowance to cover the cost of meals and other expenses while they are at meetings.
Directors can be reimbursed for child care, care of other dependants and some lost wages.

For more information
If you have any questions, you can contact Karine Ethier at the CHF Canada office at 1-800-465-2752 (613-230-2201 in Ottawa), ext. 239 or kethier@chfcanada.coop.
Or contact a member of the Nominating Committee: