Elections
Call for candidates
This year, an election will be held at the AGM for one at-large position on the Finance and Audit Committee. No other positions are up for election in 2022.
Finance and Audit Committee
At-large Committee Member (One two-year position). We're looking for candidates with skill and experience in financial literacy.
Elected at the AGM in Halifax, NS
The nomination deadline is 5 p.m. Eastern time on April 15, 2022. 
Names of candidates will be posted as they are received.
For more information, contact Tim Ross at the CHF Canada office by email or by phone toll-free at 1-800-465-2752 or (613) 230-2201 in Ottawa, ext. 222. You may also contact members of the Nominations Committee:
Forms
To put your name forward, download: 
Scan and email the completed declaration form and the confirmation of good standing by the nomination deadline of 5:00 p.m. Eastern Time on April 15, 2022, to CHF Canada's Corporate Secretary, Christine Seguin.
Who can run?
CHF Canada is a dynamic national association looking for people to represent members and key stakeholders to participate in the governance of a strong federation driven by co-operative values. CHF Canada has over 900 member co-ops, along with regional federations, co-op management companies, staff associations, and many other stakeholder organizations in all parts of Canada.
CHF Canada needs strong leaders, and it starts with you! Here are some of the qualities CHF Canada looks for:
Commitment to CHF Canada and the wider co-op movement

Integrity, honesty, effective listening and communication, collaboration, negotiation and innovative thinking

Skill and experience in areas such as financial literacy, strategic planning, governance and knowledge of the co-op housing sector.

A  diversity of lived experience. People with experience of poverty or homelessness, people of colour, 2SLGBTQ+ people, people with disabilities and people of all ages and cultural and religious backgrounds bring vital knowledge, perspective and community connections to our organization.
We strongly encourage people from historically underrepresented groups to run, and we commit to making sure your experience is safe and welcoming. We also feel it is very important for our younger members to get involved at a governance level, and so we strongly encourage emerging leaders to consider running for election.
Voting
Delegates will use voting keypads for the resolutions at the National Business Meeting. 
When can I pick it up?
Keypads will be distributed between 1 p.m. and 5 p.m. on Friday, June 17, and again between 8 a.m. and 11:30 a.m. on Saturday, June 18.
Where do I get one?
Pick up and sign for your keypad at the kiosk marked 'Voting Keypads' on the convention hall level of the Halifax Convention Centre.
How do I return the keypad?
There will be a container outside the meeting room for you to drop off your keypad at the end of the National Business Meeting.
Candidates: Finance & Audit Committee
Judy Skinner – ACCLAIMED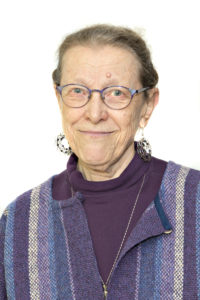 Judy Skinner has extensive experience both as an accounting professional (CPA- CGA) working in the Budget group at the City of Toronto and as Treasurer and Director of Church Isabella Residents Co-operative, where she has lived for over 30 years.  She served as Chairperson of the Toronto Municipal Employees Credit Union for over 10 years until its merger with Alterna Savings in 2018.
Judy has experience with municipal, non-for-profit and charity finances.  At the City she worked with enterprise driven City agencies and core City services delivering recreation and culture.
As a volunteer, she has served as a Director and Treasurer for diverse groups such as the City of Toronto staff association COTAPSA, Women's Health in Women's Hands community health centre and Oxfam Canada.  Currently, Judy is serving as a Director and Treasurer for the Institute for Change Leaders and The Toronto Consort, an early music group.  She also is a Board member at Karma Co-op (food store in Toronto).
With her varied experience and two years on the Finance and Audit Committee, Judy is well qualified to contribute to the future financial welfare of CHF, as CHF moves forward to support both ongoing & new housing co-operatives.