#HumansOfCoopHousing: Dale brings food, celebration and a vision for the future to his co-op
Published May 05, 2021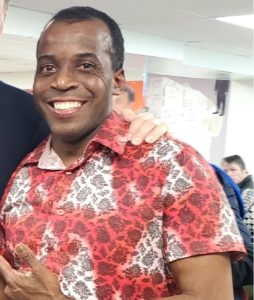 In Jamaica, where Dale Maitland grew up, people often spontaneously drop in and visit or check on their neighbours. While that's less common in Toronto, Dale has worked hard to bring this caring, neighbourly spirit to Oak Street Co-op, where he has lived since 2011.
"I look out for the most vulnerable people, and try to find ways to appreciate them and make them feel valued as community members," he explains.
Most members in the co-op have Dale's phone number, and know they can always give him a call if they're having a rough day or need something to eat.
Every Sunday, he cooks for any of his neighbours who need a warm home-cooked meal. He's gotten many of his fellow co-op members hooked on Caribbean dishes like curry goat, jerk chicken, and ackee and saltfish. He's careful about making sure he knows everyone's dietary restrictions, including making sure his dishes aren't too spicy for them.
Some of the many meals Dale has prepared for his neighbours
At Christmas, he put out a call for anyone who would like a meal, and prepared a feast for 40 of his neighbours, with other co-op members contributing dishes as well.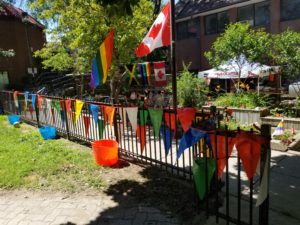 In recognition that Oak Street Co-op is a diverse community near Toronto's Gay Village, Dale also started the co-op's annual Pride Day barbecue. It's become one of the co-op's biggest events, with decorations, performances from members, and of course, lots of good food.
"It's about celebrating the moment," Dale says, "And if we had known COVID was coming, we would have done even more celebrating!"
Dale has been deeply involved in the co-op's governance since he moved in, serving terms as the co-op's president and vice president, and taking part in many committees. He also has his eyes on the co-op's future, and hopes that the area around his co-op can be redeveloped with even more affordable housing, to help address Toronto's housing crisis.
As he puts it: "My co-op is a role model for why we need more co-ops."
Our Humans of Co-op Housing series  features individuals who are making their co-ops a better place or speaking up for the importance of co-op housing. Let us know at info@chfcanada.coop who you'd like to see featured next.
---
Don't miss out on the latest co-op news, success stories, and helpful resources for your co-op. Sign up here to receive our eNews every two weeks straight to your inbox!