Ontario Council
Ontario Council is coming to a close on June 13, 2021.
Since 1996, the Ontario Council has been the governing body of the Ontario Region.
In 2019, CHF Canada undertook a governance review. Ontario Council and the national Board jointly recommended reorganizing into a single governance body.
In 2020, at their annual business meeting, Ontario Region voted in favour of Resolution RI: Unified and effective governance of CHF Canada. The resolution also passed at the national AGM.
The resolution means:
January 1, 2021 By-law 2 and the Operating Rules for Ontario Region repealed
June 13, 2021 duties of Ontario Council finish at the end of the AGM, and
the duties of the new unified governance body commences, once delegates elect their Board.
Meet the Ontario Council
At Large
Allison Chase (2nd Vice-President)
click here for bio
Email
Allison Chase was elected to Council in 2015. She's been a member of Ramer's Wood Housing Co-op in Markham since it opened in 1984.
It didn't take long before Allison was involved in the community where she raised her twins. And over the last 10 years, she's become involved in the broader co-op sector.
Related experience:
Several terms on the co-op board
Co-op president a number of times
Co-op staff liaison officer for 20 years
Non-resident board member for Tapscott Village Co-op
CHFT delegate for Ramer's Wood
CHFT board member
CHFT president
Allison, a retired schoolteacher, is proud of her co-op's tradition with the Good Food Box program, which delivers fresh fruits and vegetables. At the holidays, co-op families in need are identified and receive a free Good Food Box and a gift card for use at a grocery store. "Every year, there's a line in the budget to pay for this. Nobody even questions it. We've been doing it for more than 15 years," she says.
While on Council, Allison wants to work on a smooth transition for co-ops with expiring federal subsidies, as her co-op will face this in 2019. While grateful for the National Housing Strategy commitment, she'd like our most vulnerable members to feel confident that the program meets their needs.
In recognition of her years of volunteering in the sector, CHFT awarded Allison with the Brian Burke Community Builder Award in 2017. GTA co-ops are familiar with Allison's work; now the rest of the Ontario Region benefits from her dedication to co-op housing.
David Corson (Treasurer)
click here for bio
Email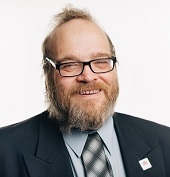 David Corson was elected to Council in 2016. He is a member of Fairlea Park Housing Co-op in Ottawa.
David feels fortunate to have had opportunities to represent various groups, both inside and outside of our sector. Ensuring everyone's voice is heard and working hard on the "agenda of the people" has been humbling, David says. He's learned to be an agent of change, helping to improve the quality of life for others.
David has also faced adversity, being unexpectedly widowed at 46 and diagnosed with MS two years later. "It's not a life I ever expected to live," says David, "but I'm learning to live my life with what I have." He believes these life experiences have helped him find an inner strength. It's also made him determined to help others in housing co-ops who may need help with aging in place accommodations, getting a geared-to-income subsidy or being able to stay in their chosen communities. David attributes his creative problem-solving abilities to his extensive experience outside the sector.
Related experience:
CHASEO representative at the Ontario Federations' meetings
CHASEO president, V-P and corporate secretary
Fairlea Park Co-op,  president and director
Nova Scotia ministerial advisor to the premier for Adult Literacy
President, Algonquin College Students' Association ($83 million assets, $11 million revenue)
On Council, David brings his passion for plain language to help ensure members' experience is the best.
David McFarlane (President)
click here for bio
Email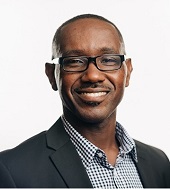 David McFarlane was elected to Council in 2016. He works for Mondragon Co-op.
David ran for Council because he felt he had developed a skillset that would be of benefit: excellent communication skills, strong relationship-building abilities, financial analytical skills, project management, governance leadership and most importantly, understanding of the sector's needs.
Related experience:
10 years of co-op management
MondragonCo-op manager, during a successful refinancing program, a process which completed millions of dollars in capital repairs
Peel/HaltonCo-operative Housing Federation (PHCHF) director (currently vice chair)
External meeting chairperson forco-ops
Workshop facilitator atco-ops and organizations such as the Peel Centre for Addiction and Mental Health.
David's introduction to housing co-ops came through growing up in Fletcher's Creek Co-op in Mississauga. He found that his involvement with PHCHF gave him the opportunity to gain a great deal of experience dealing with issues that co-ops face. Being a member of the sector provided him with many opportunities for growth and development; he thinks it's only fitting that he give back to a sector that has given him so much. "I believe in co-op housing and all we stand for: safe and inclusive communities, stable housing, and democratic control of our housing," says David. "I guarantee that I will work hard to make sure every voice is heard on the issues of maintaining subsidy programs and the development of more housing co-ops."
Federations
Mary Ann Hannant (Vice-President)
click here for bio
Email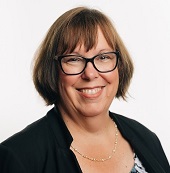 Mary Ann Hannant was elected to Council in 2017. She works for the Co-op Housing Federation of Toronto (CHFT).
"My work with co-op members began when I answered my first phone call at CHFT on April 4, 1988," recalls Mary Ann. "Ever since then, I've been attending members' and board meetings throughout the Greater Toronto Area, supporting good governance in our member co-ops. I can truly say that I'm just as enthusiastic now, 29 years later."
Related experience:
Co-op Advisor at CHFT
Chair of CHF Canada's Federations Committee (national)
Co-chair of joint Ontario federations meetings
Chair of planning committee for the first Ontario Educators' Conference
Mary Ann brings to Council her practical experience of working with other federations. As Chair of CHF Canada's Federations Committee, she learned about the similarities and differences between large and small federations across the country. Since 2014, she's been very involved in the historic meetings held with senior staff and volunteer leadership from all five of the Ontario federations.  Working to improve the future of the sector in Ontario, the federations signed the Memorandum of Co-operation at the 2016 AGM.
Mary Ann has worked with other federations to improve educational and other services offered to their members. In 2014, she helped produce a three-day training session for workshop leaders from CHFT, Peel-Halton CHF and the Central Ontario CHF. In 2016, she co-facilitated a workshop for people who chair difficult meetings for the federations' member co-ops.
One of the important things that came out of the Memorandum of Co-operation was the first ever Ontario Educators' Conference, held in November 2016. Mary Ann chaired the planning committee that brought 30 educators together for a day of professional development and networking. The federations hope to hold these conferences on a regular basis in the future.
Northern Ontario
Sarah Jensen
click here for bio
Email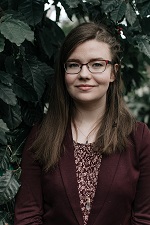 Sarah was elected to Council in 2020. She has lived in Castlegreen Housing Co-op since she was seven years old.
Her co-op experiences have contributed to her sense of social justice and her strong belief in the values of community engagement. By the age of 14, she was heading up a community garden committee, and by 18, she was elected to Castlegreen's board. Her work as a youth engagement coordinator for the Ontario Cooperators Association has shown her that lifting each other up and working together to create a sense of belonging are deeply rooted values in the broader co-op movement.
Sarah found her passion for advocacy when she had what she calls a "transformative experience". As a member of Canada's Emerging Co-operators, she had a chance to lobby MPs to invest in the co-op sector. The dynamics of government intrigued her, and the positive feedback she received from parliamentarians with whom she spoke led her to believe she had found her calling. She enrolled in the pre-law program at Lakehead University, and decided to seek a position on the Ontario Council.
Despite the challenges presented by the vast distances in northern Ontario, Sarah hopes to hear from many across the region. She wants to:
see more development of co-ops in the north
address the high rate of homelessness and other social issues
inspire more young people to get involved in the democratic process
harness the natural passion of the younger generation and encourage youth engagement at housing co-ops
Sarah's other keen interest is biology, so when she's not busy promoting co-ops, she can often be found working with her bees, or enjoying the great outdoors in a kayak or on a hike.
Staff Organizations
Carine Nind
click here for bio
Email
Since she moved into Brighton Yards Housing Co-op in 1986, Carine Nind has been a leader in the housing co-op sector.
She has since served as a board member and officer in housing co-ops and as a development consultant and operational services manager. Throughout her years of service, Carine has upheld her belief in supporting others through their empowerment.
Carine spent seven years at Brighton Yards, where she was active on the board, including a term as president. In 1988, the (now defunct) Waterloo Wellington Non-profit Homes (WWNPH) approached her to join them as a developer, and Carine helped to develop 1,700 units, using a variety of federal and provincial housing programs.
In 1990, she sat on the board of the Co-operative Housing Association of Ontario (CHAO) during its amalgamation with CHF Canada. She went on to develop and manage housing co-ops and non-profit housing until 2003.
In 2003 Kitchener's Willowside Housing Co-operative hired her as general manager, and she continues to work there. She describes the co-op as being in "wonderful shape".
CHF Canada trained Carine as an educator in 2009, and she works as educator and as the local staff representative.
As member of the Ontario Council, Carine is committed to advocating for housing co-ops and holding the current government accountable.
Since the new provincial government has been in place, they have cut two programs that Willowside was lining up for: a green energy program and a renovation grant. She will be advocating for federal government funding.
Carine brings to the board her extensive knowledge of housing programs and the dynamics of diverse membership. "Willowside has over 24 nationalities represented, and they all get along fine." She believes it's important to take the time to listen to each other.
She sits as an external director on the board of Kitchener's Sand Hills Co-operative, a co-op in difficulty.
Carine has a ton of energy and passion for the sector. "Once I moved into co-ops and learned to be a co-operator, I haven't looked back. I truly believe in the co-operative movement. We have good principles, mission and vision, and I think we should all live this way."
Carine lives in Kitchener's Asgard Green Co-op with her husband and eleven-year-old grandson. She has a passion for cooking and enjoys supporting her husband in his gardening work.
Ontario Regional Director
Tom Clement
click here for bio
Email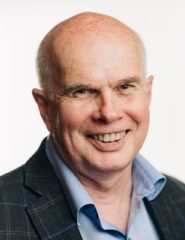 Tom Clement was elected in 2017 as the Ontario regional director on the CHF Canada Board: this director also sits on the Ontario Council.
In a career spanning over 40 years, Tom has always believed in the power of co-ops to create a better world.
Tom moved into Grace MacInnis Co-op in downtown Toronto in 1978.  In 1979, he became the manager of the Alexandra Park Co-op. Tom joined the staff of the Co-op Housing Federation of Toronto (CHFT) in 1981 as the Member Services Co-ordinator. At that time, the federation had 35 member co-ops; today, it has over 180 housing co-ops. In 1994, Tom became Executive Director.
During his quarter of a century as the ED for CHFT, Tom has many accomplishments under his belt. Highlights include:
Land Trust: Tom has been involved in the administration of the over 4,300 co-op homes which are part of a land trust portfolio. He also played a critical role in converting 770 units contained in three buildings which became City Park Co-op. the co-op is part of the land trust.
Atkinson Co-op: Tom played a key role in the first public housing conversion in Canada when Alexandra Park became the Atkinson Co-operative. Atkinson Co-op provides homes for over 400 families. The co-op is currently undergoing a large-scale revitalization.
Diversity Scholarship: In 2004, the CHFT scholarship program has awarded over 300 scholarships valued at $1.6 million dollars. Tom has worked with CHF Canada and the regional federations to offer the scholarship program in nine regions in four provinces.
Memorandum of Co-operation: Tom played a key role in the historic 2016 agreement signed between Ontario's five regional co-op housing federations.
Related experience
First president of the Co-operative Housing Association of Ontario (CHAO)
Involved in the successful merger between CHF Canada and CHAO
Elected for several terms to serve on the Ontario Council
Was active in discussions that created the provincial housing programs
Part of the team (CMHC, provinces and co-op housing sector) that created the Agency for Co-operative Housing
As well as serving on Council and Board, Tom has supported CHF Canada in numerous roles:
CHF Canada's Education Committee
The Risk Underwriting Fund
The Federal Co-operative Stabilization Fund
Chair of the Executive Directors Roundtable
In 1994, Tom won the CMHC Award for Outstanding Contribution to Co-op Housing. In 2016, CHF Canada awarded Tom as an Honorary Lifetime Associate, in recognition of his numerous contributions to co-op housing.
N.B. At the 2019 AGM, CHF Canada members passed Resolution R1: Governance Reorganization. The resolution directs the CHF Canada Board of Directors and Ontario Council to "reorganize into a single governance body by the close of business of the 2021 CHF Canada Annual General Meeting."
Interested in getting involved?
Learn more about our elections; find out who can run and how to become a candidate.

FAQ
Related Links