CHF Canada staff in their communities
Published July 28, 2021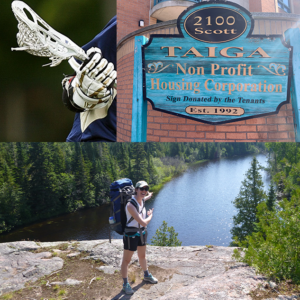 We know that many co-op members and staff are active volunteers, both at their co-ops and in the broader community.
CHF Canada staff are also dedicated to showing concern for their communities, and take part in a variety of volunteering activities, both within and outside of the co-op housing sector.
Here are a few of the ways CHF Canada staff are engaged in their communities:
Melissa Estable
As CHF Canada's Manager, Co-operative Housing Development, Melissa helps promote and support the construction of more co-op homes across Canada.
She is also a founding member of the board of Community Affordable Housing Solutions, a growth-focused land trust in Toronto.  She also serves on the board of her small and tight-knit condo, where residents work together to maintain the landscape, take out the compost, and, in non-pandemic times, organize social events.
Blair Hamilton
Co-ops in Alberta, Saskatchewan, and Manitoba know they can turn to Blair, CHF Canada's Winnipeg-based Regional Manager, Prairies, whenever they need advice.
For the past 25 years, Blair has been actively engaged in fundraising for the South Africa Education Support Project.  Born out of the anti-apartheid movement, the project funds education, employment and community development initiatives in the Kwa-Zulu Natal region of South Africa.
Courtney Lockhart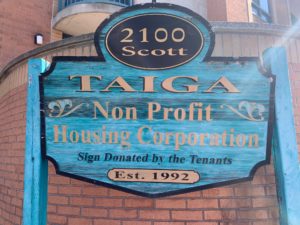 As CHF Canada's Program Manager, Policy and Government Relations, Courtney works with elected officials to make sure that co-op housing is part of the conversation around affordable housing.
Courtney is also a board member of Taiga Non-Profit Housing, which provides affordable housing for over 100 households in the Westboro neighbourhood of Ottawa. Over the past year and a half, the Taiga Board has been pursuing a merger with Centretown Citizens of Ottawa Corporation (CCOC) to create more long-term stability for the tenants. Courtney has been actively involved in this merger, and by the end of 2021 Taiga will officially be a CCOC property.
Cynthia Mitchell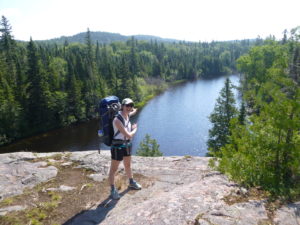 Cynthia works closely with CHF Canada's members as Program Manager, Membership & Events, and also plays a big role in organizing the Annual Meeting.
She is also President of the board at Co-op Voisins, and a board member of the Friends of Lake Superior Park.
Lee Pepper
Lee is CHF Canada's Co-ordinator, Communications, working on CHF Canada's website, social media, and eNews.
They also serve on the board of North American Students of Co-operation (NASCO), where they work to build community and capacity amongst group-equity co-ops throughout North America. They're also a past board member of the non-profit housing provider Centretown Citizens Ottawa Corporation (CCOC), and currently sit on a Governance Committee dedicated to making CCOC's governance more equitable and more representative of its membership.
Linda Stephenson
Linda is CHF Canada's Manager, Asset and Financial Planning Services, helping make sure co-ops are safe and financially sustainable.
Outside of work, she is also a new board member at the Funeral Co-operative of Ottawa, which provides not-for-profit funeral arrangements to its members.
Patricia Tessier
At CHF Canada, Patricia works as Director, Member Services, overseeing the services CHF Canada provides to its members, like education, advice, grants, awards and scholarship, events, insurance programs and asset and financial planning services.
Patricia is a board director for Compass Ontario and Essex Non-Profit Homes. In her spare time, she has also volunteered on the Inclusion, Diversity, Equity and Awareness Committee of the Gloucester Lacrosse Association. She has also founded an online caring community, and takes part in a seniors pen pal program with her kids.  She also participates regularly in fundraising campaigns like Run for the Cure and the Terry Fox Run.
---
Don't miss out on the latest co-op news, success stories, and helpful resources for your co-op. Sign up here to receive our eNews every two weeks straight to your inbox!