CHF Canada's top priority for 2021 Ontario Budget is to fix funding formula at end of mortgage
Published March 02, 2021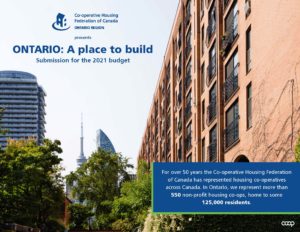 CHF Canada made a submission to the Ministry of Finance on February 12, and shared an expanded set of recommendations to all MPPs for Ontario's 2021 Budget.
The submission made three recommendations: 
1. Fix the funding formula for co-ops. This is our top priority. Half of Ontario co-ops – 21,000 co-op homes – fall under the Housing Services Act (HSA). Once their mortgage is paid off, the current funding formula leaves these co-ops unable to fund the major capital repairs and renewals necessary for these 35+ year old buildings. Fixing the funding formula will allow co-ops to protect these affordable homes for generations to come.
2. Invest in new affordable housing. Prior to the pandemic, nearly half of all renters spent 30% or more of their income on housing. The economic impacts of Covid-19 has made this situation worse. Ontario should invest in building new affordable housing to help those who have been hardest hit by the pandemic and stimulate the economy. 
3. Take an Affordable Housing First approach to provincial real estate. The government could significantly reduce the cost of developing new affordable housing if it leverages its real estate assets for affordable housing development.
Check out the submission for more details.
Download and share our budget submission graphics:
---
Don't miss out on the latest co-op news, success stories, and helpful resources for your co-op. Sign up here to receive our eNews every two weeks straight to your inbox!