Nova Scotia Affordable Housing Commission submits final report to Minister
Published June 02, 2021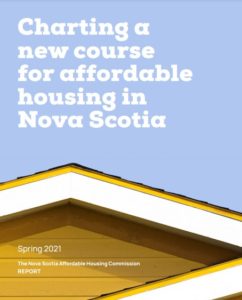 On May 31st, the Nova Scotia Affordable Housing Commission submitted its final report, entitled "Charting a new course for affordable housing in Nova Scotia" to Infrastructure and Housing Minister Geoff MacLellan. It includes 17 recommendations and 60 meaningful actions to the provincial government to help meet the diverse housing needs of Nova Scotians. Minister MacLellan will now take the report to cabinet and the Treasury Board.
"Nova Scotia is currently experiencing a lack of affordable housing," said CHF Canada's Karen Brodeur, Manager Atlantic Region, "and the housing co-operative sector is positioned to play a lead role in the development of community housing."
In November 2020, Karen Brodeur, CHF Canada's Manager Atlantic Region was appointed to the Nova Scotia Affordable Housing Commission.  The Commission's mandate included examining the current state of affordable housing in the province and recommending meaningful action to increase the supply of, and access to, affordable housing.
CHF Canada provided input through a submission to the Commission in May 2021.
Download a copy of the Commission's final report here.
---
Don't miss out on the latest co-op news, success stories, and helpful resources for your co-op. Sign up here to receive our eNews every two weeks straight to your inbox!