Ontario releases a Service Agreement FAQ
Published April 19, 2023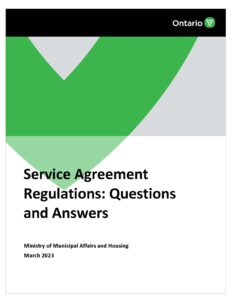 Ontario has released a Service Agreement FAQ for community housing providers regulated under the Housing Services Act (HSA).
As CHF Canada reported last year, our Fix the Funding Formula campaign resulted in new provincial regulations for HSA co-ops at the end of their mortgage.
The Ministry of Municipal Affairs and Housing, in consultation with the Community Housing Renewal Reference Group (CHRRG), has published a 12-page document answering frequently asked questions about the new community housing framework. CHRRG is a committee made up of Service Managers and sector organizations, including CHF Canada.
Use this new resource to help your HSA co-op prepare for end of mortgage. It covers a variety of topics, from financial plans to Service Agreement negotiations.
You can download the Service Agreement regulations FAQ from our End of Mortgage webpage.
Take note: The reference to federal housing providers in question #2 (What options do federal projects have?) does not apply to housing co-ops.
---
Don't miss out on the latest co-op news, success stories, and helpful resources for your co-op. Sign up here to receive our eNews every two weeks straight to your inbox!