Diversity Scholarships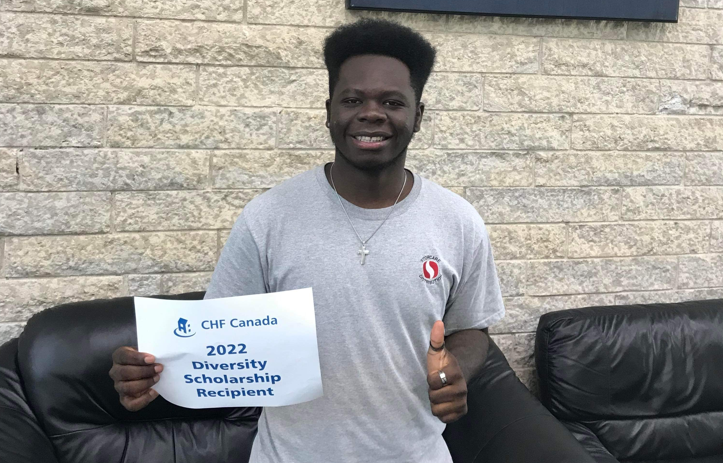 Why a Diversity Scholarship?
CHF Canada recognizes that the strength of its membership is in the many cultures and identities represented within Canada's housing co‑ops. CHF Canada has joined with regional federations across the country to recognize and support young people living in housing co-ops who are actively involved and promoting diversity in their community. The goal of the Diversity Scholarship program is to financially support emerging leaders of the co‑op housing movement in their pursuit of post-secondary education. As of 2022, more than $1.9 million has been awarded to over 440 scholarship recipients.
Training Scholarships
A limited number of scholarships for leaders of any age who wish to undertake training to improve their skills to better serve their housing co-operative. Training in diversity, inclusion, reconciliation, unconscious bias, gender equality and language training are all examples of possible training options.
Who can apply?
Scholarships are available to members of CHF Canada member housing co-ops in Manitoba, the Atlantic provinces and Southwestern Ontario (from Woodstock west to Windsor).
Young members aged 35 and under will be prioritized in the selection process. For full eligibility requirements, see the online application form.
Diversity scholarships are also available through the following regional federations: CHFT, PHCHF, GHCHF, COCHF, CHASEO and CHF BC. Make sure you apply with your local co-op housing federation and that your co-op is a member.
Training scholarships are available to board and committee members of any age.
How much are the scholarships?
Diversity Scholarships
$2,000 for 1st year and $1,000 for subsequent years, to a maximum of $5,000.
Training Scholarships
Maximum of $1,500 for short-term courses no longer than one year.
What programs of study are covered?
Scholarships will be awarded to recipients entering post-secondary education or to full-time students currently pursuing a degree.
Training scholarships will be awarded to board and committee members for short-term courses no longer than one year.
What information will I need to provide?
Name of program and educational institution you plan to attend

Cost of program (training scholarship only)

Proof of registration (if you are already in a college or university program)

Two most recent volunteer activities you participated in that helped to support your community or co-op

One reference letter

 from someone who could speak to your academic success or community contributions such as:- A teacher, guidance counsellor or administrator from your school- A college or university instructor or professor

– Your co-op's manager

– An employer

– Someone who worked with or supervised you in a volunteer capacity

An optional reflection on ways in which housing co-ops and/or the co-op housing sector can become more diverse, inclusive and take steps toward great equity.
How do I apply?
2023 applications are closed.
Questions?
Atlantic
Cathy Volans
Co-ordinator, Co‑operative and Planning Services (Atlantic)
1 (866) 213-2667
cvolans@chfcanada.coop
Southwestern Ontario
Denise McGahan
Program Manager, Member Services
1 (800) 644-3949
dmcgahan@chfcanada.coop
Manitoba
Maria Vaiaso
Regional Manager, Praries
mvaiaso@chfcanada.coop
Sponsors
The scholarship program across all federations is made possible by donations from over 70 companies, organizations and individuals.
Thank you to the sponsors of our Diversity Scholarship program: the Agency for Co-operative Housing, Bluenose Engineering, The Cooperators, Community Housing Management Network, Dome Services Group, HUB International, IRC Building Sciences Group, Prentice Yates & Clark, Village Canadien Co-operative, and Westboine Park Co-op.