Greener Co-op Microgrants
All of the funds for the 2018 Greener Co-op Microgrant have now been allocated. 
Why a Greener Co-op Microgrant?
These small grants support projects that help protect the environment.
Who can apply?
Any member of CHF Canada who has not received a grant in previous years.
How much are the grants?
CHF Canada accepts grant requests for $500 to $4,000. Successful recipients will receive a single payment after submitting receipts and a final project report.
What are some examples of projects the Greener Co-op Microgrant will fund?
composting, community gardens, rain barrels
planting trees
safe and secure bike and carrier storage
lighting upgrades
energy audits
viability studies for projects like roof gardens or grey-water harvesting
Check out the projects that were funded in 2017 for inspiration!
These are just a few examples. Use your imagination! If you think your project would have a positive impact on the environment, send us an email and we can discuss whether it meets the microgrant's objectives. 
What does the grant cover? 
materials, supplies and equipment
contractor or consultant fees
What isn't covered?
members' labour
co-op staff wages
normal co-op operating costs
ongoing costs associated with maintaining the project after completion 
How long do you have to complete your project?
 This depends on the size and complexity of your project. However, all funds must be spent and requested by the end of the year granted. You will be required to submit a project plan with deadlines and a budget. Note that your grant funds will not be sent to you until your project is completed, so please keep this in mind when estimating the project's completion date. 
How do I apply?
All of the funds for the 2018 Greener Co-op Microgrant have now been allocated. 
Complete the application form when the application process is announced each year. Grants will be approved on a first-come, first-served basis.
Questions?
Julie LaPalme
jlapalme@chfcanada.coop
CHF Canada would like to acknowledge the generous contributions of The Agency for Co-operative Housing, CHF BC, Housing Services Corporation (HSC) and our latest contributor, Co-op Cost Cutters to the Greener Co-op Microgrant fund.
2017 Microgrant Summary of Projects
1. Bogart Creek - Newmarket, ON - Community gardens and rain barrels - $3,400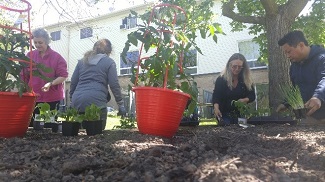 Many members showed an interest in assisting with the vegetable garden and were very impressed with the idea and the end result.  Ripe vegetables were placed in an area where members could come out and take what they liked. This was a good way to monitor if changes needed to be made to the variety of plants.  Next season the co-op will encourage children to participate in the program and assist with watering and handing out vegetables. There was even discussion regarding adding another raised box next year.
2. Bread and Roses – Kitchener, ON – Bicycle room with posts and tools - $4,000
The co-op installed new bike posts, as well as an air pump and a bicycle maintenance stand. The end result is a fully functional bike room that looks like it was built to serve cyclists, instead of a maintenance room with some space for bicycles. Cyclists who currently live in the co-op feel like they are valued as members. Cyclists who may want to apply to the co-op now have an additional reason to do so. In short, the co-op is now an even greener co-op.
3. Castlegreen – Thunder Bay, ON – Two rain gardens - $1,448
4. Coady – Ottawa, ON – low-flush toilets - $3,121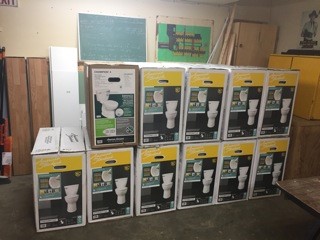 Thirteen toilets were purchased to replace very old large-tank toilets that were a strain financially due to waste and upkeep. The new American Standard Champion'4′ toilets do not require frequent maintenance and use 5L per flush instead of 13L. The co-op's impact on the environment is lessened since significantly less water is being used.
5. Corktown – Hamilton, ON – bicycle lock up gate and fence - $3,506
The co-op hired a company to design and install a gate and fence for storing bikes. It's set back from the edge of the upper balcony so that someone cannot climb up. It's open enough to allow the humidity exhaust from the laundry room to escape. And, the gate is wide enough for bikes and people to go in and out with ease. Volunteers will be working to install the actual bike racks on the inside of the gate and lock and key will be installed.
6. Cougar Canyon – Delta, BC – Exterior LED lighting - $1,902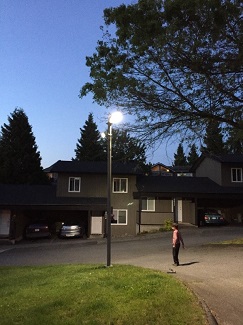 The co-op began changing exterior lighting from incandescent to LED lightbulbs in 2016. They started with front door entrances and carport lighting. The BC Hydro ECAP program installed LED lightbulbs in all the units, installed low flow showerheads and aerators, and wrapped pipes from the hot water tank. The co-op carried on with changing exterior lighting to flood LED lighting. One of the walkways was previously very dark at night and the gate was frequently vandalized. The walkway is well lit now and has security cameras aimed on it at all times. Many members have commented on how bright it is and how pleased they are with the extra sense of security as well as the energy savings and lower costs to be seen on the co-op's electricity bill.
7. Dalhousie – Ottawa, ON – 15 rain barrels - $1,525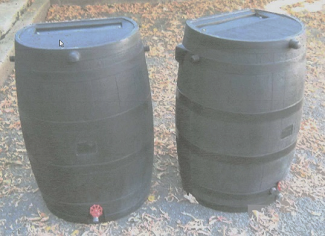 Fifteen rain barrels were installed in shared communal spaces and gardens so that the members may have quick access to a source of water without having to use filtered water from outdoor taps. Rain barrels are an excellent first step towards the co-op reducing its water use and ultimately its environmental impact. The initial survey of the members to determine the quantity of rain barrels to order opened the topic of conversation on environmental impact and what actions we can make in our daily lives. Many members expressed enthusiasm to participate in similar programs to make the co-op greener and more sustainable. One of the co-op's cluster of houses had as a goal this summer to improve the exterior landscape through the start of a new garden and particularly appreciated having a rain barrel as seedlings require a lot of water initially.
8. Hromada – Edmonton, AB - Solar Garden Shed Charging Station - $3,112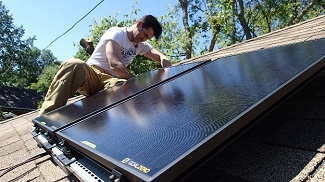 The genesis of this project was a simple "What if…", inspired by the experience of trudging behind an ear splitting, fume spewing gasoline powered lawn mower. After the unsuccessful attempt at a rechargeable  lawnmower, the co-op decided to form a Solar Committee to  investigate alternative energy initiatives. They came up with solar panels on a garden shed to provide a charging station for battery powered yard care tools. They  replaced all gas powered equipment with a fleet of battery powered units. After learning the language and application of solar technology they trained members on how to use the charging station. Members are keeping track of charging times in order to understand the optimal scheduling of use and recharge cycles. The transition to alternative energy sources helps us understand and respond to nature's rhythms, a long lost connection.
9. Marshwinds – Moncton, NB – Garden Boxes and Rain Barrels - $1,941
The co-op added eight new garden boxes to the existing four in the unused children's park square. To ensure longevity of the boxes, the wood is cedar which means less upkeep. Members of the co-op filled the boxes with soil within the first week of having them assigned to them. Two rain barrels were also installed to lower water consumption and to make it easier to water the gardens, especially where it is far from the nearest water outlet.
10. Nova Vita – Burnaby, BC – Garden - $3,969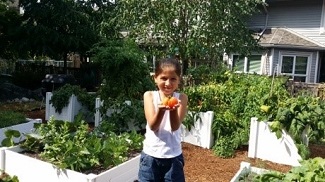 Last year a few members put together a small garden and invited the children in the community to come and plant some vegetables. The great response to this small garden motivated the co-op to expand the project. They started the project in the spring in order to have it ready to plant by the end of May. The co-op also included a picnic table to allow for gatherings near the garden. To say it was a success would be an understatement.  Most everyone in the community got involved and benefitted from the new garden and are all looking forward to next year.
11. Village Canadien – Selkirk, MB - $3,540
The conscious use of natural resources in addition to the economic use of water motivated the co-op to renovate their bathrooms, starting with the installation of  sixteen dual flush toilets at the eight townhouses. The work was completed by the co-op's maintenance staff who removed the old toilets and replaced them with dual flush toilets. The dual flush toilets use 40% less water per flush. The water savings will be used towards other green projects Receiving the Greener Co-op Microgrant was a highlight for the co-op. They are looking forward to implementing new projects to advance sustainability and to inspire their members and neighbours.
12. Western Manitoba Seniors - Brandon, MB – Exterior LED Lighting - $3,540
Combining the microgrant funds with the Manitoba Hydro Energy Efficient LED light program made this exterior lighting project possible. The co-op's parking lot is now very well lit at night making the co-op more secure and energy efficient. The new fixtures, while operating at a significant reduction in power consumption, also reduces the service cost of replacing bulbs and ballasts every few years.
13. Westwood Co-op Place – Niagara Falls, ON – Community Garden - $1,629
The co-op installed nine individual raised beds, three individual accessible beds, and two community plots. One of the community plots is what is known as a 'lasagna bed' and is common in permaculture garden designs. The Lasagna bed was installed by the Niagara Farm Project.
Construction took place over the month of May. By the weekend of May 20, the garden beds were ready for planting.
All individual plots were each assigned to individuals/families living in the community. Members shared the maintenance as well as the harvest from these community garden plots. Surplus food went into a free food box and was used by various members of the co-op.
In June, the garden committee hosted a "gARTening" event for the children in the co-op where they painted a garden sign and bird boxes to beautify the space. The children also planted potatoes in the community beds.
In terms of producing free healthy food for the community, encouraging biodiversity, boosting community morale and learning important lessons in relationship building, the garden was a definite success. The garden became a space where people gathered almost on a nightly basis. Many people started new friendships and new interactions were made between neighbors.
Next year the co-op plans to bring in more of an education component and solicit new members to the garden, as there has been plenty of interest expressed by members who missed out on the gardening action in its first season.
14. Winkleigh – Hamilton, ON – LED lighting retrofit - $4,000
The co-op converted lighting in the offices, hall and security wall lighting in the common areas to LED light fixtures. The new exterior security LED wall packs have greatly increased the lighting at night, making it safer. The new lighting in the office and park hall is a welcome improvement. The reduction in operating costs and energy consumption has already been seen on the co-op's first hydro bill. The co-op combined funds from the microgrant and a government rebate along with its own funds to complete this project.