Greener Co-op Microgrants
Applications are now closed for the year. Check back next year for the 2021 application. 
Housing co-ops are encouraged to design and implement projects that will help green their communities. Even the grant money is green! It comes from a fund to offset greenhouse gases emitted when staff travel across the country by plane, train or car.
CHF Canada will fund small projects from $500 to a limit of $4,000. All CHF Canada member housing co-ops can apply.
---
Why a Greener Co-op Microgrant?
These small grants support projects that help protect the environment.
Who can apply?
Any housing co-op that is a member of CHF Canada can apply.
How much are the grants?
CHF Canada accepts grant requests for $500 to $4,000. Successful recipients will receive a single payment after submitting receipts and a final project report. The grant request must be for projects related to one of the categories listed.
Will all qualified applicants get a grant?
Funds are limited and will be distributed according to geographic representation, size and variety of projects. Co-ops leveraging additional funds and/or forming partnerships with other partners and suppliers will be given special consideration. Incomplete applications will not be considered.
What are some examples of projects the Greener Co-op Microgrant will fund?
composting, community gardens, rain barrels
planting trees
safe and secure bike and carrier storage
lighting upgrades
energy audits
viability studies for projects like roof gardens or grey-water harvesting
Check out the projects that were funded in 2019 for inspiration!
These are just a few examples. Use your imagination! If you think your project would have a positive impact on the environment, send us an email and we can discuss whether it meets the microgrant's objectives. 
What does the grant cover? 
materials, supplies and equipment
contractor or consultant fees
What isn't covered?
members' labour
co-op staff wages
normal co-op operating costs
ongoing costs associated with maintaining the project after completion 
How long do you have to complete your project?
 This depends on the size and complexity of your project. However, all funds must be spent and requested by the end of the year granted. You will be required to submit a project plan with deadlines and a budget. Note that your grant funds will not be sent to you until your project is completed, so please keep this in mind when estimating the project's completion date. 
When will you get the money?
You will receive a single payment after you submit receipts and a final project report. Payment will be made upon receipt of the final report and receipts. The deadline for submitting reports and receipts is November 29, 2019. Co-ops that do not submit reports and receipts on time will not be refunded.
What are the reporting requirements?
When your project is done, send us a final report of no more than one page. Tell us what you did, send us a summarized list of the costs and include receipts. Also send us before, during and after pictures of your project. Submit the report and receipts no later than November 29, 2020.
When will you know if your application has been approved?
Approvals will be announced two weeks following the submission deadline.
How do I apply?
Applications are now closed for the year. Check back next year for the 2021 application.
Applications for the Greener Co-op Microgrants are open from February 28 to April 30.
This year the application process is completely online, including the submission of a project plan and budget.
Co-ops can only apply for one project. Previous grant recipients can apply again.
Sponsorship
If your organization has a focus on sustainability, help us expand our Greener Co-op Microgrant Program. Consider becoming a sponsor so that more co-ops across Canada can access these grants.
Questions?
Julie LaPalme
JLapalme@chfcanada.coop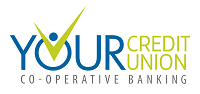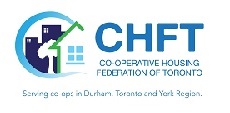 CHF Canada would like to acknowledge the generous contributions of The Agency for Co-operative Housing, Assurances Lussier Dale Parizeau, Caisse d'économie solidaire, Carson Wagonlit Travel, CHF BC, the Community Housing Management Network, the Community Housing Transformation Centre, the Co-operative Housing Federation of Toronto, FECHIMM, Iler Campbell, IRC Building Sciences Group, Marcil Lavallée, Spice Management Group, and Your Credit Union, to the Greener Co-op Microgrant fund.
2019 Microgrants Summary of Projects
Twenty-one housing co-operatives received a total of $51,217 in Greener Co-op Microgrants.
Eleven were in Ontario, four in BC, two in Quebec, and one each from Manitoba, Alberta, Saskatchewan, and PEI.
There were seven community garden initiatives, five LED lighting replacements, one workshop for bicycles, one low-flush toilet installation project, a composter, one bike rack, one tree planting initiative, and one co-op replaced all their thermostats with programmable ones.
Andy Andras Seniors – Ottawa, On – Composter - $1,000
Since its arrival, the new tumbler composter has created a sizeable amount of compost for the co-op's gardens. The landscaping committee is currently working on improving the composter's efficiency by using wood pellets. The board has also developed a composting policy to provide clear guidelines.
Artemis – Winnipeg, MB – Window tinting - $2,380
Artemis Co-op installed tinted mylar film on all its south-facing windows (85% of the co-op) in order to reduce heat created by sunlight. This measure blocks 37% of the sun's UV rays and has significantly reduced the need for air conditioning.
Brébeuf – Ottawa, ON – Community garden - $3,384
Brébeuf Co-operative purchased a series of raised-bed garden barrels and grew organic tomatoes, peppers, herbs and onions. They also purchased water barrels, a composter, soil, plants, and gardening tools. The children enjoyed composting and weeding and are looking forward to next year's harvest.
Cariboo Heights - Burnaby, BC – Indoor Parking Lot LED lighting - $3,307 
Cariboo Heights replaced their T8 fixtures, exit signs and emergency lighting in the underground parking lot with LED lights. This has increased the visibility in the parking lot and reduced electricity consumption.
Carillon – Ottawa, ON – Tree planting - $3,173
The co-op removed diseased trees and replaced them with two honey locusts and one birch tree, providing much-needed shade as well as food and shelter for wildlife. The new trees also improve air quality by absorbing carbon monoxide, sulphur dioxide and nitrogen dioxide.
Catalpa – Ottawa, ON – Low-flush toilets - $1,525
Catalpa Co-op replaced all the toilets in the nine-unit co-operative with a low flush model. This will result in an estimated yearly savings of $20 per toilet and significantly reduce water consumption.
Clearview – Red Deer, AB – Rain barrels - $3,678
With the help of the microgrants and some in-house funding, Clearview Co-op purchased rain barrels and stands, for each of the 24 units. The co-op ended up using existing parts to direct water into the rain barrels instead of buying rain spout extensions and co-op members pitched in to install the barrels.
Constance Hamilton, Toronto, ON – Bike racks - $547
The co-op created a secure bike storage space to incentivize members to cycle and reduce their carbon footprint. In future, the co-op would like to add a tool station so members can learn how to maintain their bicycles, thus empowering their mostly female members.
Conservation Co-op - Ottawa, ON – Community Garden - $2,895
The co-op's original garden plots used to be beautiful and well-tended, but they needed a serious overhaul and a lot of thinking through, which delayed implementation. The co-op purchased the planters and look forward to installing them in time for next year's growing season.
Coop Cécile – Hearst, ON – Community gardens and water barrels - $3,849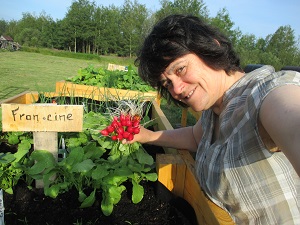 Due to its northern location, the project didn't start until late June. The raised-bed gardens were built by a local artisan and then transported to the co-op, which was a challenge as they were 200 lbs each! The garden seeds came from Maison Verte, a social enterprise that creates employment for women, and members harvested fresh vegetables until the end of September.
FECHIMM (Coopératives Coup Double et Notre Dame de Fatima) – Montreal, QC – Community Gardens - $3,551
This community garden project brought together adults and children from two housing co-operatives located in the same Montreal neighborhood. One of the gardens is reserved for the children so they can learn how to garden. This collaboration has fostered new relationships and gardening skills within the community.
Grand Marais – Windsor, ON – Exterior LED lighting - $3,322
This project involved replacing old parking lot light posts with seven new energy saving LED fixtures. The co-op also ensured proper disposal and recycling of the old ballasts and bulbs.
Inti – Vancouver, BC – LED lighting - $2,009
One of the co-op's key areas for improvement that was identified in an energy audit was energy consumption. Common areas, where the lighting is always on, was a good place to start. The fluorescent tube lights in the parkade were replaced with 4000K LED tubes, increasing brightness and energy savings. Bulbs in hallways, the common room and stairwells were all replaced with LED light bulbs.
Kaslo Gardens – Vancouver, BC – Interior lighting - $2,487
The goal of this project was to provide independent control to the mailroom lighting separate from the exterior lighting. Additionally, the outdoor lighting fixtures were fitted with light sensors to prevent operation during the daytime. The co-op also decided to adopt the Environmental Sustainability Policy.
St. Georges – Ottawa, ON – Bicycle Storage and Repair Station - $1,653
The co-op installed a bicycle workstation and reorganized the bike racks to accommodate more bicycles. Members can now maintain and repair their bikes, thereby promoting the use of sustainable transportation. The co-op plans to host workshops on bicycle repair, maintenance, and safety.
Toronto Women's – Toronto, ON – Community Garden and Water Barrel - $3,084
In order to strengthen their community and  provide healthy, accessible and affordable produce to members, the co-op built three garden beds in an under-used section of the property. The co-op then decided to hold 'Market Days' on the weekends to distribute the abundance of herbs and vegetables to co-op members. The volunteers, who call themselves Soil Sisters, documented the evolution of their garden in these four short videos.
Twin Oaks – Victoria, BC - Programmable thermostats - $3,279
Energy Star-rated programmable thermostats replaced 30-year-old manual thermostats, reducing carbon emissions and saving members 10% on energy costs. Members now also have better control over their units' daytime and nighttime temperatures.
Villa Bonheur – Saskatoon, SK – Interior LED lighting - $2,885
The 33-year-old interior lighting fixtures were replaced with new energy efficient fixtures and LED bulbs. This retrofit reduces energy consumption and lowers maintenance costs. The old fixtures that were still usable were donated to Habitat for Humanity.
Westridge Estates– Charlottetown, PE – Community garden and rain barrels - $1,081
Westridge Estates Co-op developed a community garden, bought eight bushes, two rain barrels and a couple of potted plants for the common areas. They also tilled their garden and purchased seeds for the garden. At the next AGM, one of the members involved in this project will recommend the adoption of the Environmental Sustainability Policy.
Yule Manor – Ottawa, ON – Community garden - $2,128
Members of the Yule Manor Co-op have expressed a lot of interest in creating a community garden over the years and thanks to the microgrant, the co-op purchased a raised garden bed. The members grew tomatoes, peppers, green beans, onions and orchid flowers.