Greener Co-op Microgrants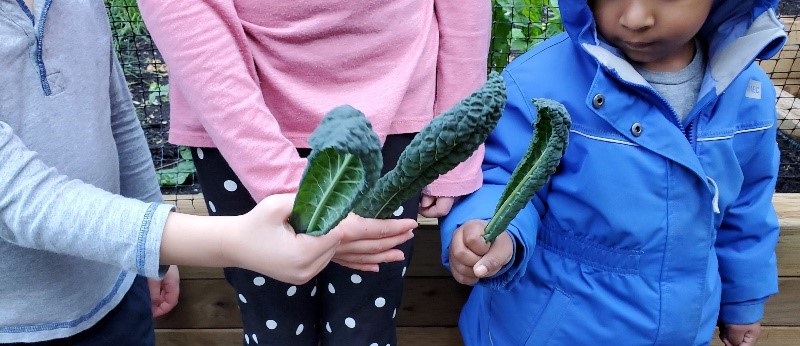 Housing co-ops are encouraged to design and implement projects that will help green their communities. CHF Canada will fund small projects from $1,000 to a limit of $5,000. All CHF Canada member housing co-ops can apply.
---
Why a Greener Co-op Microgrant?
These small grants support projects that help protect the environment.
Who can apply?
Any housing co-op that is a member of CHF Canada can apply.
How much are the grants?
CHF Canada accepts grant requests for $1,000 to $5,000. The grant request must be for projects that improve environmental sustainability and reduce climate change impacts.
The selection committee reserves the right to allocate more funding based on availability (up to $8,000)  for projects such as EV charging stations and smart water heaters.
Will all qualified applicants get a grant?
Funds are limited and will be distributed according to quality of applications, geographic representation, size and variety of projects. Housing co-ops leveraging additional funds and/or forming partnerships with other partners and suppliers will be given special consideration.
Co-ops that have adopted an environmental sustainability policy will receive extra points during the selection process.  Please note, capacity to deliver the project is considered as part of the selection process. Past recipients who have demonstrated insufficient capacity to deliver project(s) and/or fulfil the requirements will score low on this criterion.  Incomplete and late applications will not be considered.
What are some examples of projects the Greener Co-op Microgrant will fund?
composting, community gardens, rain barrels
planting trees
safe and secure bike and carrier storage
lighting upgrades
EV charging stations
viability studies for projects like roof gardens or grey-water harvesting
Clean energy initiatives
We are looking for creative projects that will inspire housing co-ops and lead to better results in environmental sustainability. Check out projects funded in the past for inspiration!
These are just a few examples. Use your imagination! If you're not sure if your project will have a positive impact on the environment, send us an email and we can discuss whether it meets the microgrant's objectives. 
What does the grant cover? 
materials, supplies and equipment
contractor or consultant fees
What isn't covered?
members' labour
co-op staff wages
normal co-op operating costs
ongoing costs associated with maintaining the project after completion 
How long do you have to complete your project?
 This depends on the size and complexity of your project. However, all funds must be spent within 2023 and project invoices and payment requests sent by November 13, 2023.  Note that your grant funds will not be sent to you until your project is completed and you have met all the grant funding requirements, so please keep this in mind when estimating the project's completion date. 
When will you get the money?
You will receive a single payment after you submit receipts and a final project report. The deadline for submitting reports and receipts is November 13, 2023.
Co-ops that do not submit reports and receipts on time may jeopardize their eligibility for future funding.
What are the reporting requirements?
When your project is done, send us a final report of no more than one page. Tell us what you did, who did them, things you learned, and how your co-op benefitted from this initiative. Send us a summarized list of the actual costs and include copies of receipts that correspond to the summarized list. Also send us before, during and after pictures of your project in jpeg format. Submit the report and receipts no later than November 13, 2023.
Housing co-ops not submitting receipts on time will not be refunded. Please include the word Microgrant and the name of your housing co-op in the subject line. Co-ops that do not submit reports and receipts on time may jeopardize their eligibility for future year funding.
You will receive payment two to three weeks after we receive your project's final report and receipts.
When will you know if your application has been approved?
Approvals will be announced up to six weeks following the submission deadline. We will send an email to the co-op manager and project lead and a commitment letter for you to sign and return by email.
How do I apply?
2023 applications are now closed. 
Ongoing maintenance
This is a one-time-only grant so ongoing costs won't be funded. Once your project is complete, any ongoing costs must be accounted for in the housing co-op's operating budget, so please consider this when you make your proposal.
Will there be ongoing costs?
What annual upkeep, if any, is needed?
Who will look after the project on an ongoing basis?
For example, after the grant has been used in Year One to get a community garden up and running, the garden will still require new plantings every year, as well as regular watering and weeding during the growing season. The housing co-op will include the cost of seeds and plants in the operating budget and members will do the work. By Year Five wooden fencing and raised beds will likely need to be replaced or repaired. The cost of this work should be considered a capital project and the responsibility of the housing co-op.
When will you know if your application has been approved?
You can expect an answer from us up to six weeks following the submission deadline. We will send an email to the co-op manager and project lead and a commitment letter for you to sign and return by email.
Sponsorship
If your organization has a focus on sustainability, help us expand our Greener Co-op Microgrant Program. Consider becoming a sponsor so that more co-ops across Canada can become more energy efficient, climate resilient and greener!
Questions?
Julie LaPalme
jlapalme@chfcanada.coop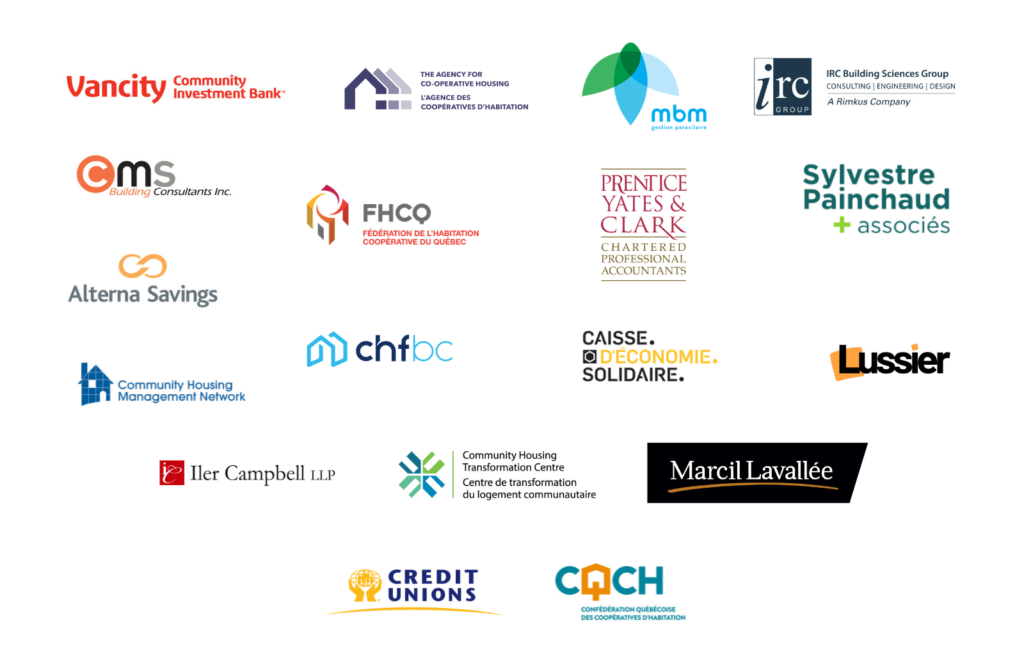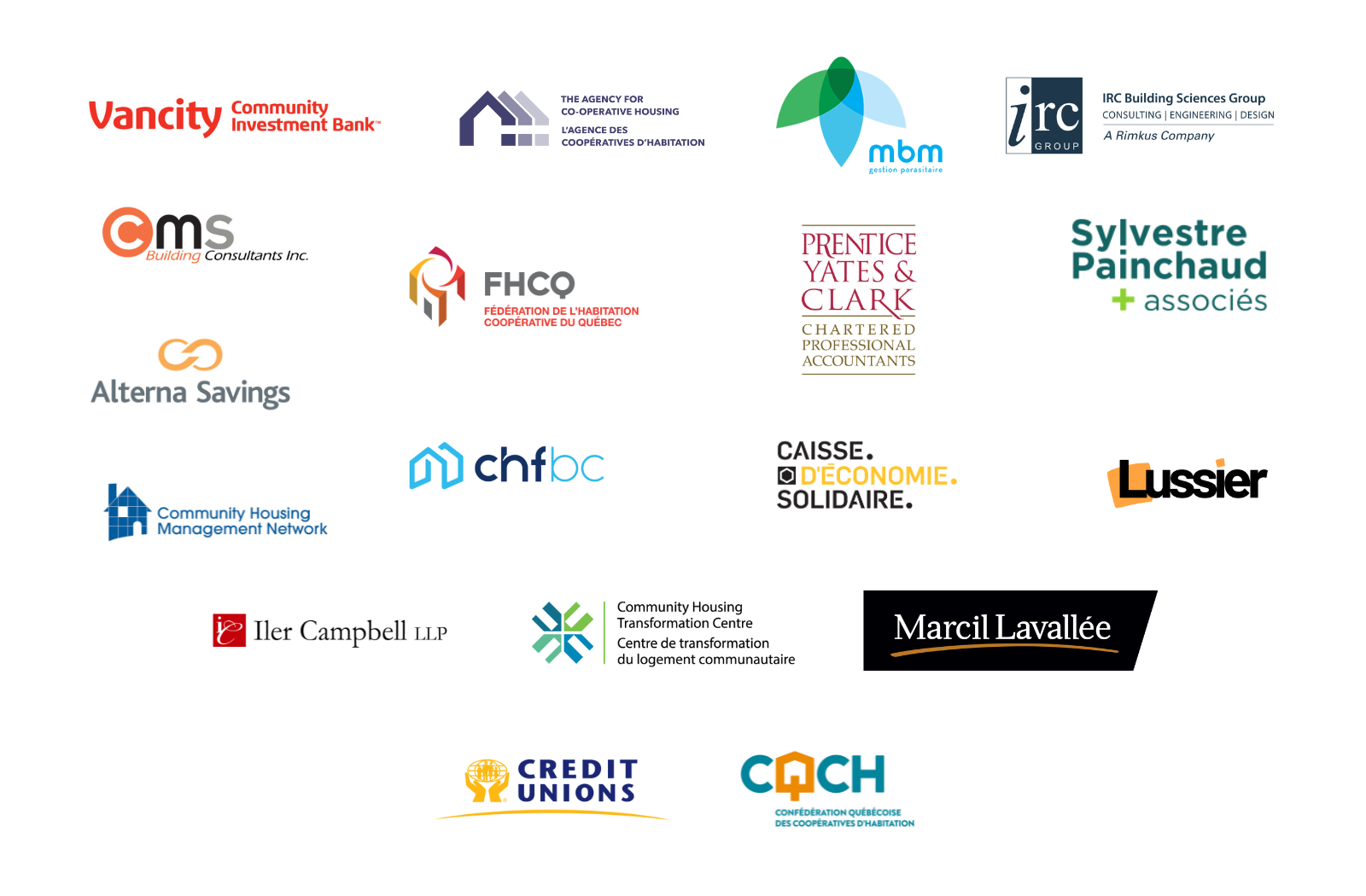 CHF Canada would like to acknowledge the generous contributions of Alterna Savings, the Vancity Community Investment Bank, The Agency for Co-operative Housing, CHF BC, CMS Building Consultants, the Community Housing Transformation Centre, Fédération de l'habitation coopérative du Québec, Lussier, Sylvestre Pinchaud et associés, MBM Gestion Parasitaire, Marcil Lavallée​, Caisse d'économie solidaire ,IRC Rimkus Consulting Group Inc,. Prentice Yates & Clark Chartered Professional Accountants, the Confédération québécoise des coopératives d'habitation and Atlantic Credit Unions to the Greener Co-op Microgrant fund.​
2022 Microgrants Summary of Projects
In 2022, 44 housing co-operatives from six provinces and one territory received $155,150 in funding from the Greener Co-op Microgrant Program. 
Since 2016, 173 housing co-ops have received a microgrant, for a total sum of $561,507. 
Read the highlights from 2022's Greener Co-op Microgrant recipients.
Previous Projects
2022: ATRIUM PLACE - Burnaby, BC
Antrim Place Housing Co-operative in Burnaby, BC replaced 47 aging toilets with low flow toilets that use 75% less water. The new toilets have a greater height and elongated bowl to better support those in the co-op choosing to age in place.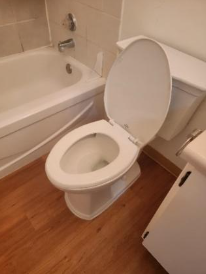 2022: BRITTANY LANE HOUSING CO-OPERATIVE - Sherwood Park, AB
Brittany Lane Housing Co-operative in Sherwood Park, Alberta purchased four battery operated lawnmowers, three string trimmers and one multi-head tool with attachments to replace the co-op's gas-powered garden tools. The purchase was made possible through the Greener Co-op Microgrant program and a partnership with Strathcona County. The new equipment is easier to use, quieter and lighter. The co-op grounds have never looked better as members are eager to use the equipment and the carbon emissions are down to zero.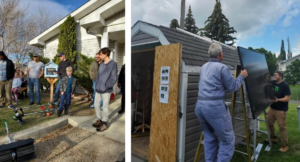 2022: LES ARTISTES DU RUISSEAU COOPÉRATIVE - Gatineau, Quebec
Members of the green committee at Les Artistes du Ruisseau Cooperative in Gatineau, Quebec,  transformed the exterior of the property to be more environmentally-friendly and created shade areas. The co-op created new and expanded flower beds to minimize the space taken up by the grass, replaced grass with white clover to reduce water use, grew herbs and vegetables on the roof, planted perennials, shrubs and two trees, created a walkway in the front and spread mulch and added river rocks to help retain water in the soil of the flower beds, and finally, built a wooden bin to compost yard waste.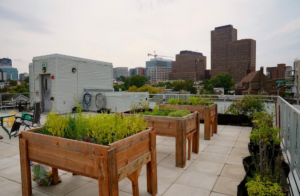 2022: COOPÉRATIVE BIENVENUE - Montreal, Quebec
Coopérative Bienvenue chez nous in Montreal transformed an area in its backyard to encourage the growth of ground cover that would allow proper rainwater drainage. Co-op members took on the challenge of developing this space to be green, functional, and a place to socialize with neighbors. To encourage composting (and reduce odors from organic waste), the co-op bought municipal compost bins and compostable bags.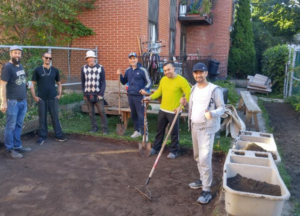 2022: CRAIGFLOWER CO-OP - Victoria, BC
Craigflower Co-op in Victoria, BC used their grant to make an existing community garden space into a more functional and welcoming space for all members – not just the households who have a garden plot. The co-op purchased new fruit trees to plant in a new, large central garden bed, along with strawberries planted at the base of the trees, for anyone in the co-op to harvest. The garden is also now home to a new eight-person circular picnic table to use for committee meetings, meals and social functions. For Halloween, the co-op hosted a kids' costume parade in the garden, demonstrating that the co-op's goal of creating a welcoming space is coming to fruition.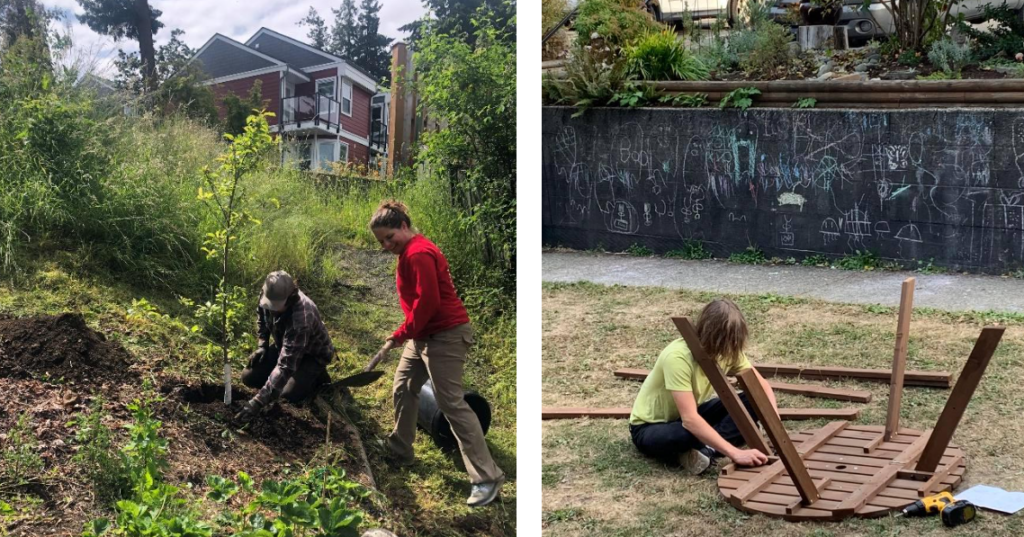 2022: EMMA G HOUSING CO-OP - Vancouver, BC
Emma G Housing Co-op used their grant to revamp their community garden.  The co-op's Garden Committee purchased a galvanized raised bed, some soil, several perennial plants, and a rotating composter to ensure that the garden has ongoing access to fresh and free compost. One of the co-op members offered to build a children's playhouse. The member purchased the supplies and over several weeks, created a wooden playhouse, with a tarp roof and a doorbell. The co-op's nine children (aged 2-7) are using it regularly and are able to play there rain or shine. The garden committee also bought each child a wooden birdhouse to decorate and  install in the revamped garden.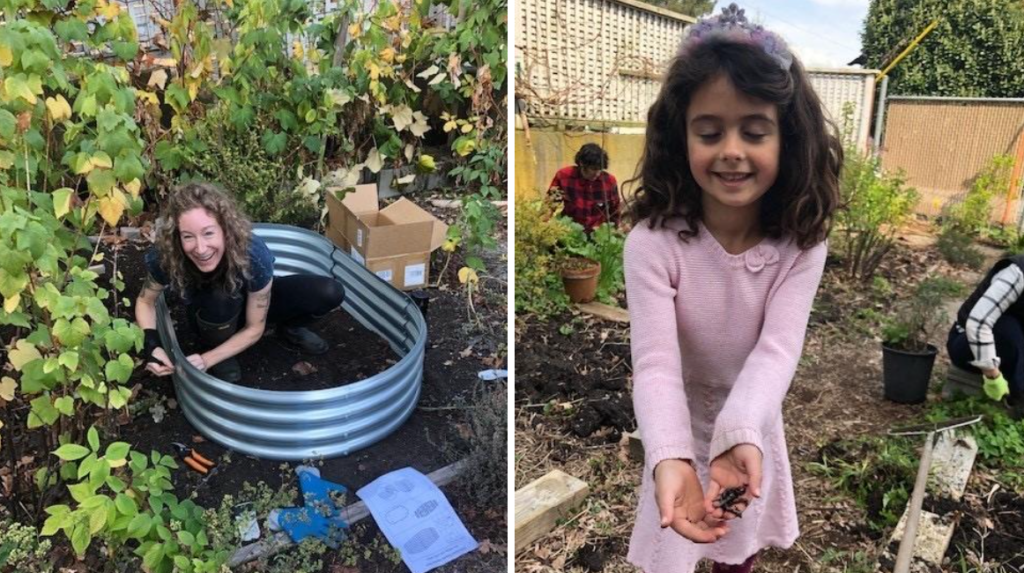 2022: HILLSIDE HOUSING CO-OP - Iqaluit, NV
Hillside Housing Co-op in Iqaluit, Nunavut purchased and installed programmable thermostats in all of its 20 units to help members save fuel, thus reducing impact on the environment. Members who use the programmable thermostats to their fullest can expect savings in their oil consumption in the range of 5 to 15%, up to 217 litres of fuel – or up to $210 per year, per unit. 
2022: KAWARTHA VILLAGE CO-OPERATIVE - Peterborough, ON
Kawartha Village Co-operative in Peterborough, Ontario purchased composters, rain barrels and four galvanized steel garden beds with their microgrant funding. The co-op had a very successful summer with an overabundance of veggies.  Residents enjoyed fresh tomatoes, beans, kale, swiss chard, garlic, squash, cucumbers, radishes, beets, carrots and parsnips.  Also, there is an herb garden that provides parsley, sage, thyme, basil, summer savory, garlic chives and some chamomile, lemon balm and nasturtium. 
2022: MARGARET LAURENCE HOUSING CO-OP - Toronto, ON
Margaret Laurence Housing Co-op in Toronto focused on addressing food insecurity and sustainability by growing food in "grow tents" which the co-op purchased during the pandemic lockdowns.. The microgrant funding went towards buying more equipment to increase yields and creating a new community project involving members of the board, garden committee, and members-at-large. In addition to growing carrots, tomatoes, peppers, broccoli, kale, lettuce, ochre, chard, beets, radishes, herbs and teas of many varieties, they also grew micro greens such as broccoli sprouts, mung beans, pea shoots, sunflower sprouts, chia etc. The working group is creating a strategic plan to establish a mission and vision and hope that they can implement aquaponics (fish) in the future. The committee was able to forge a meaningful relationship with the Cost Cutters Program and discuss a "turn key product for other co-ops to easily implement
2022: OLD GRACE CO-OP - Winnipeg, MB
Old Grace Co-op in Winnipeg, Manitoba transformed its rooftop patio from a seldom-used area into a greener, more accessible and more inviting space for the residents.
To protect a considerable portion of the patio from summer sun, the co-op installed shade sails and created a large dining area with donated tables and chairs. For the patio garden the co-op bought and restored second-hand planters and filled them with sun-loving plants that were arranged, along with furniture, rugs and wind barriers, to create comfortable "outdoor rooms." They planted herbs in other planters for common use. The microgrant also funded a work area/kitchen with stainless steel tables, a sink and tap, and a custom built shed for storing gardening tools, and winter storage. Nearly 40 co-op members and friends contributed money, time and effort to make our "new" patio a reality. It is significant that half our members took part in the project, and that those who weren't able to contribute can now enjoy the results of the improvements.
2022: OVO HOUSING CO-OP - Halifax, NS
Ovo Housing Co-op transformed its back garden by removing old cement pavers, rotten raised beds and picnic table. Working together on a common goal helped boost morale and deepen friendships. They shared ideas, gardening knowledge, and group buying of seedlings. New members to the coop pitched in and felt more included. 
The new picnic table and canopy for the patio table provides more space for get-togethers such as summer barbecues, evening chats (and glass of wine), board games, and group celebrations, (including a backyard open house event.)  All in all it has been a huge success in bringing a rarely used space back to life! 
2022: YORK HOUSING CO-OP - Toronto, ON
York Housing Co-op in Toronto, Ontario installed an Electric Vehicle (EV) charging station. The co-op has been committed to environmental sustainability since its inception, with environmental sustainability in its governing documents. Five co-op members were involved in the EV charging station project, with advice from a York University Professor who conducted a preliminary investigation. The first challenge involved upgrading the electrical system to accommodate two chargers. This was followed by hiring an electrician to complete the upgrade and installation. The next challenge involved choosing a charger. The professor recommended Sun Country Highway, which offered the co-op a discounted price. The installation went smoothly and members helped the electrician with minor tasks.
2021: Montreal, QC - Community Garden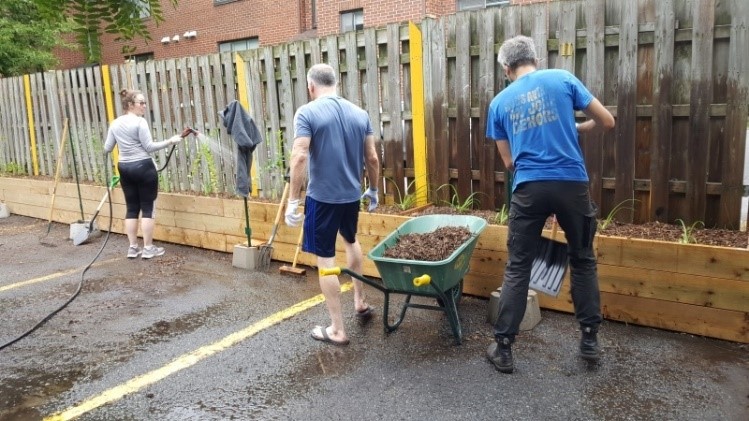 What used to be two strips of land filled with weeds and garbage at Coopérative 3ie type in Montreal, is now two beautiful flowering perennials framed by a beautiful treated-wood structure.
In July, members drew up a plan and ordered the required materials and plants. After the soil was cleaned, weeded and uncompacted, a few members  spent a week helping to build treated wooden structures lined with geotextile to contain the new soil. After a co-op member picked up the plants from a nursery  specializing in indigenous plants, a group of members spent the weekend planting the native perennials.
The co-op chose plants according to their potential for feeding pollinators, their flowering period, and their tolerance to drought and half-shade.
For the cooperative, this initiative has many benefits: beautifying the area, discouraging littering, contributing to cooling the area, reducing dependence on fossil fuels, and enriching the biodiversity of the neighbourhood, just a few steps from downtown Montreal. It was also an opportunity to learn more about gardening and urban biodiversity.
Thanks to the participation of 14 members and their families, 52 m2 (560 sq. ft.) were radically transformed, to the delight of all.
2021: Abiwin – Ottawa, ON – Community Garden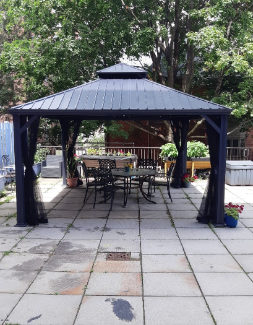 Abiwin Co-op in Ottawa established an accessible community garden with a shaded area to foster accessibility for all residents.  The garden provides all members with the opportunity to garden, socialize and grow their own vegetables which are then available to everyone. The accessible garden promotes sustainable agriculture, lessens food transportation costs, and water runoff.  It also creates healthy habitats for plants and contributes to the diversification of their urban architecture. The shaded area is ideal for members to socialize outdoors in a socially distanced manner while being protected from the sun and other elements.
2021: Bon Voisinage – Montréal, QC – bike rack & solar lighting
With a bike lane passing within a block of the Bon Voisinage Cooperative in Montreal, members were eager to have a bike rack in front of their co-op so they wouldn't need to carry their bikes up and down the stairs.
Members started using the bike racks as soon as they were installed. This project will also help co-op members live a more environmentally sustainable lifestyle by making cycling easier.
2021: Bread and Roses Cooperative Homes – Kitchener, ON smart water heater controllers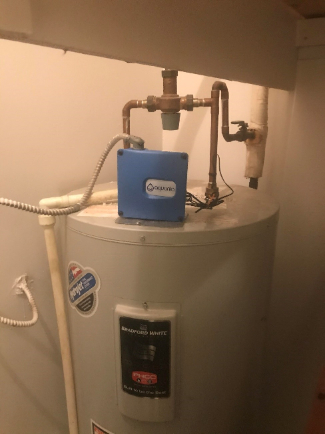 Bread and Roses Co-operative Homes in Kitchener, ON installed Aquanta Controllers on the water heaters of all units that do not currently have one. The project is helping make Bread and Roses more environmentally and financially sustainable. Members are benefitting from lower energy costs and the environment is benefitting from lower and better-timed energy use. Moving consumption to off-peak hours is key to the province of Ontario's energy planning. This helps avoid the need to build costly new power plants.
2021: Castlegreen – Thunder Bay, ON – Community Garden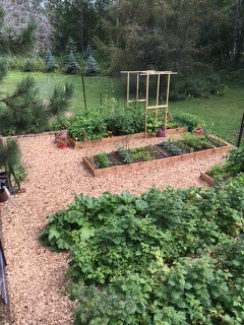 The community garden at Castlegreen Housing Co-op in Thunder Bay, Ontario has been a part of the co-op for quite some time, but was due for expansion and improvement. The introduction of raised beds has been an especially positive addition for the senior gardeners in Castlegreen and has provided opportunities for experienced gardeners to share their knowledge with beginners and learners alike. The new water tower will let gardeners use rainwater throughout the summer and reduce dependence on city water.
The efforts of the volunteers saw the doubling of the garden size, the creation of seven raised beds, both high and low, to add to in-ground garden beds to accommodate gardeners of all fitness levels.
The co-op upgraded their composting from two long-neglected bins to four active bins and a pile. Regularly tended compost bins have proven to be less likely to be disturbed by the black bears that are regular visitors at Castlegreen.
The garden committee will meet through the winter to discuss future plans including raising some of the beds higher, getting an earlier start to the planting year, organic pest control, and better volunteer engagement.
Cercle Carré - Montréal, QC – Composters and Parking Lot Greening
Cercle Carré Housing Cooperative in Montreal brings together various artists and cultural workers who manage the co-op collectively.
With their microgrant, Cercle Carré Housing Cooperative in Montreal upgraded their old composters for new, much more efficient ones from Joracan. The co-op also invested in wood pellets, which are essential for the operation of the composters.
To reduce the heat island effect, the co-op brought in greenery by removing a section of asphalt from the parking lot to create a strip of land to plant vines and perennials. Studies show that a simple canopy of vegetation can reduce the surrounding temperature by a few degrees Celsius and filter the air of harmful particles.
Éco-Quartier St-Jacques provided all the plants and demineralized entirely at their expense. The co-op purchased more soil for the smartpots, invested in trellises to support the vines and plan to install anirrigation systemin the spring.
2021: Citadins du parc – Montréal, QC – Composters and Greening Community Garden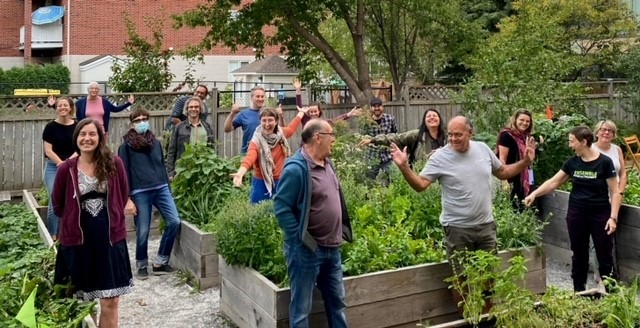 The Ecoresponsible Committee at the Citadins du Parc Co-op in Montreal encouraged its members to reduce summer temperatures by greening their balconies. Members worked together to figure out how to purchase and distribute soil. In addition, the Ecoresponsible Committee andco-op members  launched a mushroom project and a children's garden. The committee also developed a herb garden at the entrance of the co-op. Many members  enjoyed picking herbs to cook with. Participants learned a lot about growing herbs and they were glad to see the children be curious about new tastes and smells.
2021: Country Hills – Kitchener, ON – trees, shrubs, flowers
Country Hills Co-op had several large, hazardous dead trees that were blocking  sunlight to the back yards and contributing to a mold problemon the patios.. An arborist was hired tocut and mulch the trees. The mulch was reused on the new plantings and around other trees within the co-op.
To beautify the two entrances to the co-op, members added topsoil, plants and shrubs along with planting 250 tulips. All the work and plant selections were done by members with only a little help from rental machines to till the ground.
In a time when many were struggling with the lockdown, the project brought members together. Ideas, laughter, and lots of sweat were shared. This helped to get the co-op back on track to being a community with members helping one another and improving their environment. Members are already talking about doing a community garden next year.
2021: Eagle Housing Co-operative – Newmarket, ON
As soon as members at Eagle Housing Co-op found out they had received a microgrant, they went to work.
The co-op members ordered prefabricated raised garden beds from Home Depot and they also built a fence to divide the garden from the kids' play area.
Since members chose a location that got lots of sunlight but was protected from the wind, all of the plants (lettuce, herbs, tomatoes, peppers, carrots, spinach, beets and strawberries) grew well and looked great.
The co-op is already looking forward to next year and hope to donate more vegetables to the Newmarket Food Pantry.
In the first year of this gardening project, the co-op learned that member involvement is the key to the success of the garden.
2021: Falls Place Co-op – Niagara Falls, ON – trees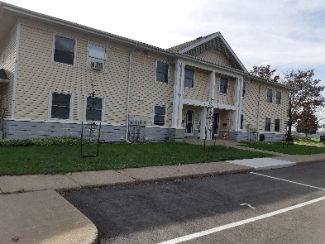 Falls Place Co-op in Niagara Falls was able to plant eight Crimson King maple tree saplings with their microgrant.
Over the co-op's 37-year history, trees have either died or been removed for safety reasons. This microgrant was a great first step to bringing back the missing foliage and improving the environment.  They will also secure wet grounds by planting at the slope to absorb and minimize excessive water, block buildings from winds due to the adjacent open hydro field, and reduce the environmental footprint of the co-op.
This tree planting benefits everyone.  It is another step to a better environment, will help with heating and cooling costs, beautifies the property, and can encourage further action.
Falls Place Co-op's Board and membership also approved the CHF Canada model environmental policy in 2021.
2021: Genesis, London, ON – Lighting Upgrade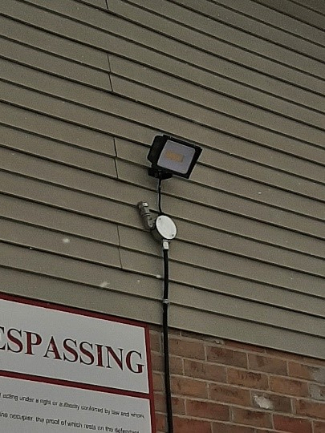 Genesis Housing Co-operative in London, ON applied for the Greener Co-op Microgrant to upgrade its exterior lighting to energy efficient LED lights. The goal of this project was to help increase the security of members by having brighter lighting throughout the property. As many areas did not have existing lighting, the addition of lights is also proving very beneficial. Members are very happy with the new lighting and transitioning to energy efficient LED lights, is increasing the co-op's energy efficiency.
2021: Gilles Lauzon – Montreal, QC – Reimagined garden space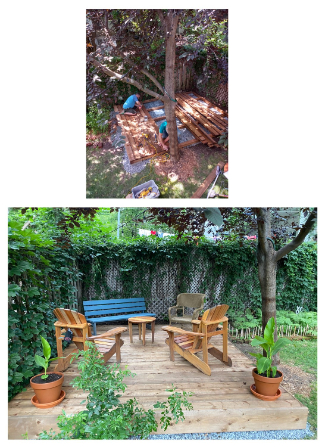 In only two days, Gilles Lauzon Co-op made major changes to their property. The majority of members, with help from Garden Goods company, pitched in to build raised garden beds. Some former co-op members even came to help the co-op build its beautiful wooden deck.
They ordered the raised beds from a Quebec start-up company that makes red cedar bins. They chose red cedar because the co-op's new sustainable development policy requires it to choose durable materials for its projects.
Since summers are getting hotter, members appreciate how the terrace gives them a cool and comfortable and cool space to relax under the plum tree in the courtyard.
Members have found it easy, fun, and practical to grow vegetables and herbs in the raised beds. Each member received vegetables and herbs throughout the summer. Everyone who participated in the process all said they learned new gardening practices.
2021: Grace MacInnis – Vancouver, BC – Bike Racks
Grace MacInnis in Vancouver, BC put their Greener Co-op Microgrant towards eight units of triangular bike racks. Throughout this project, the Co-op's community has grown even stronger and the attitude towards environmental sustainability has become a priority.
Grace MacInnis values being eco-friendly, and reducing emissions by opting not to use a motor vehicle. Members are benefitting on a personal level as well as on a larger scale environmental level by creating a secured, organized space for commuters to easily access their bikes.
2021: Grace MacInnis – Toronto, ON – Community Garden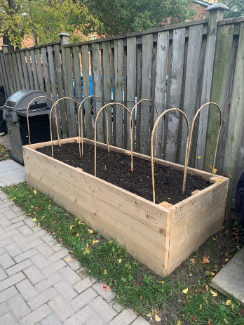 Grace MacInnis Co-op in Toronto bought a custom vegetable box from Backyard Urban Farm Company to increase food security. They also installed two large rain barrels purchased from a fundraiser at St. Johns Church to reduce water usage.
The veggie box includes critter protection (chicken wire covers and wooden rods) because of the abundance of urban wildlife.
The co-op handyman, taught volunteers how to direct water from the eavestroughs into the water barrels, and block off the spouts and disassemble the barrels for the winter.  Grace MacInnis is now on track to saving 50% of its water costs, a large part of which is for watering its award-winning flower, herb, and vegetable gardens.
The members are excited about having access to food that they can share that grows right in their backyard. Some members have lower incomes, or have lost their jobs due to COVID, and the garden helps make sure they have fresh food to eat. Co-op members had a great time preparing the space and working with community members and small businesses in Toronto to make this happen.
2021: Interlake (Farview) – Teulon, MB - Exterior Smart Plugs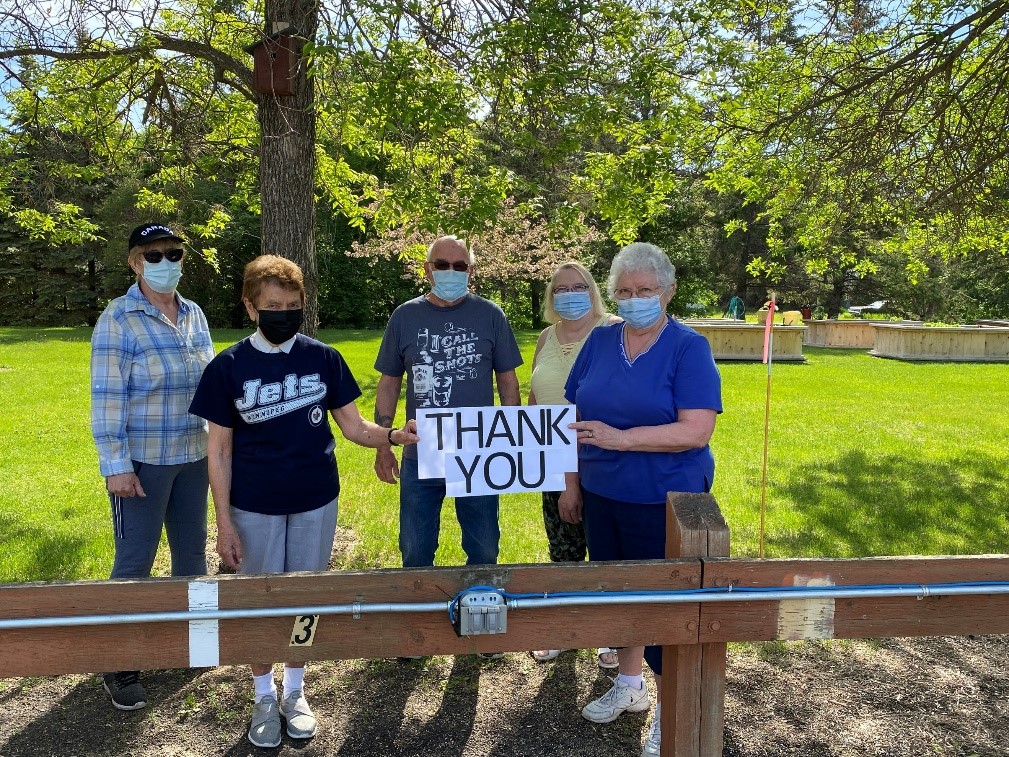 Interlake Co-op in Teulon, Manitoba replaced the electrical outlets in their parking lot with smart plugs.
In the winter, the co-op had issues with some of the old outlets and knew that they would have to be replaced.  The co-op reached out to their electrical contractor and asked how they could complete the necessary upgrade while thinking about the environment and energy conservation. The contractor suggested upgrading to smart plugs. With an aging building and many other upgrades needing to be done, the co-op tabled the parking lot outlet upgrade, due to the expense ($300 per smart plug).  Then the Greener Co-op Microgrant funding came along and the project was in full swing!
The smart plugs use a microprocessor and temperature sensors to lower consumption by only providing power when required, based on ambient temperature and wind chill. The smart plugs aim to reduce electricity consumption by up to 65%, making it a smart choice for the co-op!
2021: Kingston Homes – Kingston, ON – Community Garden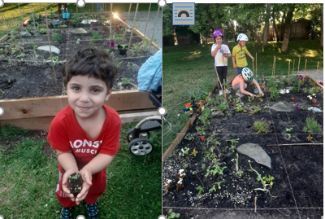 Given the extraordinary conditions that each community had to live through during the pandemic, Kingston Co-op children created a way of taking care of one another and their environment during the summer of 2021.
They built a community garden next to the playground, learned how to take care of different species of plants, how to increase food self-sufficiency in their co-op and they played and enjoyed the space to enhance a positive and respectful environment.
The project started with children learning about planting seeds, watering and transplanting them. They were then able to transplant their little plants in the garden plot that volunteers from the co-op built. The youth were encouraged to decorate their micro-plots with painted rocks to help them recognize the plants they put in the soil. They also noticed the changing shapes of each plant and learned to recognize good and bad "weeds."
Come harvest time, the children learned to gather, wash and make a salad. At the end of the season, the children learned how to put the garden to bed by keeping solely the perennials uncovered and planting garlic in the middle. The children recognized the importance of adopting environmentally sustainable ways of producing their own vegetables and committed to continue gardening next year.
2021: Lamplight Housing Co-op – Halifax, NS – Grass and clothesline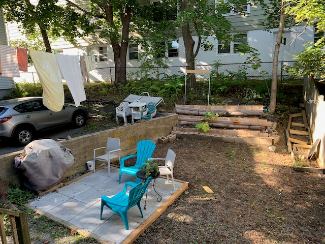 On September 7th, 2019, as Lamplight Housing Co-op members in Halifax watched their tall Norway maple in the middle of their back yard split in half and fall gently against the neighbour's building, as Hurricane Dorian swept through Halifax.
After reading about the permaculture use of tree debris for "hugelkultur" raised garden beds, co-op members thought it would be a good idea to take advantage of the wood from the fallen tree to create terraces for vegetable planting. They also added grass and a patio area for barbecuing and gathering.
There was also space to add a clothesline which saves energy by drying clothes naturally.
2021: Coopérative d'habitation Lezarts – Montréal, QC - Plants to reduce heat island effect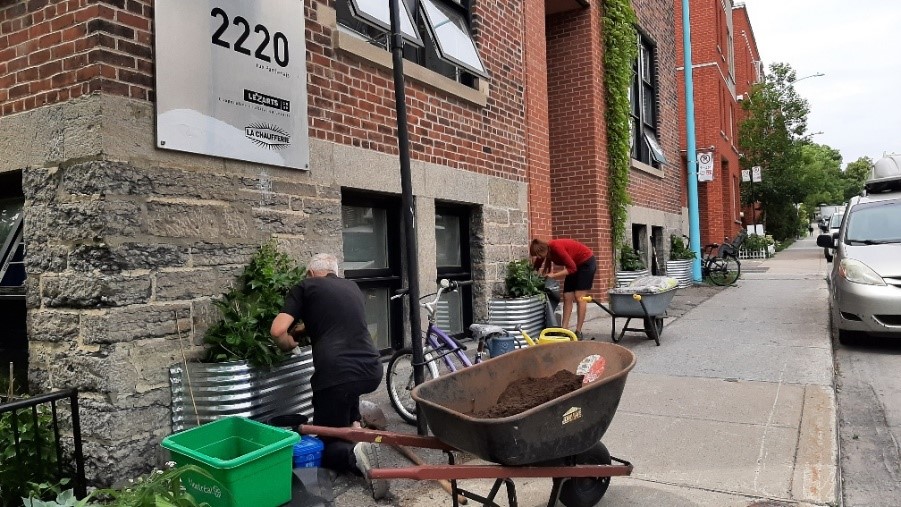 Lezarts Housing Cooperative in Montreal added climbing plants on three sides of the cooperative's building to reduce the heat island phenomenon. Having vegetation on the walls helps cool the units during the summer.
In addition, in the courtyard, the co-op has replaced an energy-consuming street light with LED lanterns that require little electricity, while helping keep the courtyard safe at night.
Margaret Laurence Housing Co-operative – Toronto, ON – Lighting Upgrade - $5,359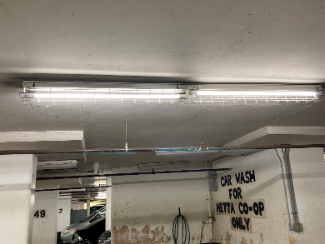 Margaret Laurence Housing Co-op in Toronto completed a retrofit of the co-op's two levels of underground parking spots, adding LED lights and motion sensor technology.
The co-op replaced 140 florescent tubes and 74 drivers, reducing the annual energy reduction by 87%  for annual savings of $51,04.09 / 34,032.60 kWh. This CSA-approved retrofit allowed the co-op to retain the existing fixtures while changing only the components as necessary. The co-op also acquired control on the reaction times and light levels of the lights in those spaces via a remote control. The install was completed without issue in three days, with an electrician completing the remedial retrofit work.
Oasis Housing Co-operative – Tracadie, NB – Community Garden - $2,407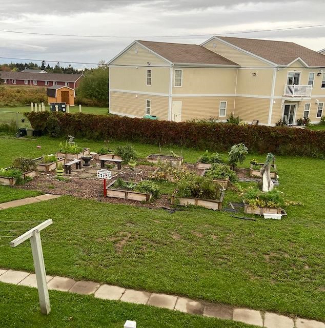 Members at Oasis Cooperative in Tracadie, New Brunswick, got together to install pre-made wooden garden boxes from a local carpenter.
Everyone, young and old, got to work setting them up and getting ready for the arrival of soil and compost. Some members had already started their seedlings inside so they'd be ready! The co-op also decided to put down geotextile fabric and cedar mulch to make it easier to mow the grass between the boxes.
As soon as the soil and compost arrived, members filled their individual boxes as well as the community boxes. These include a box for tomatoes, another for cucumbers and one for the children.
More community planters will be added next year as too many different vegetables don't yield as much.
The co-op also purchased rain barrels that  will be installed next year
With materials the co-op already had, the members made a little community area in their garden where they can sit and meet. It was really nice to have this little corner to sit and talk about gardening!  Cindy Robichaud, Oasis' treasurer, also let us know that next year, the co-op plans to add a sharing table to give away any vegetables they have left over.
2021: Paloma Housing Co-operative – Vancouver, BC – Lighting Upgrade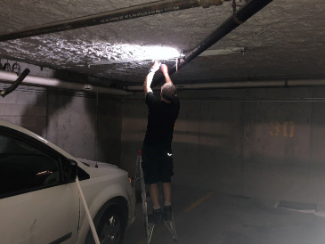 Paloma Housing Cooperative in Vancouver upgraded its fluorescent lighting to LED lights with motion detectors.
This will allow the co-op to decrease their electricity consumption, greenhouse gas footprint, and electricity bill.
The co-op installed LED retrofit kits to all fluorescent lights in the building, which were concentrated in areas where lighting is constantly on – stairwells, elevators, parkades, and laundry areas. Paloma also replaced outdoor lighting at the parkade entrance with brighter, more efficient LED lamps and safely disposed of the old lights, which contained mercury.
Thanks to the BC Hydro rebate and the CHF Canada Greener Co-op Microgrant, nearly the entire installation and material cost has been covered, allowing the co-op to realize $200/month in savings almost immediately. The LED lights are much brighter, so members now enjoy better lighting that costs less!
The co-op has worked on a few small sustainability projects before, but this is their largest initiative of this type to date. They now realize that having an environmental sustainability policy is crucial in helping to identify what the co-op's priorities are to make long-term decisions. Including environmental considerations, not just costs, in the decision-making process, will help the co-op navigate more decisions like this.
Salal Housing Co-operative – Port Moody, BC – EV Chargers - $8,000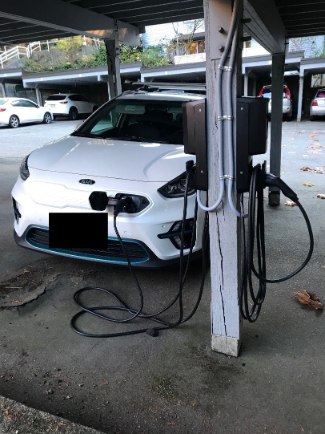 Salal Housing Co-op in Port Moody, BC applied their grant to the installation of two EV charging stations.  BC Hydro was also offering up to $4,000 in funding. The total cost of the EV chargers came to $16,606.
After consulting with the parking & garbage committee, the co-op decided on a location for the chargers. An electrician started work at the end of August as there were some delays with the supply of chargers. A new electric panel was installed as well as wiring to two parking stalls, and two Level 2 Flo chargers. The co-op pays a $175/year network fee to Flo.
The co-op met in November to discuss the new EV Charger policy and answer any questions.
2021: Strathcona Housing Co-operative- Edmonton, AB -Community Garden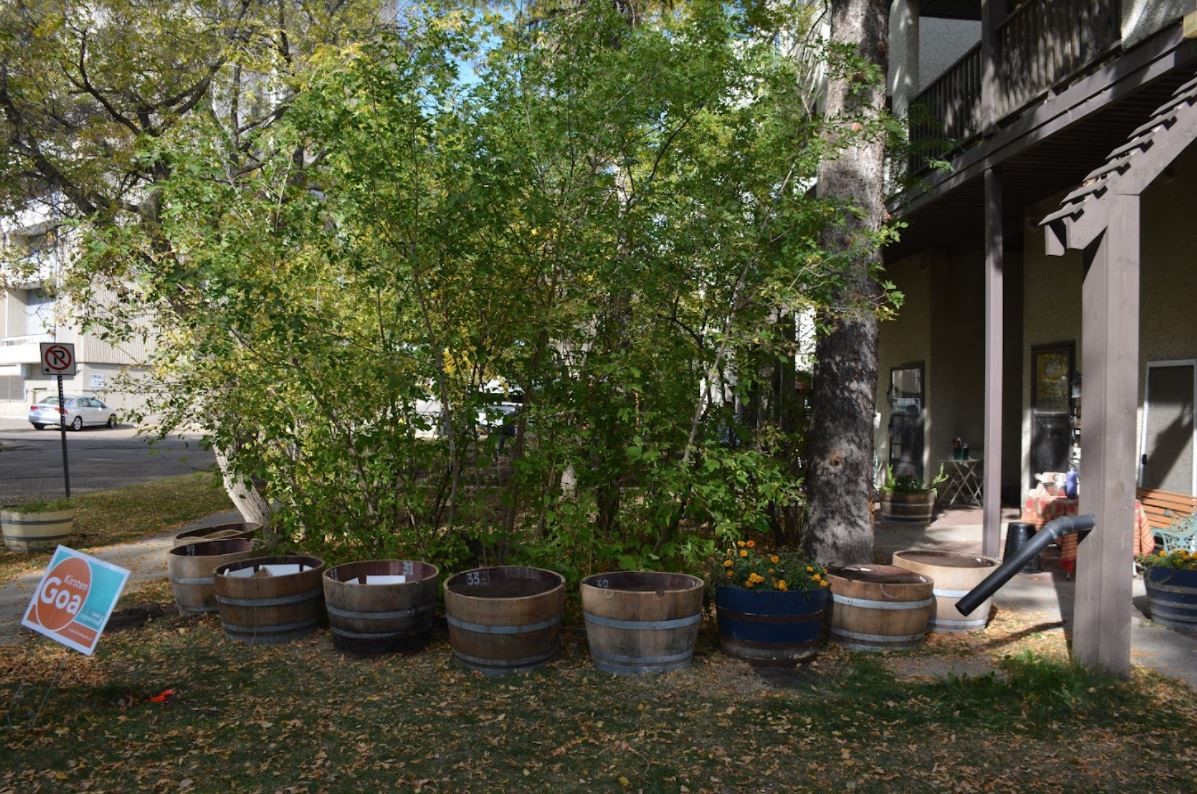 Strathcona Housing Co-op in Edmonton struck up a committee of four members to lead their microgrant project. Members also took part in several working bees. They replaced broken-down planters with sturdy repurposed wine barrels from a local business, adding soil, insulation to protect the plants over the cold winters, and pollinator-friendly perennial plants and seeds.
Since the co-op is just steps away from the Edmonton River Valley, it wanted to help boost bee and other at-risk pollinator populations which are at risk.
The co-op made use of the local Eco-Station and the free compost it offers. They added compost to each barrel, the playground area and one side of the co-op where native pollinator-friendly trees were planted. In order to plant many of the bushes and trees, the co-op hired a landscaper to remove some invasive trees and saplings that would have prevented the new native plants from thriving.
Seeing as there have been issues with mice in the past, members were concerned about the upkeep and potential mess of composting. However, two of the co-op's newest members are very skilled in composting (one is a Master Composter) and they have volunteered to manage the compost and educate the rest of the members about how to use it properly.
Since the co-op does not yet qualify to use the city's green waste collection program, the self-contained composters are a great way to reduce food waste and nourish the new plants and bushes.
2021: Sunnyhill Housing Co-op – Calgary, AB – Community Garden
Sunnyhill Housing Co-op in Calgary, AB applied their microgrant to two projects: installing ten rain barrels and creating 15 vertical pallet gardens. Green Calgary offered a 10% discount on the rain barrels.
Members of the grounds committee and other members of the co-op helped one another with water-barrel installations and gathering materials for vertical gardens. After displaying a proof-of-concept pallet garden in the common area  to educate members, households made a series of pallet gardens for themselves and other members.
The co-op learned that the de-centralized model of members helping each other, rather than a more top-down model where a committee takes all the initiative, is most resilient when it comes to completing projects. On a more practical level, the co-op learned that it was complicated to install rain barrels in certain yards because of the lack of viable downspouts. The grounds committee now wants to investigate the possibility of adding a downspout and rain barrel to each yard.
Co-op members now have more sustainable yards. And they've also forged new connections: the afternoons of pallet-garden-making were wonderful community-building days.
2021: Thurlestone Housing Co-op – Scarborough, ON – Exit signs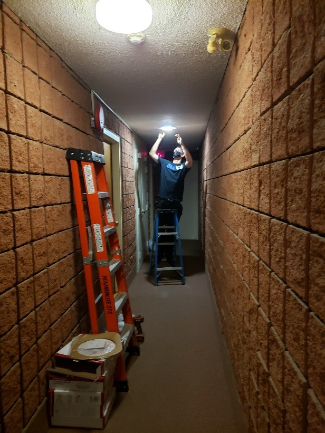 Thurlestone Housing Co-op in the Scarborough Bluffs area of Scarborough, Ontario, decided to make one of their buildings more energy-efficient, lower its carbon footprint and reduce hydro costs.
Thurlestone focused on the hallway and stairwell lighting fixtures, and the exit signs on all five floors of the building. For the common areas, the co-op selected LED lighting fixtures with an acrylic lens for greater durability. The LED fixtures have a nicer appearance and are brighter than the previous compact fluorescent lighting fixtures..  These fixtures can last up to 10 years, which also helps to reduce maintenance and bulb replacement costs.
The fire exit signs were also replaced with new LED green "running man" fixtures.  The new exit fixtures draw 2 LED watts and can last up to 10 years. The "running man" symbol also removes barriers for reading.
Thurlestone is looking forward to future replacements of lighting in its other four buildings and plans to apply again for future microgrants to help achieve the co-op's energy efficiency goals.