Greener Co-op Microgrants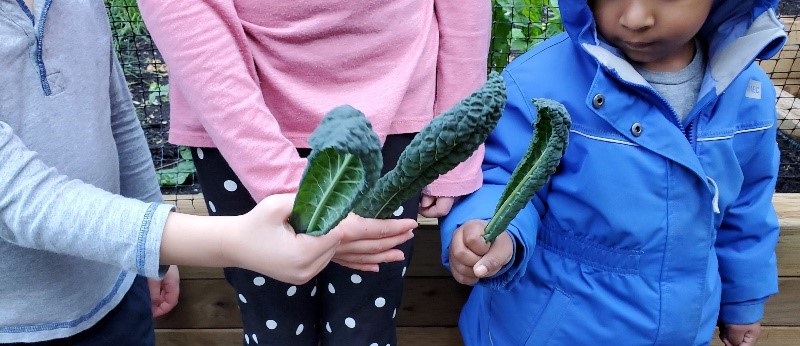 Applications are now closed. Check back next year for 2022 applications!
Housing co-ops are encouraged to design and implement projects that will help green their communities. Even the grant money is green! It comes from a fund to offset greenhouse gases emitted when staff travel across the country by plane, train or car.
CHF Canada will fund small projects from $500 to a limit of $8,000. All CHF Canada member housing co-ops can apply.
---
Why a Greener Co-op Microgrant?
These small grants support projects that help protect the environment.
Who can apply?
Any housing co-op that is a member of CHF Canada can apply.
How much are the grants?
CHF Canada accepts grant requests for $500 to $8,000. The grant request must be for projects related to one of the categories listed.
Based on proposals received and funding available, we will aim to fund projects as follows:
25% to 30% of co-ops will receive $2,000 or less
30% to 50% of co-ops will receive between $2,000 to $4,000
15% to 20% of co-ops will receive between $4,000 to $8,000
Will all qualified applicants get a grant?
Funds are limited and will be distributed according to geographic representation, size and variety of projects. Co-ops leveraging additional funds and/or forming partnerships with other partners and suppliers will be given special consideration. Co-ops that have adopted an environmental sustainability policy will receive extra points during the selection process. Incomplete and late applications will not be considered.
What are some examples of projects the Greener Co-op Microgrant will fund?
composting, community gardens, rain barrels
planting trees
safe and secure bike and carrier storage
lighting upgrades
EV charging stations
viability studies for projects like roof gardens or grey-water harvesting
Clean energy initiatives
Check out the projects that were funded in 2020 for inspiration!
These are just a few examples. Use your imagination! If you think your project would have a positive impact on the environment, send us an email and we can discuss whether it meets the microgrant's objectives. 
What does the grant cover? 
materials, supplies and equipment
contractor or consultant fees
What isn't covered?
members' labour
co-op staff wages
normal co-op operating costs
ongoing costs associated with maintaining the project after completion 
How long do you have to complete your project?
 This depends on the size and complexity of your project. However, all funds must be spent within 2021 and project invoices and payment requests sent by November 12, 2021.  Note that your grant funds will not be sent to you until your project is completed, so please keep this in mind when estimating the project's completion date. 
When will you get the money?
You will receive a single payment after you submit receipts and a final project report. The deadline for submitting reports and receipts is November 12, 2021.
Co-ops that do not submit reports and receipts on time may jeopardize their eligibility for future funding.
What are the reporting requirements?
When your project is done, send us a final report of no more than one page. Tell us what you did, who did them, things you learned, and how your co-op benefitted from this initiative. Send us a summarized list of the costs and include receipts. Also send us before, during and after pictures of your project. Submit the report and receipts no later than November 12, 2021.
When will you know if your application has been approved?
Approvals will be announced up to four weeks following the submission deadline. We will send an email to the co-op manager and project lead and a commitment letter for you to sign and return by email.
How do I apply?
Applications for the 2021 Greener Co-op Microgrants were open from February 25 to March 28, 2021. Applications for the 2022 Greener Co-op Microgrants will open in February 2022.
Complete the online application by March 28, 2021. This will include uploading a project plan and a budget.
Co-ops can only apply for one project. Previous grant recipients can apply again.
Sponsorship
If your organization has a focus on sustainability, help us expand our Greener Co-op Microgrant Program. Consider becoming a sponsor so that more co-ops across Canada can become more energy efficient and less dependent on fossil fuels.
Questions?
Julie LaPalme
jlapalme@chfcanada.coop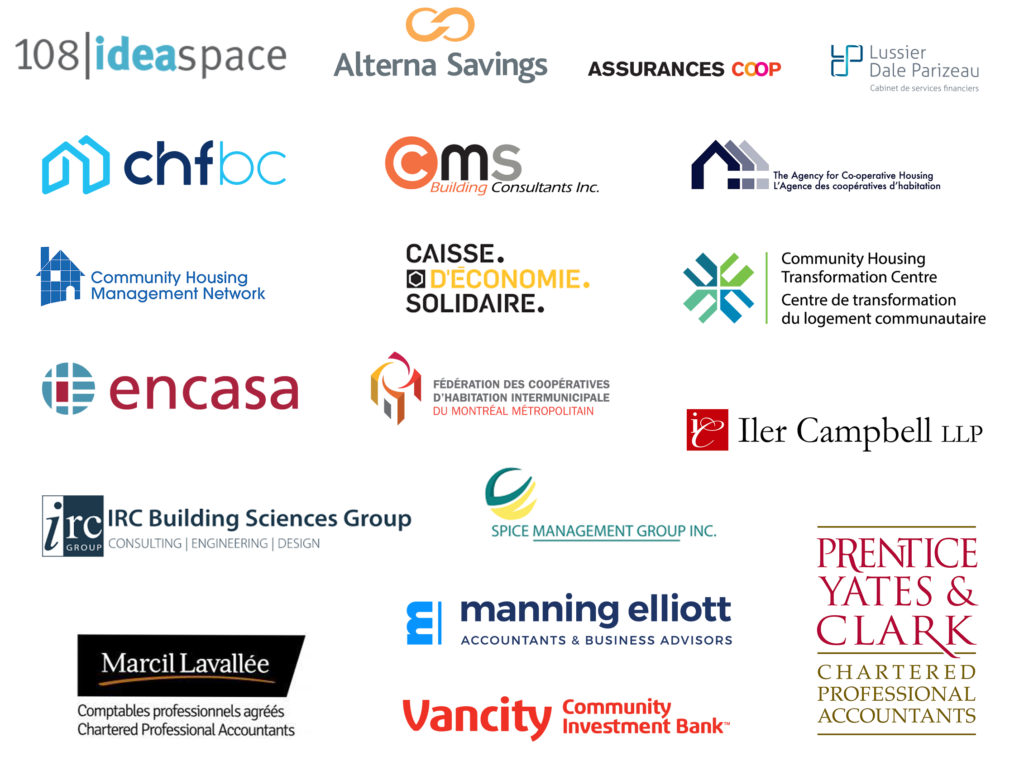 CHF Canada would like to acknowledge the generous contributions of 108 ideaspace, The Agency for Co-operative Housing, Alterna Savings, Assurances Lussier Dale Parizeau, Caisse d'économie solidaire, CHF BC, the Community Housing Management Network, CMS Building Consultants, the Community Housing Transformation Centre, Encasa Financial, FECHIMM, Iler Campbell, IRC Building Sciences Group, Manning Elliott Accountants & Business Advisors, Marcil Lavallée, Prentice Yates & Clark Chartered Professional Accountants, SPICE Management Group, and the Vancity Community Investment Bank to the Greener Co-op Microgrant fund.

2020 Microgrants Summary of Projects
Thirty-eight housing co-operatives received a total of $113,000 in Greener Co-op Microgrants.
Fifteen were in Ontario, seven in BC, four in Quebec, three in Manitoba, four in Alberta, one in Saskatchewan, and four in Nova Scotia.
There were 18 community garden initiatives, four LED lighting replacements, 102 new low-flush toilets installed, three composter initiatives, two rain barrel schemes, three tree planting projects, 80 programmable thermostats, three biodiversity enhancement projects, one electric charging station, one soil revitalization project, one recycling shed built and one window tinting initiative.​
Albro Court – Dartmouth, NS $2,300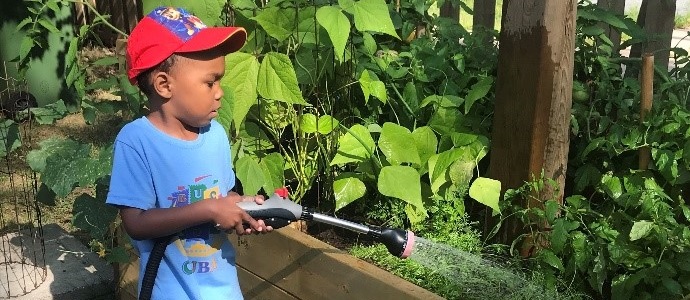 The new garden at Albro Court Co-op in Dartmouth was routinely cared for by a few members of the co-op including a couple of their littlest members, with regular watering, fertilizing and encouragement. It has become an outdoor learning space for the community, especially the children, which was useful in the midst of a pandemic. Members offered surplus produce to other members in the community, co-op neighbours, lone seniors, and elders, or low-income households in need. The co-op looks forward to starting earlier next year to maximize the gardening season and produce even more.
Alliance – Ottawa, ON $4,000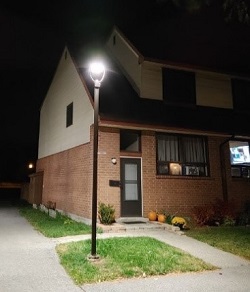 The co-op replaced their outdoor high-pressure sodium lights with LED lights which are much brighter and use only about 25-30% as much electricity.  LED lights also have a longer lifespan than HPS lights.  As a result of this investment, the co-op anticipates significant savings in both electricity consumption and bulb replacement costs for years to come.  The co-op will be undertaking a study of electricity consumption over the next 12 months to verify the actual savings. In addition, the  co-op's lighting is now much brighter providing members with a greater sense of security. Energy savings:
Yearly consumption with old lights – 14,636.5 KW Yearly consumption with new lights – 3,832.5 KW
This represents a yearly savings of 10,804 KW (74% reduction)
Beaver Creek – Waterloo, ON - $2,700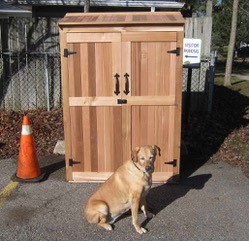 Beaver Creek had a drop-off site on the co-op property for members to put their metal waste which got picked up by a local metal recycler. Because it was not in an enclosed area, the children were taking the items out of the open bins and leaving them around the co-op. Since some of the items were not safe to access, the Board of Directors, Landscape and Green Committees and staff discussed possible solutions and came up with a locked shed keyed to the community centre to which all members already have a key. Rather than pour a concrete pad for the shed, the co-op is using a parking space near the garbage and recycling corral. Once the co-op's maintenance person put the shed together, it was decided to include bins for members to responsibly dispose of the following: light bulbs, batteries, cell phones, e-waste and toner cartridges. Members have volunteered to be responsible for the recycling program including outreach and education.
Coopérative Brébeuf – Ottawa, ON - $1,780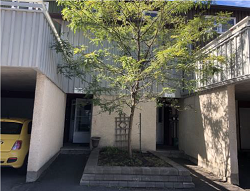 Cooperative Brébeuf completed a multi-pronged greening project with their microgrant. In total, ten raised garden beds throughout the co-op were implicated in the project. The co-op began by removing dormant stumps which allowed residents to use these spaces to expand fruit and vegetable cultivation as well as flower/shrubbery planting. Top-dressing the beds, improved the gardens' overall quality and stabilized the existing soil's pH levels while helping it to maintain nutrients. Investing in trees and perennial shrubbery will also help to improve air and soil quality as well as reduce light and sound pollution in the long term. The same concept applies to the new garden at the property's edge to help with beautification and reduce vandalism on the exposed wall behind it. This initiative is having positive effects in the co-op and helping to reach ongoing green retrofit goals.
Castlefrank Co-operative Homes – Ottawa, ON - $2,757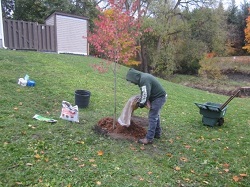 The grounds of Castlefrank had a large number of mature trees, many of them ash trees. Over the past few years, more than25 mature ash trees were removed due to the emerald ash borer, resulting in a dramatic loss of shade trees.
Originally the co-op had hoped to plant 10 trees, but in consultation with a certified arborist, it was decided that a combination of trees and large shrubs would be a better option. Tree & shrub location was based on type of tree, estimated height & width at maturity, soil type, drought resistance and amount of sun exposure. Wherever possible, new trees and shrubs were planted in areas that had trees removed due to disease, thus restoring some of the co-op's natural greenery and landscape.
Cawthra Mansions – Toronto, ON - $509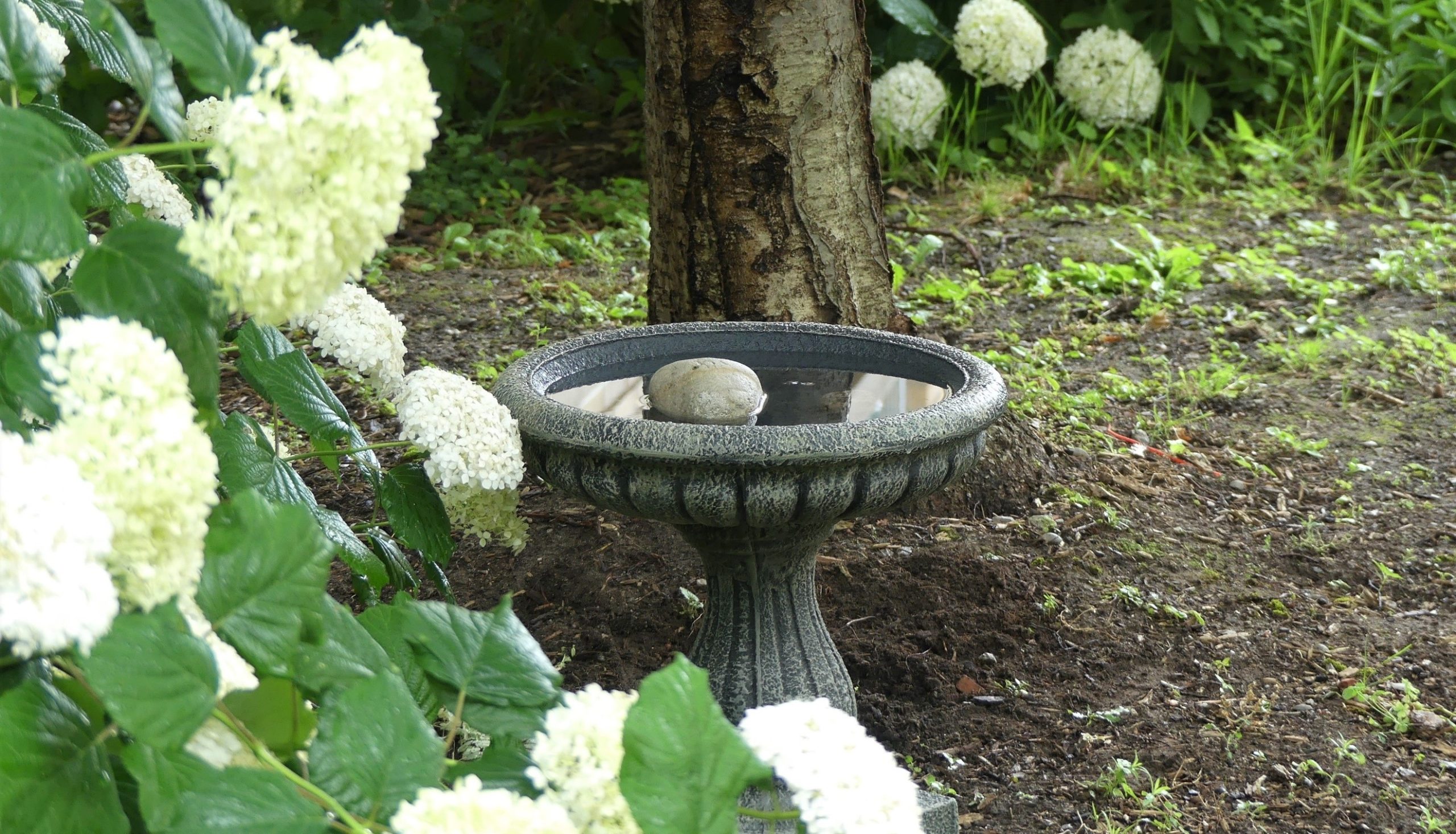 In one of the hottest summers on record it was essential for Cawthra Mansions to provide birds and butterflies with water. Three bird baths, interspersed in the gardens, make Cawthra Mansion's green spaces more attractive both to members and to the urban wildlife. Like all the landscaping and gardening work at Cawthra, the planning and design of the community green spaces is done by member volunteers. The bird baths are used by finches, sparrows, robins, wrens and other birds as they are the only regular source of water in the area.  From low flush toilets to encouraging cycling to alternative cleaning solutions, Cawthra has made reducing its community's environmental footprint part of the normal life of the co-op.
Cercle Carré – Montreal, QC - $2,873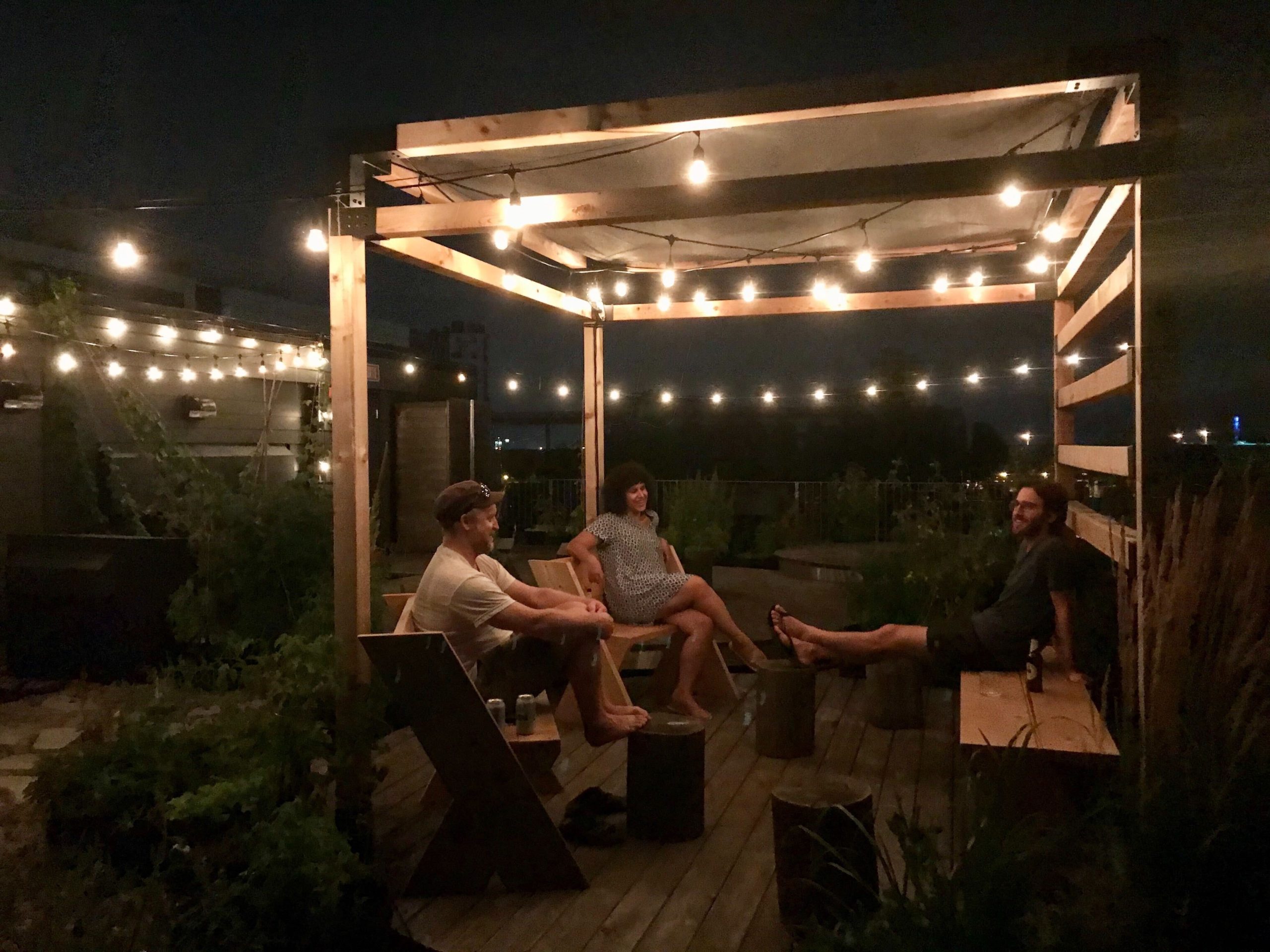 The Coopérative d'habitation Cercle Carré in Montreal completed a pergola and renewed the greening of their roof to encourage members to meet and socialize. In addition, since the cooperative is certified since this year by L'Espace pour la Vie as a nourishing garden and garden of biodiversity, it added many plants for pollinators. Next year, the cooperative will be targeting gardens for birds and monarchs. "It was really a pleasure to finally see the residents come back to spend long hours under the pergola, day and night," adds Véronique Jalbert of the Green Roof Committee. "This pergola project restores the community dimension of the cooperative's green roof in addition to the other benefits of greening. Sustainability is there. Maintenance will be easy. A good investment!"
Clearview Housing Co-op– Red Deer, AB - $3,840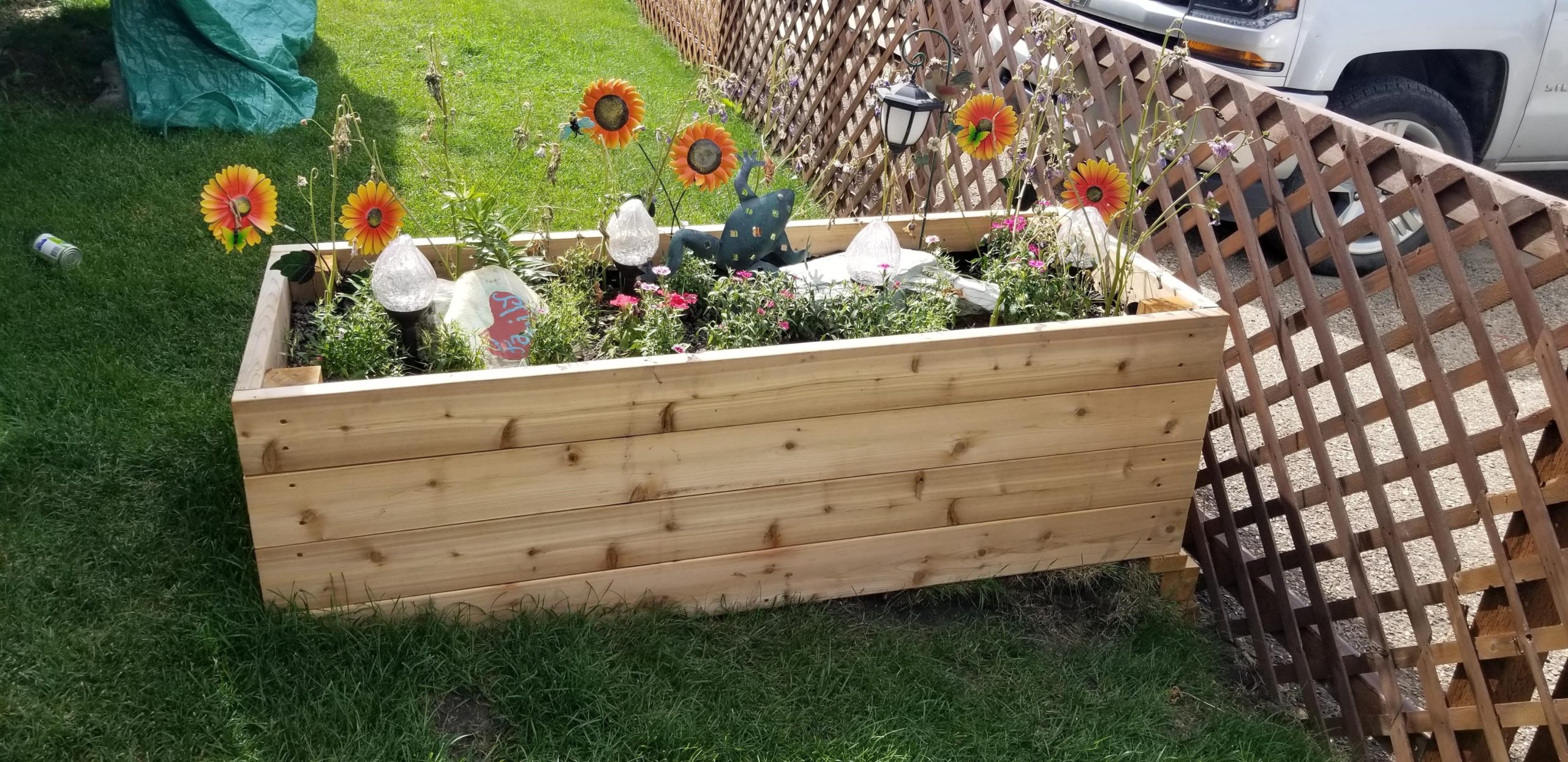 Clearview purchased 24 planter boxes to build a community garden. The original plan was to buy planter box kits, however, after talking to members with carpentry skills, the co-op decided to buy some cedar boards and build the planter boxes from scratch. This allowed for much larger planter boxes than originally intended – all because of great volunteer work put in by the members!
Garden Village Coop – St. Catharines, ON - $3,222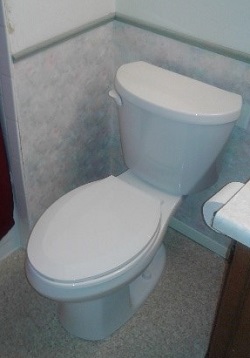 Garden Village Co-op replaced seven of their 30 year old 20 L toilets with low-flush models. With a previous grant to replace all 127 old toilets the co-op is seeing an overall reduction of 50% in their water consumption and savings of up to $35,000 per year. This more than makes the project self-sustaining!
Grace MacInnis – Vancouver, BC - $1,800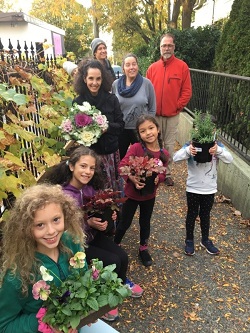 Grace MacInnis built new planters and installed them throughout the co-op in August. Current plants that took up a lot of room were removed for future re-planting elsewhere on the co-op property. One eager member has already planted garlic. The Landscape/Garden Committee will meet with interested members over the winter to discuss which herbs, vegetables and flowers they wish to plant next spring in their designated planters. Members are excited to begin planting next spring!
Grand Marais – Windsor, ON - $3,840
Grand Marais replaced ten toilets. Annual consumption for old toilets was 909.6 cubic metres and the projected annual reduction in consumption is 439.5 cubic metres.
Greenheart – Winnipeg, MB – $2,472.75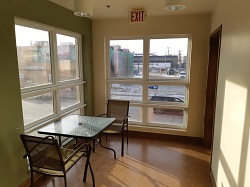 After consulting with another co-op in Winnipeg experiencing passive solar heat problems, Greenheart decided to install mylar film on their west-facing windows.
Although the cooperative was built to LEED standards, the project was over budget and it was necessary to make some revisions which now affect the air circulation / quality in the building. The units are very hot in the summer and because of LEED design restrictions, they do not open. Additionally, storm doors were removed from the budget so members cannot access air flow via their exterior door either and there is no air conditioning.
Halam Park – Hamilton, ON - $3,587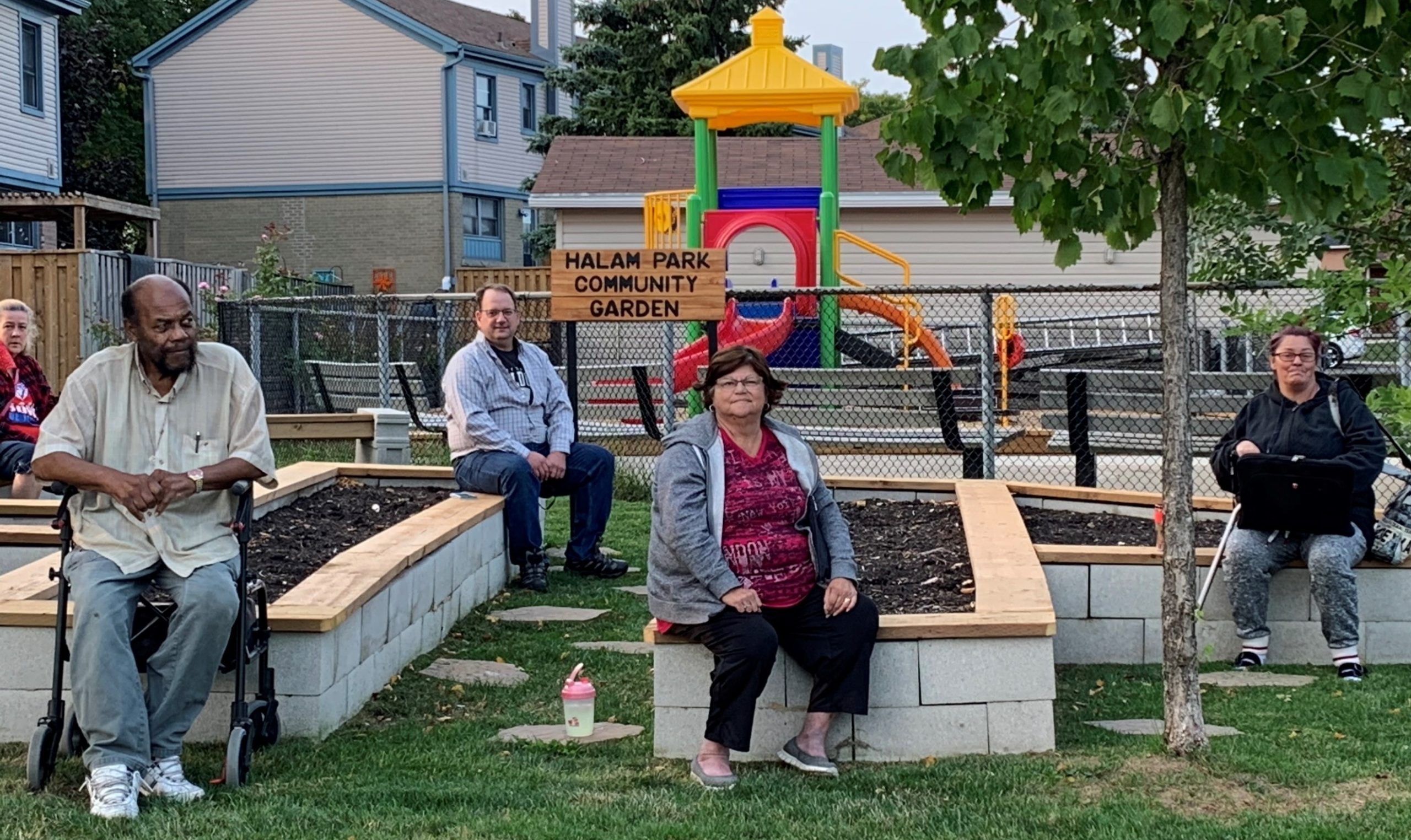 Halam Park installed rain barrels and built community gardens for growing vegetables for members and the summer children's program. Due to COVID restrictions and delays, obtaining building materials for the beds were not completed until August. Volunteers designed the bed area in the shape of an H and P for Halam Park and added soil donated by the city of Hamilton. Stepping stones and a bench were also added. The co-op also worked with community partners to obtain rain barrels and reused old ones for new fruit garden beds. To finish things off, students installed a  trellis that they painted in the seven cooperative colors.
Harbor Manor Co-op – Ladner, BC - $2,626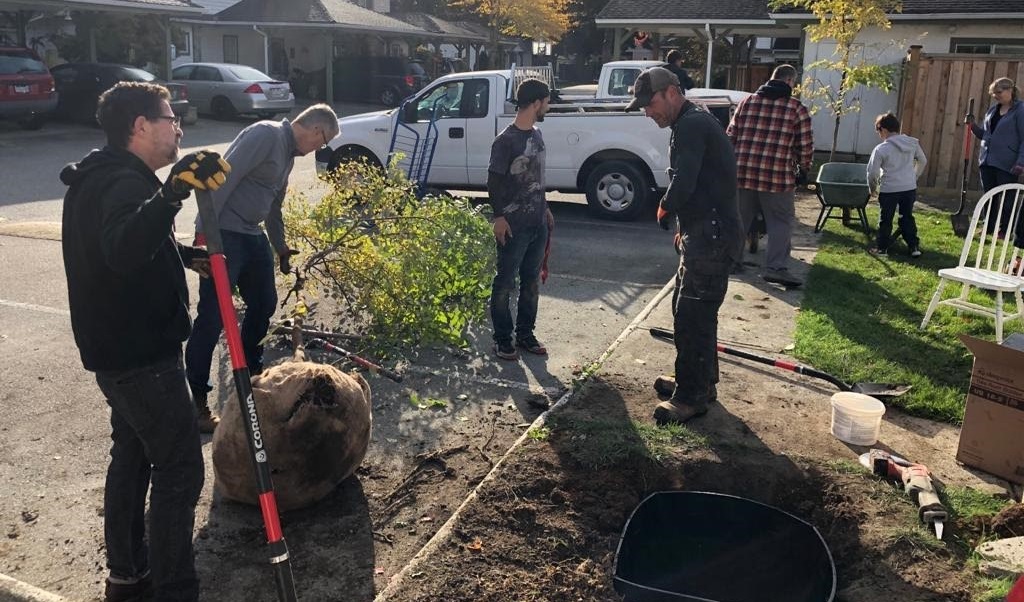 Harbor Manor consulted with an arborist regarding four trees that where either diseased and/or causing serious root growth damage to driveways, curbs and roads within the co-op. Three Japanese snowbells, one red maple and some shrubs were planted to replace the removed trees. The trees are highly recommended by horticulturalists for their hardiness and non-invasive root growth characteristics. The co-op also used root barrier panels which is highly recommended for planting trees in a complex with surrounding concrete. Members did some serious digging, soil moving, and pickaxe work along with moving and planting of the new trees and shrubs.
Heatheridge – Victoria, BC - $4,000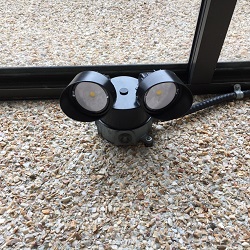 The purpose of Heatheridge Co-op's  grant was to lower electrical consumption and improve safety and security by replacing aging and non-functional lighting fixtures.
The lighting coverage has improved greatly in all areas of the co-op resulting not only in energy savings but also in improving the sense of security and safety for members. After analyzing the latest BC Hydro bill, Heatheridge reports a reduction in usage of 40% compared to the same billing period the previous year. The installation of new sensors and LED fixtures will not only lower operating costs for the co-op but will lower ongoing maintenance costs. Longer life LED fixtures do not require the consumable bulbs which were replaced frequently in the original fixtures. This will further reduce the co-op's environmental footprint and contribute to their goals of sustainability and environmental stewardship.
Heritage Housing Co-op-Vancouver, BC - $3,300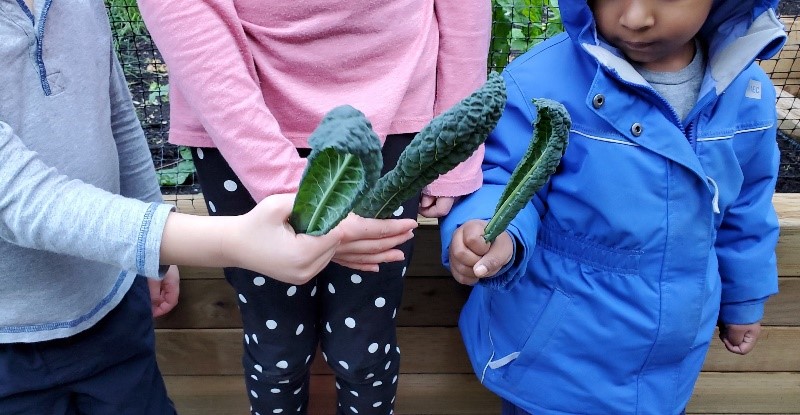 Given its central location, Heritage is surrounded by the non-stop hustle and bustle of city life. For this reason, garden beds in the courtyard have played a key role not only in helping to create privacy between units, but to also provide a calming buffer between the co-op and the surrounding busy-ness of the city. Heritage built two communal food gardens: one large permanent garden and one small semi-permanent communal food garden in the courtyard.
It was important to incorporate accessibility into the design of the new food garden. With an access path built into the centre of the garden at grade, anyone (including those with mobility issues) can access the garden to participate in planting, watering, weeding, and harvesting food. For those members who experience food insecurity, access to fresh food throughout the growing months is critically valuable.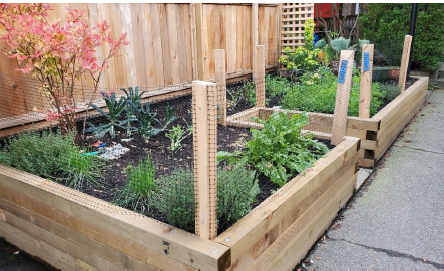 Members collaboratively worked on replanting the new garden with vegetables and herbs in order to get one last crop in before the end of summer. A smaller raised garden box was purchased and will be planted in the spring with vegetables the children can enjoy picking. Similarly, a native bee house was purchased and will be installed in spring 2021 when the co-op hopes to host a co-op garden party in celebration.
Since being constructed, a number of members who do not typically spend a lot of time in the courtyard have come to look at the new garden and have commented on how beautiful it is.
The garden project is one that has generated a lot of interest with people asking what will be planted next year and when the gardening workshops will be held. Members also provided many great suggestions including getting the children to paint wooden figures of birds, bees, ladybugs, etc. that can be affixed to the cedar fencing.
Members are very interested in the garden project and want to get more involved. Another interesting outcome from this project is that it has inspired many individual members to start building gardens and fixing up their own private patio spaces making the co-op even greener!  "It is always so fantastic to watch how easily young kiddos start to eat their veggies once they have access to a place to pick them out of the garden. They really decimated those leafy greens this summer!" says Jess Henry, a co-op member and a member of the Garden Committee at Heritage Co-op. Jess also manages a one-acre urban market garden in Vancouver called Farmers on 57th, and does a lot of sharing and educating about what crops to grow.
High Hopes Housing Coop Halifax, NS - $3,499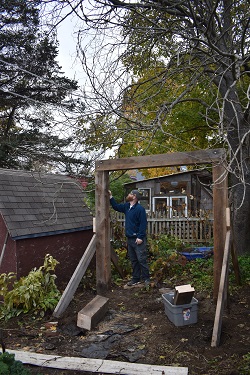 The microgrant project generated a lot of excitement and allowed co-op members to get outside and work together at a time when many were confined to their house due to COVID19. The co-op successfully constructed 12 large raised beds and planted gardens across the grounds. Many of these beds are 16 inches deep which makes them accessible to senior members.
High Hopes planted a number of perennial bushes, sowed lawns and shared seeds bought with the funds from the microgrant. In addition, the co-op also constructed a swing set with the same locally sourced lumber that was used to construct the raised beds. Two new clothes lines were also added.
Hromada – Edmonton, AB - $3,993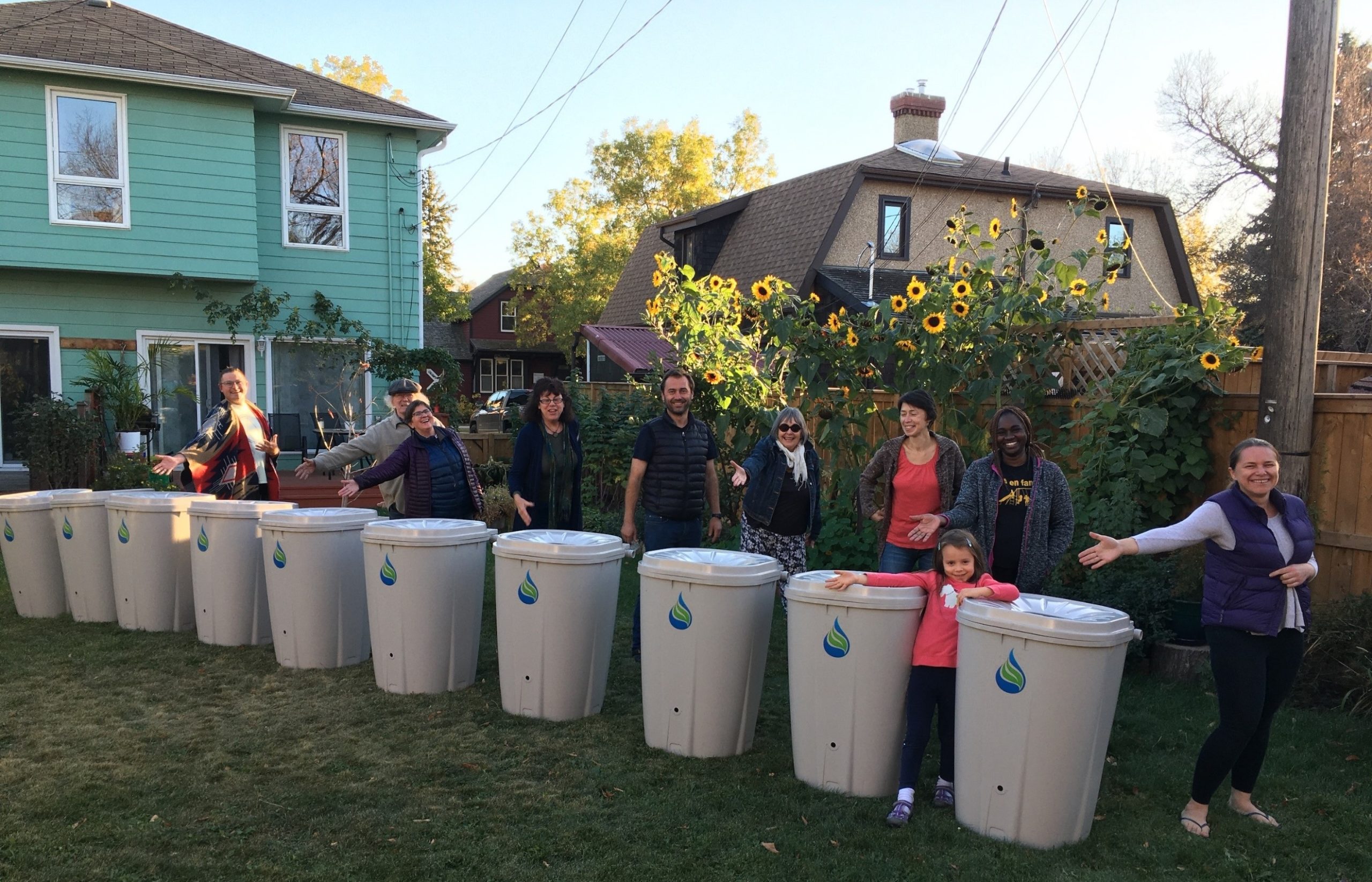 Members of Hromada Co-op contributed over 150 hours of voluntary labour to build their new community garden beds and fencing to protect them from a growing population of rabbits and other wildlife. They also built additional composters and purchased ten barrels to collect rain water and reduce dependence on city water for gardening needs. Based on the City of Edmonton's calculations, the co-op will  save up to 150 m3 of water and reduce greenhouse gas emissions by up to 250 kg for each gardening season. The co-op is a mixed-income community and perceives gardening as crucial for food security and equally as an educational resource.
Interlake – Teulon, MB - $3,996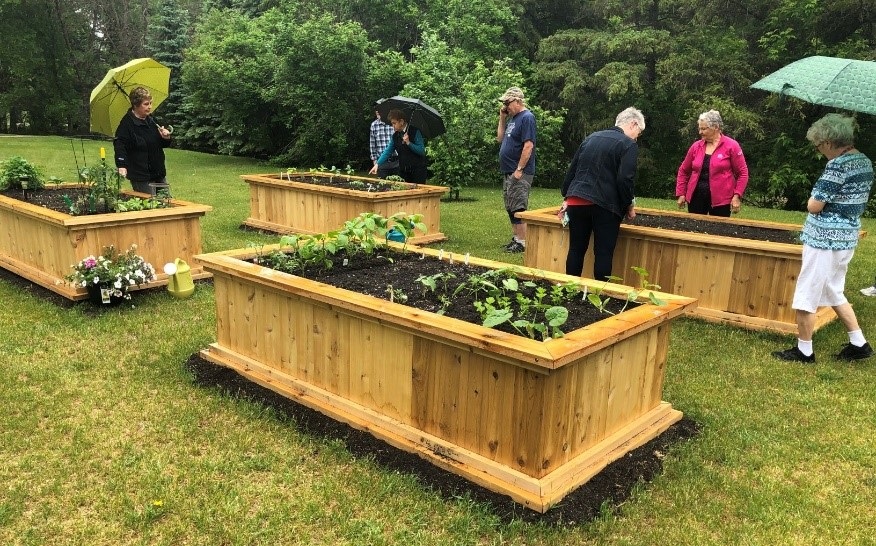 After receiving news of receiving a  Greener Co-op Microgrant and seeking community input, Interlake Co-op hired a contractor to construct six raised cedar garden boxes. Staff and members filled the boxes with soil and everyone took turns watering and weeding throughout the summer. The garden became a daily gathering spot, boosting everyone's morale. Members who previously didn't socialize have now been visiting with their neighbours and helping out with the garden. The garden bounty was shared by all and members are already discussing what they would like to plant next year. What a wonderful addition to the co-op!
Kabuki – Halifax, NS - $978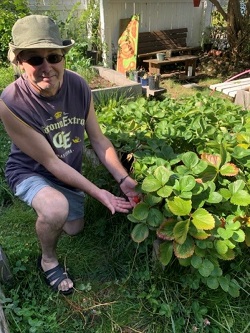 At Kabuki, it has been a long term effort to rebuild the gardens as raised beds. Each of the eight units now has access to their own garden bed, as well as a shared plot for strawberries. Thanks to the grant, organic soil supplemented with horse manure was provided for all of the members. The group decided to seed the pathways between the raised beds with grass and purchase a grass trimmer to maintain the growth. The co-op replaced the garden hose reel and bought new tables for the yard to provide a place for members to have BBQ suppers during the summer.
L'Egaliterre – Montreal, QC - $448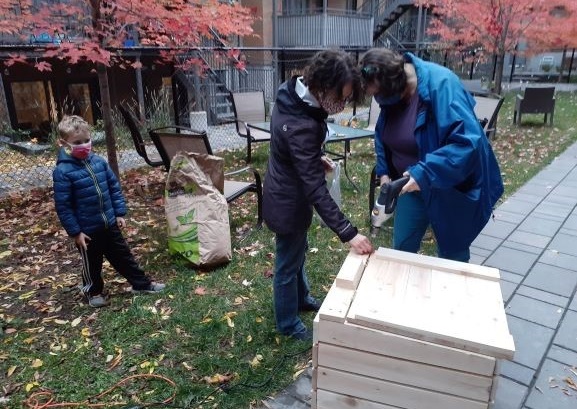 The L'Égali-Terre housing co-op in Montreal began working on the vermicomposter project at the end of last winter and were keen to implement it with financial support from CHF Canada.
The co-operative is now producing its own compost for enriching the soil in its food-producing gardens. Because less fertilizer needs to be purchased, the end result over the long term is lower costs and a smaller environmental footprint. The project also creates member education opportunities to learn about the principles of composting with worms and the uses of compost, as well as gardening and self-sufficiency. Following several meetings of the sustainable development committee, and hours of work, the committee selected a design made of wood, which is more environmentally friendly and more durable than plastic.
Two wooden bins, made by a Montreal social economy enterprise, were assembled and located in the co‑op's back yard. The compostable materials collected were placed in the two bins. Best practices were explained to the members who would be maintaining the vermicomposters. The composting process was begun and continued until frost. The compost will be available for use in the gardens in the spring of 2021. Composting training will be available in the spring for co‑op members and their children.
Liberton Terrace – St. Albert, MB - $3,000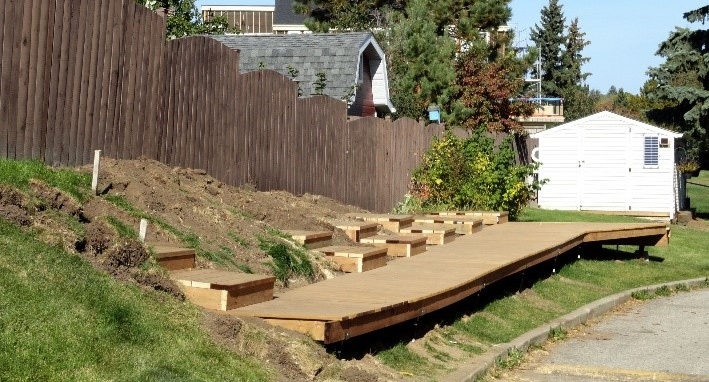 Liberton Terrace received a microgrant to install a platform to access a raspberry patch. The patch is located on a steep downward slope, presenting a challenge for obtaining safe footing. Also, the thickness of the patch makes it difficult to pick raspberries beyond reach. Furthermore, the patch is located beside the main road of the co-op, requiring caution while harvesting. By adding a deck and wide stairs, the co-op improved the safety and practicality of accessing the patch, as well as increasing the potential raspberry harvest.
Because of Covid, the cost of lumber increased by almost 30%. Construction required the co-op to remove the raspberry patch as it had been, but planted some yellow-fruited raspberries which should yield a crop in the 2022 season. The co-op was able to obtain these new plants from the University of Alberta's Green and Gold Garden at no cost.
The co-op is already planning additions to the platform such as installing an aluminum railing, shoring up the stairs to preserve their longevity and safety; and installing skirting to improve the aesthetic.
"We are pleased with the product and, though raspberry harvests are still a year and a half away, the new deck will make a wonderful outdoor gathering place once this upcoming winter ends." says Ryan Mullan.
Manoir Bourget – Montreal, QC - $3,264
The community garden project is a perfect opportunity for members of Manoir Bourget, in the Saint-Henri neighbourhood of Montreal, to share and improve their knowledge of urban architecture and food self-sufficiency. A space like a community garden can also decrease anxiety caused by isolation while allowing for social distancing. Members will be able to grow  fresh organic herbs and vegetables, learn about basic gardening principles that they can then share with others and, most importantly, spend some time relaxing in natural surroundings without leaving home. And let's not forget the children at the co‑op, who will no doubt be very keen to learn about gardening!
Needham Co-op – Halifax, NS - $3,036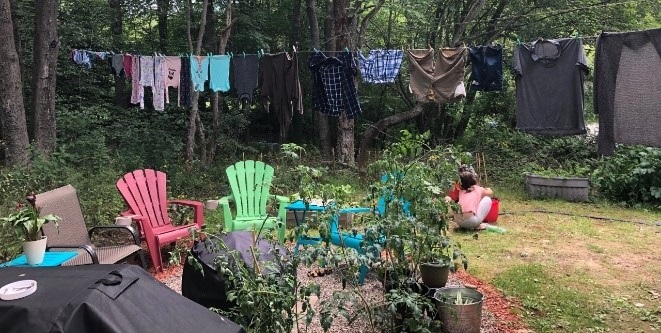 Needham is a small cooperative in the North End of Halifax. It's primarily a family co-op, which means lots of laundry! The co-op used their microgrant to install clotheslines which were put to use immediately, especially with the beautiful weather Halifax had last season. The co-op is reducing its electricity consumption and reducing wear and tear on the dryers that are mainly co-op owned and maintained. Needham's President, Tina Hiscock, says "We have wanted clotheslines for a long time and kept putting it off so this gave us the push to do it."​
Oak Street Co-op – Toronto, ON - $764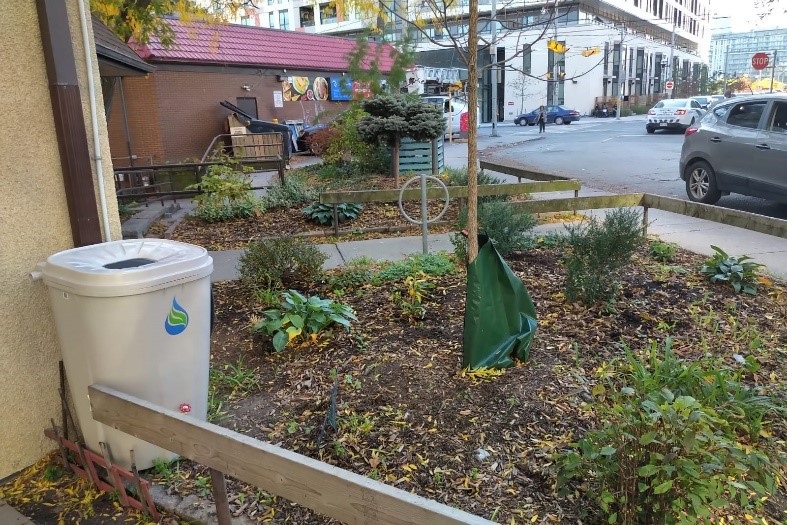 Oak Street put in four 55 gallon rain barrels and downspout diverter kits for the sum of $764. With over 2,200 square feet of green space it's not surprising half of the co-op's water consumption was going towards watering lawns and gardens. By using rain barrels in conjunction with passive irrigation, the co-op is saving money and conserving water. Rainwater is better for plants because it isn't treated with chlorine, and plants prefer water at the root, thereby delivering water to the part of the plant that needs it, and not losing water to aerial spray and evaporation.
The barrels were placed in "desert" areas of the co-op and near the co-op office where the large surface area of the roof is diverting plenty of water to the barrels. Two large trees and many plants growing underneath that are far from the water tap are receiving more water thanks to a new rain barrel placed nearby.  Implementing these new systems was done by the gardening committee in consultation with the maintenance staff. Using rain barrels is better for the environment and better for the plants!
Old Grace – Winnipeg, MB - $1,500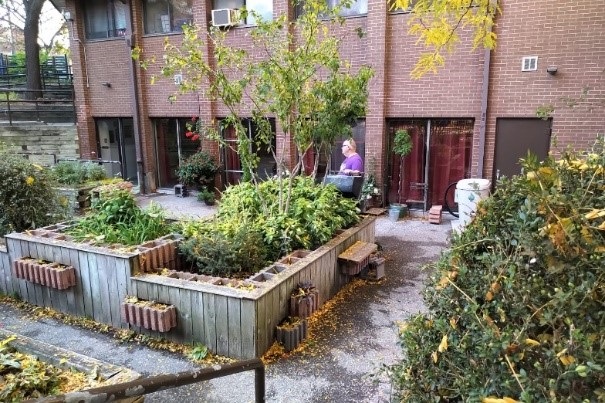 Old Grace Co-op members installed eleven 220 litre water barrels, downspout diverters and two 1,000-litre rain tanks. Sites were selected for convenience of access and stable bases were made from pea gravel, cement blocks and/or lumber.  Members used water from the rain barrels and tanks for watering plants indoors and outdoors throughout the summer and early fall. Gardening and compost teams will monitor the barrels for problems and clean out the trap at the top of the barrel periodically. In coordination with the co-op's maintenance team, all barrels are disconnected, rinsed and stored securely over the winter.
Oshawa Creek – Oshawa, ON - $3,990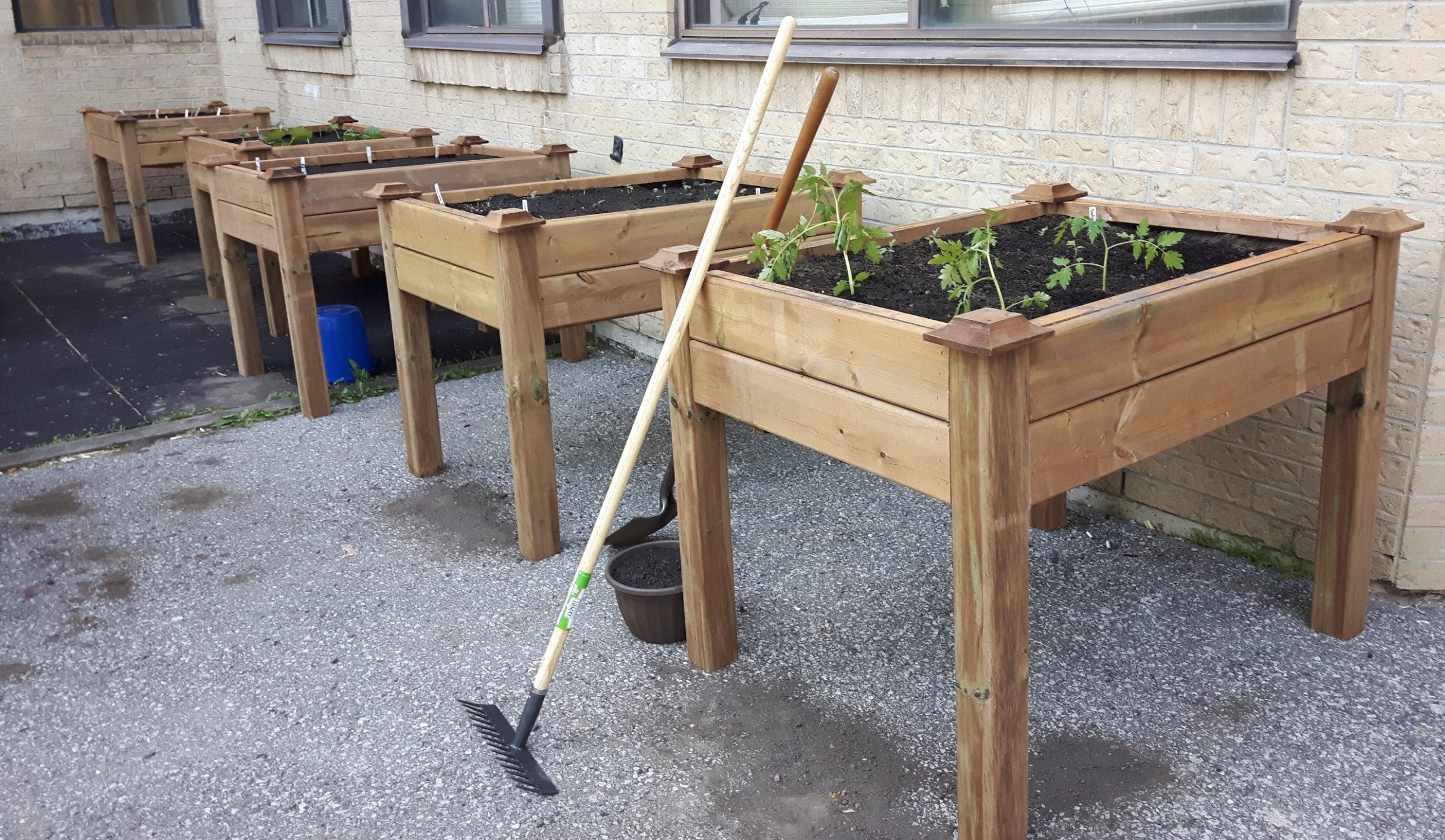 Oshawa Creek's project started with a member survey that identified the need for a community garden to sustain members' health and enjoyment of outdoor space.
A local carpenter assembled eight raised garden beds with the intention of being accessible to most people with disabilities, including members using mobility devices. After the first six raised gardens were made, the co-op realized that they only served a limited number of people, so the two others were made a foot shorter.
In total, the project required dirt, garden tools, seeds, a standing tumbling composter, compost, fertilizer, twine, stakes and gloves. The planting day and preparations were done mid COVID-19 shutdown, so only ten volunteers could be present at a time. Planting day was successful with people of all ages and experience levels helping – some with little experience and others with lifetimes of gardening wisdom.
The co-op planted basil, sweet and hot peppers, lettuce, tomatoes, cucumbers, beans, lavender, cilantro, savory, chives, parsley, and onions. The co-op also filled some donated pots with soil and planted some dill, sunflowers, kale, and donated tomato and cucumber seedlings.
Volunteers stopped by to water, weed, prune, stake, pick, and harvest as the season went on. The co-op looks forward to next year when they can start early and plant when the season allows them!
Pacific Heights – Vancouver, BC - $4,000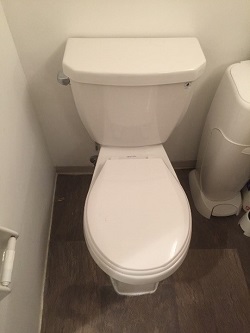 Pacific Heights replaced 41 toilets dating back to 1985 that used approximately 18 litres per flush with new ones that only use 4.8 litres per flush. These 41 toilets made up about 12% of the co-op's total water usage and sewage costs. With each toilet averaging nine flushes per day, the co-op is saving 13.2 litres per flush, saving approximately 1,777,842 litres of water per year.
Rainbow – Saskatoon, SK - $3,700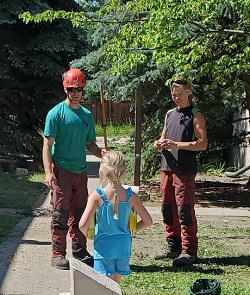 Rainbow Housing Co-op in Saskatoon sits on four city blocks and are blessed with a thriving urban forest. Sadly a chokecherry tree variety that was growing throughout the co-op was affected by black knot. A total of 14 chokecherries needed to be removed and replaced. These trees predominantly were found in the front yards of member units and were replaced by hardy trees that are resistant to common diseases found on the prairies. Members could chose from the following:  ming cherry, lilac, maple or linden.
Spruce Court – Toronto, ON - $3,920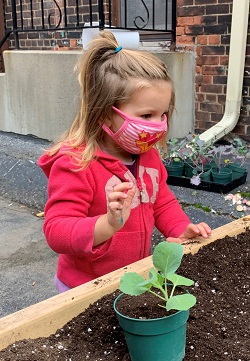 Spruce Court was late starting their project due to Covid-19 and had to plan their organic food gardens very quickly. The co-op used a company called BUFCO (The Backyard Urban Farm Co.) which taught the gardening committee a lot about planning organic garden beds.
Due to the fact it was too late in the season to create a spring/summer garden, members came up with the idea of planting garlic, winter kale, and some cabbages as they grow well into the late fall/early winter.  The co-op will then start to plan their spring/summer garden in 2021 using the valuable knowledge learned from BUFCO.
With this grant the co-op was also able to get more members to join the Landscaping Committee. The co-op's children also become involved and they did an amazing job.
St. Georges Co-op – Ottawa, ON - $4,000
St. Georges Co-op's project involved purchasing 80 new electronic thermostats. The installation of the new thermostats will help cut the costs of hydro and are more efficient and economically friendly, lessening the co-op's carbon footprint and increasing savings on members' hydro bills.
Terrasse Chambord – Montréal, QC - $3,087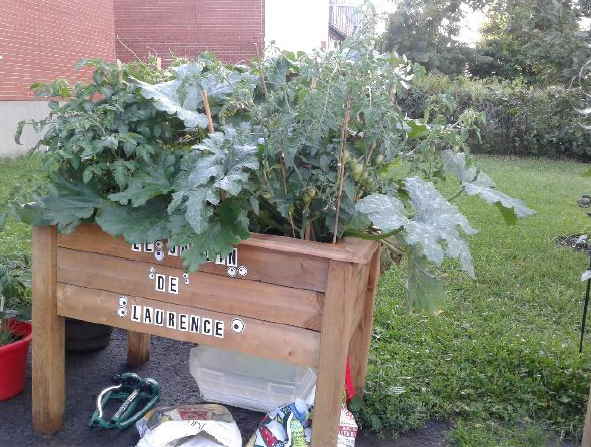 The Terrasse Chambord co-operative added some raised garden beds to make it easier for members with physical difficulties or limitations to get involved. When we noticed that children were curious and  interested in doing some planting of their own, we laid out a number of round flower and herb gardens so that they could enjoy learning more about plants and heightening their respect for nature. We now have a generation of fledgling gardeners! The children had a lot of fun at the planting workshop and throughout the growing season. They even insisted on choosing where these garden beds should be located.
Our greening efforts for the fencing focused on climbing plants. Flowers were planted just about everywhere to brighten up all the building surroundings. The co-op also replaced the sodium lighting with LED lights. The electricity bill will drop significantly as a result.
The benefits are already clearly observable. The yard, which is now full of life, has become a place for people to get together and socialize, and that's only the beginning…
The Links – Nelson, BC - $4,000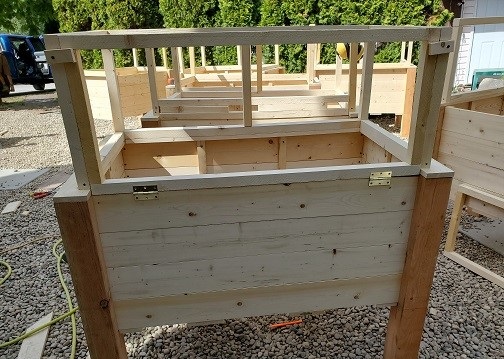 The Links Co-op redeveloped their run down, poorly used community garden and redeveloped it into a more useable, multipurpose community garden and social sharing space. Using lifting equipment, the co-op moved an old gazebo to a back area, expanding the space as well as making it more inviting and accessible. Benches and old garden boxes were also moved to other areas. River rock and paving paths provided esthetic appeal and drainage.
Eight freestanding, waist high garden boxes were installed with chicken wire and fold-down protective sides, allowing members of all capabilities to access the gardens while keeping pets and wildlife out.
For lighting, the co-op created five moveable cement poles to attach solar charged string lights to create ambiance in the evenings. Covid-19 provided some challenges such as difficulty in getting quotes from landscapers who were in high demand and having to wait for equipment and materials.
Toronto Women's – Toronto, ON - $4,000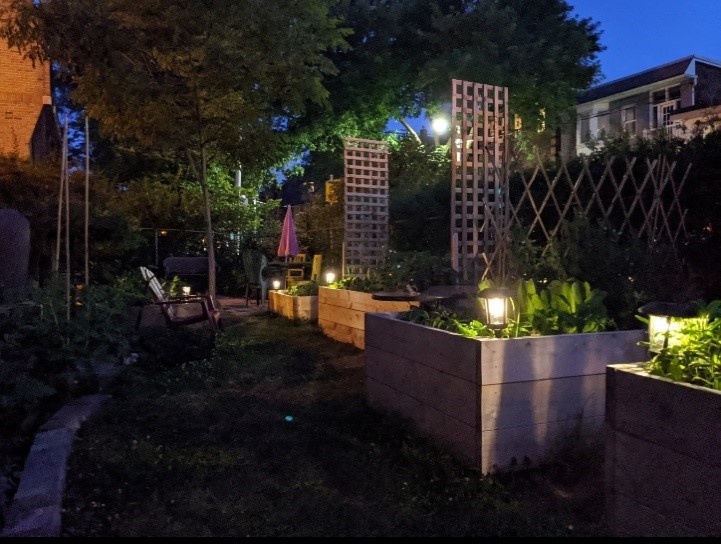 Toronto Women's Co-op transformed an outdoor space to include an indigenous diversity garden teeming with traditional medicines. They hosted a circle to harvest and bless the plants and give back to the community. Building on last year's success, the co-op continued with food sustainability for the entire co-op. By harvesting close to 20 lbs of produce every two weeks, every member had access to healthy vegetables and produce.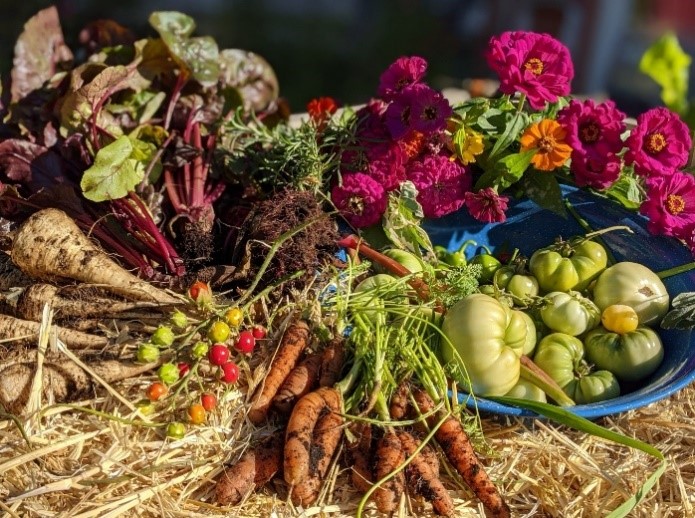 Many celebrations this summer centred around the garden such as Black Lives Matters and other celebrations. Socially-distanced garden gatherings for the neighborhood included music, food, dancing and celebrations of diversity. A street Pride event called Queerentine used the garden as a distanced space for food and celebration for the community after the show. Members also used the spaces for personal distanced dinners and small get togethers and invited vulnerable and marginalized neighbors to access left over food.
Accessibility was very important to the success of this garden initiative. The co-op created digital, call-in opportunities and surveys so that all participants had the opportunity to be heard. They also held zoom meetings and met regularly online to discuss ongoing issues and made sure that anyone who wanted to be involved could be. Members offered support around mobility issues if needed.
The microgrant allowed Toronto Women's Co-op to grow stronger as a community and has created a much needed outdoor space during a really hard isolating time. The co-op is looking forward to building and celebrating the garden space for years to come. You can visit their website at twcsoilsisters.weebly.com
Voisins Coop – Ottawa, ON - $2,195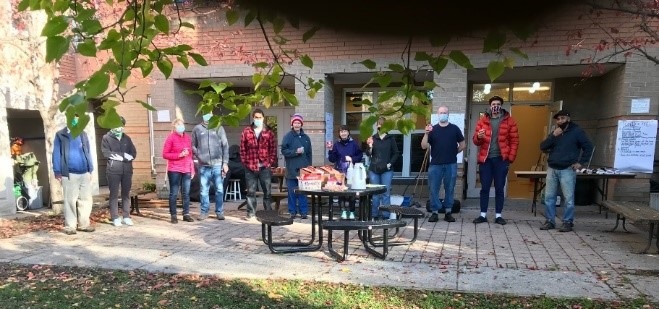 Voisins Co-op revitalized their landscape by applying a top-dressing of garden soil and herb-grass mix.
They did the project late in the season to ensure the seed did not germinate during the fall. It will have the rest of the fall and winter to settle into the soil and germinate in the spring which is optimal.
The co-op ordered sunny, warm weather for their work day. Almost half of the households were represented in the volunteer work team, testimony to the team spirit at Co-op Voisins. After mowing and aerating the soil beforehand, teams of shovelers, wheel barrowers, rakers, seeders, and fencers came together on the big workday.
The co-op will do periodic soil aerations, spot seeding, and minor top-dressing in the future. Healthy soil encourages earthworms, soil microbes, and water retention (conserving water); this in turn stimulates healthy plant cover which absorbs more CO2 and produces O2. And emboldened wildflowers will attract more pollinators.
West Heritage Manor – Calgary, AB - $3,167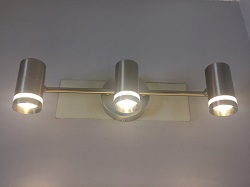 After 38 years, the Board of West Heritage Manor felt that it was time to replace the globe and fluorescent tube lighting in the office and shop buildings with LED lighting. To stay within the $3,910 budget, the Maintenance Coordinator volunteered to remove all of the old fixtures and recycle them. For the installation, a Journeyman Electrician joined the Maintenance Coordinator, both members of the co-op that volunteered their time and expertise.
Once the original lighting was removed, the ceilings in the office building were sprayed. The actual costs were higher than the estimate as the ceilings had never been painted since the building was built.