Atlantic living road map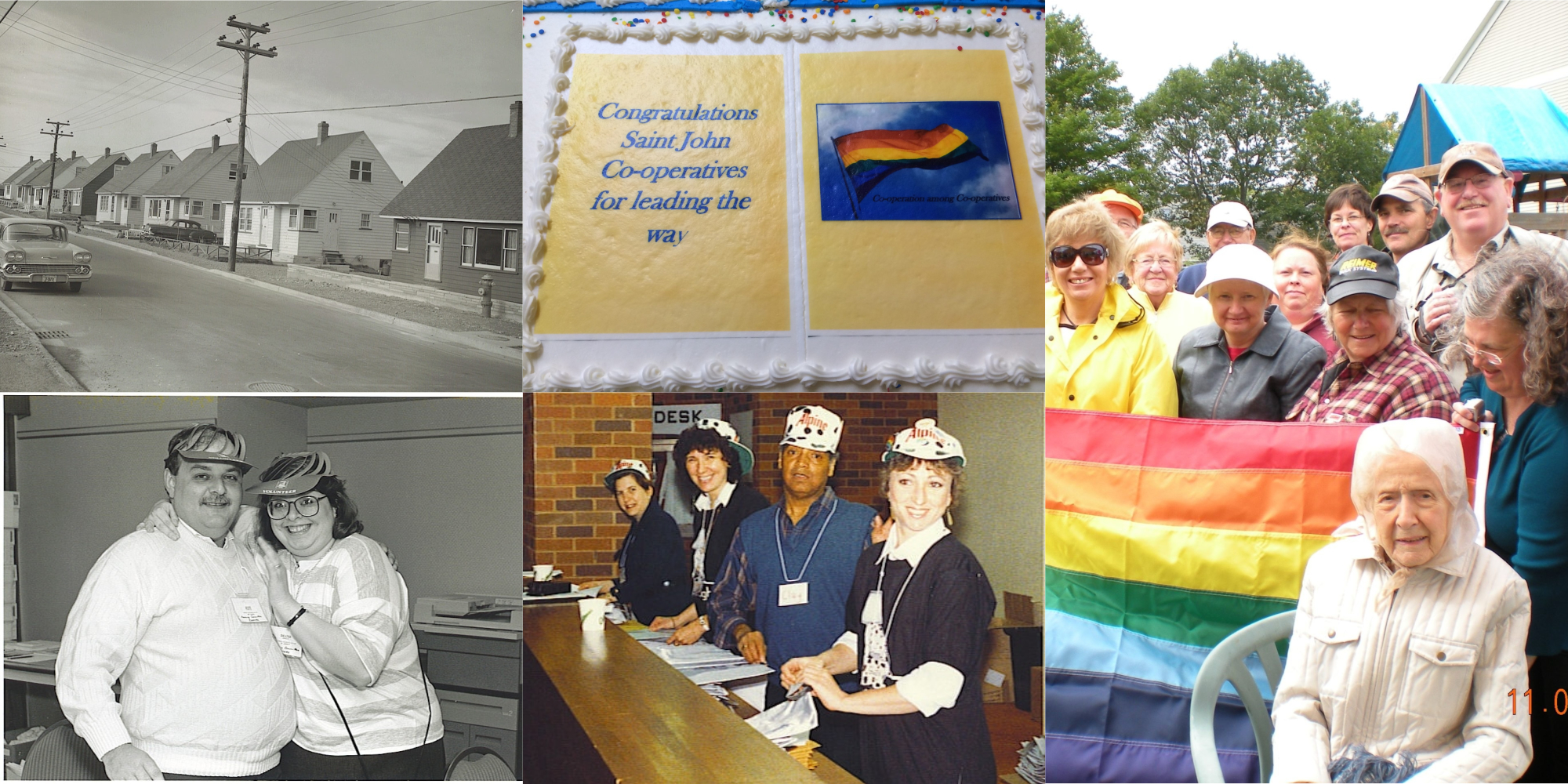 Canada's Atlantic region has a long and distinguished co-op housing history.
In the spring of 2019 at the first Atlantic Summit, over 100 co-op members came together to discuss the region's many contributions and milestones to produce this timeline.
We will continue to add to it as more co-op history is made. If you would like to suggest additions, please let us know at info@chfcanada.coop.
2019
October 2019, Compass Nova Scotia Co-operative Homes was successful in saving 39 units of existing co-operative housing. For the last several years, four co-operatives across Nova Scotia were struggling and were at risk of being lost to the co-operative sector. Compass NS presented a proposal to save the units and the proposal was accepted.
In September 2019, Central Dartmouth Housing Co-operative was the first co-operative to amalgamate with Compass Nova Scotia Co-operative Homes.
First Atlantic Summit held in Dartmouth, NS, bringing together members and stakeholders from across the region for education and networking.
The NS Diversity Scholarship is being expanded in 2020 to become the Atlantic Region Diversity Scholarship, which will allow students from all four provinces to apply.
2018
The Atlantic Region was well represented at CHF Canada's Vision Summit in February, when leaders from across the country gathered to share ideas for the future of Canada's co-operative housing movement.
Neighbourhood Housing Co-op (28 units) amalgamates with Unified Saint John, bringing the total number of units to 280.
Brunswick Co-operative Housing Association (BRUNCH) closes its doors in New Brunswick.
Halifax Women's Housing Co-op and Lamplight Housing Co-operative pay off their mortgages.
Evangeline Courts Housing Co-operative – celebrates 30 years, will have their mortgage paid off in 2019.
2017
CHF Canada appointed to PEI Housing Supply Task Force to contribute to the Provincial Housing Action Plan. The PEI Government agrees that development of co-op housing is a priority.
$1 million in federal funding given to nonprofit and co-op housing in PEI for unit upgrades.
A liquidator is appointed to dissolve four housing co-ops in Nova Scotia.
Island View Co-operative (24 units) in Charlottetown, celebrates being a CHF Canada Member for 30 years.
John Hugh MacKenzie Housing Co-op on Green Street in Halifax, a 42- unit apartment-style building, celebrates their 25th Anniversary
2016
2015
The first Nova Scotia Diversity Scholarship is awarded to Nikita Wallace from Privateer Housing Co-operative in Liverpool
CHF Canada holds its AGM in Charlottetown, Prince Edward Island, for the first time
CHF Canada's Nova Scotia office assumes responsibility for all four Atlantic Provinces
2014
CHF Canada launches the You Hold the Key Campaign calling for funding in the next federal budget to replace expiring rental assistance for low-income households in federally-funded housing co‑ops
2012
Canada's housing co‑ops joins other co‑ops from across the country to celebrate the International Year of Co‑operatives. Many CHF Canada member housing co‑ops display banners advertising the 2012 slogan: "Co‑operative Enterprises Build a Better World."
Alliance Housing Co-op merges with Needham Housing Co-op, allowing more units and stronger financials for repairs.
Jenny's Spring Community Housing Co-op develops 12 new units in Saint John, NB
2011
CHF Canada AGM held in St. John's, Newfoundland
2008
Housing Nova Scotia launches Social Housing Affordable Repair Program (SHARP). It became part of the stimulus funding program during the recession and provided housing co-operatives funding for building envelop repairs
Community Housing Management Network established to help co-ops in difficulty and fill gaps in local management services
2006
In Saint John a three-unit building is lost to fire, and South City Housing Co-op builds a 21-unit building in its place
2005
2004
Co-operative Housing Federation of NS closes its doors
The Agency for Co-operative Housing, created as a result of lobbying by CHF Canada to better oversee federal program housing co-ops, is incorporated as a co-op
2003
Housing Nova Scotia provides first AGM Bursary to members to attend the CHF Canada AGM held in Halifax, Nova Scotia
2002
CHF Canada opens Nova Scotia Office with two staff positions to serve members. The office and services are supported by an additional regional dues levy and a grant from Housing NS.
The Nova Scotia Housing Development Corporation and CHF Canada enter into a Memorandum of Understanding to work collaboratively to ensure the sustainability and viability of housing co-ops in the province.
2001
Four Corners Housing Co-ops (125 units) is created through the amalgamation of four housing co-ops in Yarmouth, NS
1997
Provinces of Nova Scotia, Newfoundland and New Brunswick sign Social Housing Agreement, transferring the administration of the social housing portfolio to the provinces
1995
Brunswick Co-operative Housing Association (BRUNCH) established to support networking and lobbying for New Brunswick's housing co-ops
1994
CHF Canada holds AGM in Halifax for a second time
1993
Golden Terraces Housing Co-op (39 units) officially opens its doors in January as the first seniors' apartment building in Moncton, New Brunswick
New Brunswick Non Profit Housing Association opens and provides expertise and support for the nonprofit and affordable housing sector in New Brunswick. Housing Co-ops can be members of NBNPHA
1991
Members across Canada actively protest the demise of the National Co-op Housing Strategy
1990
The Co-operative Housing Association of Newfoundland and Labrador (CHANAL) is incorporated March 9, 1990, developed to provide networking opportunities for housing co-ops as well as management services. Co-ops in Newfoundland are members of both CHANAL and CHF Canada through a joint sector membership agreement
1989
CHF Canada holds its AGM in St. John's, NL, for the first time
1988
Evangeline Courts Housing, a 27 unit co-op in Wolfville, NS, is established
1987
CHF Canada holds its AGM in Halifax, Nova Scotia, for the first time
1982
Co-operative Housing Federation of Nova Scotia is created, to support housing co-ops in the province.
Albro Court Housing, a 24 unit co-op in Dartmouth, NS, is established
1981
Newfie Co-op, Halifax, NS, opens with all 12 units occupied by Newfoundlanders, hence the name. As of 2019, their current president has lived in the co-op for 37 years
Housing Alternatives Resource Group opens doors in Saint John, NB, and is a nationally accredited, non-profit resource group. Their mandate is to add to the housing supply and provide housing-related services to improve the quality of life for people of low to moderate income in New Brunswick
1980
TRAC Housing Co-op, Moncton (20 units) is established as the first continuing housing co-op in New Brunswick
High Hopes Housing Co-op (23 units) is incorporated in Halifax, NS. It continues to have high member involvement and decision making at monthly general member meetings.
1976
Westmoor 57 is established when homes that were privately owned were going to be torn down. The occupants were given a month to get together and start a housing co-operative.
1975
OVO Housing Co-operative (16 units) is incorporated under the Section 61 funding program, in November 1975 and was the first in Nova Scotia.
1968
Cooperative Housing Foundation of Canada established. In its first year, it helped 22 organizations set up co-operative boards to try to organize housing projects.
1930s
Moses M. Coady and JJ Tompkins were key figures in the Antigonish Co-operative Movement. In 1939, 11 houses were built, and the co-op was called Tompkinsville.  The co-op was officially dissolved once the houses were built and the loan repaid.
In 1934, the first meeting of Nova Scotia credit unions was held in Sydney.