Ontario: Speak up for co-op housing

Mayors and councillors are in charge of some of the most important decisions that can impact the future of co-op housing in your community. This year, this is truer than ever as many HSA co-ops will be looking to sign new agreements with their municipality after they have paid off their mortgage.
CHF Canada, the regional federations and Ontario co-ops worked for five years to protect HSA co-ops as they reach the end of mortgage. In March, the Ontario government announced new regulations that are a positive step forward. Now, as municipal elections approach, our attention turns to the municipalities as each HSA co-op moves to a new agreement.
This election, ask candidates if they will:
♦ Work with the HSA co-ops in their area to ensure they are offered fair agreements that support the long-term health and sustainability of the community.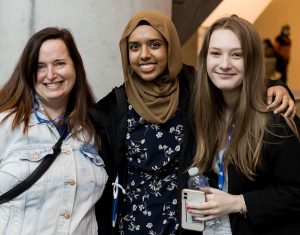 Over 250 HSA co-ops, home to 21,000 households, are nearing the end of their mortgage across Ontario.
Making sure these co-ops are offered a fair agreement at the end of mortgage is a municipal decision. This is key to the long-term health and sustainability of these communities.
♦ Build more permanently affordable co-operative housing.
Ontario needs to create 10,000 units a year of affordable housing over the next 10 years to meet the existing and growing need – and this is a conservative estimate.
Co-ops are ready to partner with municipalities to build new affordable housing or convert existing private rental housing to co-op.
Why co-op housing?
Co-ops have a strong record of building healthy, inclusive communities.
Co-ops are mixed-income communities that remain affordable for low- and middle-income households for the long-term.
Co-ops are not just housing – they're home.
Want to get more involved?