BC's newest and largest housing co-op, Fraserview, accepting applications
Published July 11, 2018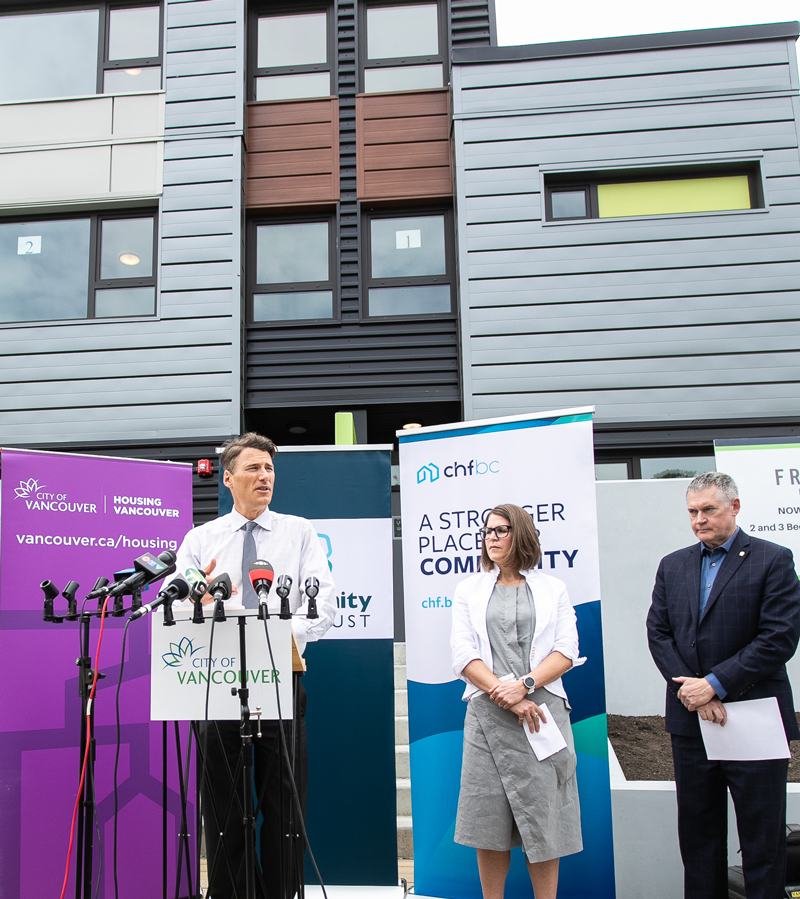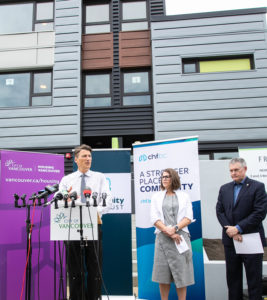 On Monday, Vancouver Mayor Gregor Robertson joined the Co-operative Housing Federation of BC (CHF BC) and the Community Land Trust to celebrate the launch of Vancouver's newest co-op housing development: Fraserview Housing Co-operative.
Fraserview's presentation centre and website are now open and accepting membership applications for the first 90 affordable homes expected to be ready for move-in later this summer. This is the first of Fraserview's two phases which will provide a total of 278 homes when completed later this year.
Built on city-owned land and leased for 99 years, Fraserview's new permanently affordable homes mark a significant development in the partnership between the City of Vancouver and BC's community housing sector.
"We have been waiting to celebrate the opening of Fraserview Housing Co-op for some time," said Thom Armstrong, Executive Director of CHF BC and the Community Land Trust. "This is an example of what the City and the community housing sector can accomplish when we work together. We're excited to meet the first families who'll be moving into Fraserview, and we look forward to many more celebrations like this in the coming months and years."
"It's a big win to open up new, much-needed co-op housing for Vancouver families at below-market rents," said Mayor Gregor Robertson. "We are focused on providing the right supply of homes for Vancouver residents and co-ops are a great long-term housing option for people to put roots down in our city."

The Community Land Trust received CHF Canada's Award for Outstanding Contribution to Co-op Housing last month in Victoria as a best practice for developing more co-operative housing.
---
Don't miss out on the latest co-op news, success stories, and helpful resources for your co-op. Sign up here to receive our eNews every two weeks straight to your inbox!