Fraserview: Beautiful new riverside co-op helps address Vancouver's housing crunch.
Published July 01, 2019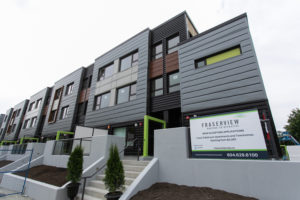 This year, families started moving into the first phase of Fraserview Housing Co-op in Vancouver on the north bank of the Fraser River.
Developed in partnership with the City, this innovative project will provide affordable community housing desperately needed in a region with sky-high rents and real estate.
The co-op includes a combination of riverside townhomes and river-view apartments, with 278 homes in total, making it the largest housing co-op in British Columbia.
Housing subsidies for lower-income households are funded by the City's land contribution of a 99-year lease. Most of the units will go to households earning between $41,000 and $124,000, an income range identified as having few affordable rental or ownership options.
This co-op is just one of several being developed by the Community Land Trust and the Co-operative Housing Federation of BC across the province. This business model shows great potential to address the need for affordable, community housing in other parts of Canada.
---
Don't miss out on the latest co-op news, success stories, and helpful resources for your co-op. Sign up here to receive our eNews every two weeks straight to your inbox!