#HumansOfCoopHousing:  Ian helps build food security in his community
Published July 08, 2020
Ian Marcuse has lived at Paloma Co-op in Vancouver for over 15 years. His work as the Community Food Developer for the Grandview Woodland Food Connection (GWFC) aligns with his passion for grassroots community development and empowerment.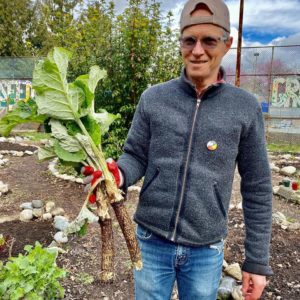 "I've always believed in building local community. The beauty of food is that it's a great way of building relationships. The work GWFC does aligns with co-op values, and it intersects with other critical issues such as poverty, marginalization, and colonization. A housing co-op uses an economic model based on reciprocity and dignity. Food dignity is an important consideration, too.
The pandemic has shown us the degree to which people are living on the edge. Right now at the GWFC, we're focusing our energy on emergency food home delivery, supporting families that are struggling. Neighbourhood food systems can play a huge role in creating a sense of community. It builds the kind of resilience that's needed right now with the COVID-19 emergency.
Every day is a different day. We do a lot of capacity building in the neighbourhood, and right now, that could mean basic food delivery, but long-term, the goal should be to create the framework for the neighbourhood to sustain itself, and eliminate the need for food banks.
The food security piece has become a big issue. It's exposed the weaknesses in our food system, and no one was really prepared for it. I feel very fortunate to be living within six blocks of five co-ops. We've been doing some collaborative emergency planning, particularly around earthquake response – if one co-op went down, how could others offer support? How can we create our own systems of recovery and response without having to rely on city systems? That kind of morphed into the COVID-19 work when the pandemic struck. Building on local knowledge, skills and assets is how we create strong, caring, and resilient communities. This is what I enjoy doing the most."
Throughout 2020, our Humans of Co-op Housing series will feature individuals who are making their co-ops a better place or speaking up for the importance of co-op housing. Let us know at info@chfcanada.coop who you'd like to see featured next.
---
Don't miss out on the latest co-op news, success stories, and helpful resources for your co-op. Sign up here to receive our eNews every two weeks straight to your inbox!