At a Vancouver co-op, a diversity grant helps seeds of reconciliation grow
Published June 08, 2022
June is Indigenous History Month, a time when everyone in Canada is asked to look at how both the achievements, culture, and values of First Nations, Inuit, and Métis people, and Canada's violent and ongoing history of colonization, have shaped the world we live in.
It is also a time to reflect on how we can build more equitable and co-operative relationships between Indigenous and non-Indigenous people going forward. This work is top of mind for many housing co-ops, as well as for CHF Canada.
In 2018, CHF Canada members passed a resolution calling on both CHF Canada and its member co-ops to embrace the work of reconciliation, and in 2020, we released a Reconciliation Toolkit to help co-ops get started in this work.
Cultivating relationships with the land and each other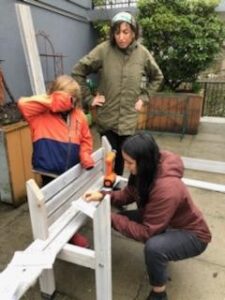 Twin Rainbows Housing Co-op in Vancouver, on the traditional territories of the Musqueam, Squamish, and Tseil Whaututh First Nations, received a CHF Canada Regional Diversity Grant to hold two workshops on land and cultural dispossession, reconciliation and creating awareness around colonial structures. The workshops aimed to help co-op members build better relations with the land and the host nations.
The first workshop focused on cultural teachings and storytelling.
The second workshop involved a community walk to identify and recognize the importance of conserving biodiversity. Participants reflected on the interconnections of human and non-human species, with a focus on fungal mycelium networks.
Twin Rainbows also created new garden spaces in some common areas of the co-op to cultivate deeper knowledge of the relationships with the land.
T'uy't'tanat Cease Wyss, a Skwxwu7mesh Elder, artist and ethnobotanist, and Métis artist Vivian Bassette led these sessions with the co-op.
The other project to receive a Regional Diversity Grant in 2021 was a group of six housing co-ops in Vancouver who held a roundtable discussion on concerns relating to barriers to equity, inclusion and belonging.
Regional Diversity Grants
CHF Canada's regional diversity grants offer funding between $500 and $3,500 to CHF Canada member co-ops, for projects that celebrate, and educate others about diversity and inclusion.
Other projects the program has funded have included:
a guide for inclusion of sexual orientation and gender identity minority groups in housing co-ops
translation software
a community mural
a KAIROS blanket exercise
a multicultural community celebration
The grants are offered every second year. We will next be accepting applications early in 2023.
---
Don't miss out on the latest co-op news, success stories, and helpful resources for your co-op. Sign up here to receive our eNews every two weeks straight to your inbox!