April 13: Save the date for our Atlantic Summit!
Published January 25, 2019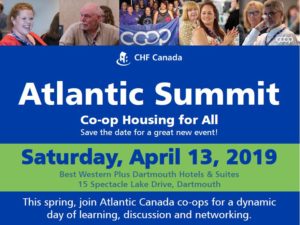 Saturday, April 13, 2019
Best Western Plus Dartmouth Hotels & Suites (15 Spectacle Lake Drive, Dartmouth)
This spring, join Atlantic Canada co-ops for a dynamic day of learning, discussion and networking.
The Summit will feature a full day of plenaries, panels, break-out discussions and networking opportunities.
Our Shared Vision of "Co-op Housing for All" urges us to share our stories to build awareness and support.
Identity: Co-operation among co-operatives
Sustainability: Vitality and strength in our housing co-ops
Growth: Exploring our options and opportunities
Details on registration and travel bursaries coming soon!
Download the "Save the date" flyer to share with your co-op
---
Don't miss out on the latest co-op news, success stories, and helpful resources for your co-op. Sign up here to receive our eNews every two weeks straight to your inbox!