New Brunswick third province to sign on to National Housing Strategy
Published July 11, 2018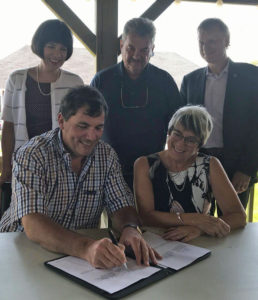 Last week, New Brunswick became the first province in Atlantic Canada, and third province overall, to sign on to the National Housing Strategy.
This 10-year, $299.2 million agreement is designed to help protect, renew, and expand community housing, including co-ops. The National Housing Strategy aims to expand Canada's affordable housing portfolio by 15% and renew 20% of existing community housing units (including co-ops).
The signing of the National Housing Strategy by the Province of New Brunswick is an important step in continuing assistance to low-income households living in co-ops. Through the National Housing Strategy's Canada Community Housing Initiative (CCHI), low-income households living in co-ops can continue to receive assistance through to 2028.
Last week's agreement is the first step towards securing assistance to vulnerable co-op households in New Brunswick, but the provincial government must now deliver the funds to housing co-ops across the province.
We encourage New Brunswick residents, and those living in Saskatchewan, Manitoba, Nova Scotia, and Newfoundland and Labrador, to take action and let their MLAs know how important it is to follow through on this agreement.
For more information, or for a template letter that you can send to your MLA, please contact CHF Canada Program Manager, Policy and Government Relations, Douglas Wong at dwong@chfcanada.coop or 1-800-465-2752.
---
Don't miss out on the latest co-op news, success stories, and helpful resources for your co-op. Sign up here to receive our eNews every two weeks straight to your inbox!