You are invited: Vote Housing poll launch!
Published August 09, 2021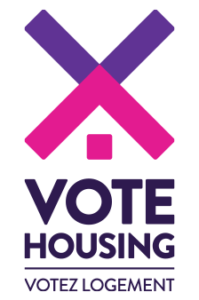 A couple of weeks ago, the Vote Housing campaign commissioned Nanos Research to conduct a national poll on public attitudes on affordable housing investment and ending homelessness leading up to an anticipated federal election.
We are releasing the results of this poll Wednesday at 3 pm ET.
As CHF Canada is a partner in the Vote Housing campaign, we are pleased to invite you.
As a supporter of the Vote Housing campaign, we wanted to offer you an exclusive opportunity to hear the results of the poll and make sure you have the chance to hear the webinar. Join our campaign team and Nik Nanos from Nanos Research for the release of the poll.
Our campaign team had a chance to see the results last week – and we have to say, this poll has significant potential to further our campaign's case and we can't wait to share the results with you!
---
Don't miss out on the latest co-op news, success stories, and helpful resources for your co-op. Sign up here to receive our eNews every two weeks straight to your inbox!