Meet Dillon Waldron, our new Government Relations Co-ordinator
Published August 14, 2019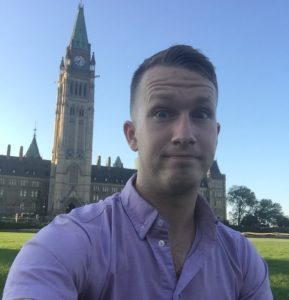 In July 2019, CHF Canada welcomed Dillon Waldron as our new Co-ordinator, Government Relations.
Dillon works out of CHF Canada's Ontario Region office in Toronto. He'll be helping organize meetings with candidates and elected officials so co-op members can make their voices heard.
Dillon comes to CHF Canada with experience at all level of government in many different roles. He's worked for party leaders, for the Minister of Health in Alberta, and for the Opposition Leader in Ontario.
When we asked Dillon what he's most looking forward to about working with housing co-ops, he responded:
Co-op housing is not only an affordable way for solving the housing crisis, but also a sustainable way. I'm really enjoying how each co-op is building a sense of community, and when I hear about the amazing work some co-ops are doing to improve their neighbourhoods and their communities, it makes me so proud to be working for CHF Canada.
Outside of work, Dillon has volunteered with Planned Parenthood Toronto, and with Rainbow Railroad, an organization that helps LGBT+ individuals escape violence and persecution in their home countries. He also enjoys reading, travel, listening to podcasts, and playing in Toronto's LGBTQ soccer league.
---
Don't miss out on the latest co-op news, success stories, and helpful resources for your co-op. Sign up here to receive our eNews every two weeks straight to your inbox!