What the parties have said about housing
Published October 16, 2019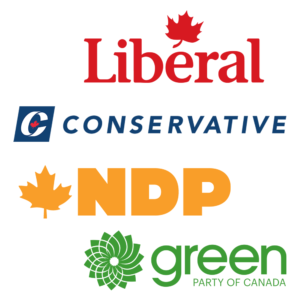 For the past few months, we have called on all the political parties to prioritize housing, and recommended five policy actions:
Maintain federal leadership and investment to address access to housing.
Develop and adequately fund a distinct urban, rural and northern Indigenous Housing Strategy
Increase the supply of community housing
Protect the existing supply of community housing, and ensure proper supports to protect supportive housing
Commit to the elimination of homelessness in Canada
Here's how the parties have responded:
 The Liberal Party
The Liberals are running on their plan to continue the National Housing Strategy, which began in 2017 and commits $16.1 billion in new federal funding for housing affordability programs over ten years. This includes two important programs for the co-op housing sector: Federal Community Housing Initiative, and the Canada Community Housing Initiative.
In the 2019 Platform, the Liberal party has committed some new housing funding to support veterans. If re-elected, the Liberals will spend $15 million a year to build new, purpose-built accessible and affordable housing units.
Generally, the Liberals have focused largely on making it easier for more people to buy their first home by expanding the First-Time Home Buyer Incentive, for people living in Toronto, Vancouver and Victoria. They also have promised to tackle the issue of housing speculation by imposing a tax on vacant residential property owned by non-Canadians who don't live in Canada.
The Conservative Party
The Conservative party is largely focused on increasing home ownership as a way to solve the housing crisis.  Andrew Scheer released a four-point plan to make home ownership more affordable. He will remove the stress test from mortgage renewals, increase amortization periods on insured mortgages from 25 to 30 years for first-time homebuyers, launch an inquiry into money laundering in the real estate sector, and finally allow surplus federal real estate available for development to increase the supply of housing.
The Conservatives will also introduce a Green Homes Tax Credit, which would help pay for energy efficiency renovations, for a maximum benefit of $3,800 each tax year.
The NDP
The NDP has an ambitious plan to build 500,000 units of affordable housing in 10 years, with half of that done in the first five years. To assist with the construction of co-ops, social and non-profit housing, the NDP will set up a dedicated fast-start fund to streamline the application process, and get projects developed.
In order to help development, the NDP has committed to waiving the federal portion of GST/HST on the construction of new affordable rental units.
The NDP has also committed to maintaining rental assistance programs, and offering annual subsidies of up to $5,000 to help low-income households pay for rent.
The NDP are also open to other housing models by providing resources to facilitate co-housing. They have also pledged to put an end to speculation by imposing a foreign buyer's tax on the sale of homes to individuals who aren't Canadian citizens or permanent residents
Jagmeet Singh has declared that investments in housing is one of the conditions his party would want to see met in exchange for supporting another party in a minority Parliament scenario.
The Green Party
The Green Party is committing to creating a Canada Co-op Housing Strategy that would update the mechanisms for financing co-op housing. The Green Party would work with CMHC, co-op organizations, and credit unions to develop this strategy.
If elected, the Green Party would appoint a Minister of Housing to strengthen the National Housing Strategy, and work with provincial ministers to implement the affordable housing programs. They are committed to developing 25,000 new, and 15,000 rehabilitated units annually for the next 10 years.
Elizabeth May has promised to restore tax incentives for building purpose-built rental housing and provide tax credits for gifts of lands, or of land and buildings, to community land trusts to provide affordable housing. As well they will eliminate the first-time home buyer grant.
In efforts to transition to a green economy, the Green Party will prioritize high quality safe and affordable housing, particularly in the north, and ensure an equitable distribution of resources for energy efficiency retrofits. They will work with the provinces to update national and provincial building codes to require new construction to meet net-zero emission standards by 2030 and work with the provinces to enact it.
---
The Canadian Housing and Renewal Association, the Canadian Alliance to End Homelessness, and the Co-operative Housing Federation of Canada sent a survey to political parties. Here's what they had to say.
---
Don't miss out on the latest co-op news, success stories, and helpful resources for your co-op. Sign up here to receive our eNews every two weeks straight to your inbox!