New #FixtheFormula4Coops Campaign launched: Pass a resolution
Published June 28, 2021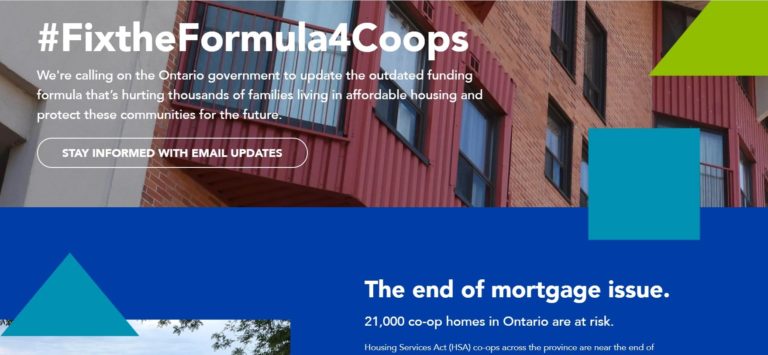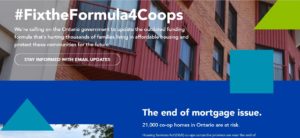 At the Annual Meeting, co-ops across the country unanimously voted to call on the province of Ontario to Fix the Funding Formula for Ontario Housing Services Act (HSA) co-ops at the end of mortgage. Across Ontario, over 250 co-ops – 21,000 co-op homes – are at risk.
HSA co-ops will begin to pay off their mortgages this year. That would seem like a good thing, but an outdated funding formula could put them at risk. The current funding formula means that, without the mortgage cost, a co-op can fall into a negative operating subsidy position. The co-op would lose crucial government funding that covers the costs of providing rental assistance and property taxes.
CHF Canada is calling on the government to fix the funding formula and protect these co-op homes in the new service agreement regulation that the province is developing.
The province has taken an important step towards addressing this problem with the launch of the Community Housing Renewal Strategy. But, without a new funding formula in the service agreement regulation, co-ops will not be protected.
The new #FixtheFormula4Coops campaign webpage will serve as a hub of information for members and the public on the issue. Members can sign up for email updates on the page, and more resources will be made available as the campaign evolves.
Show your support: Pass the #FixtheFormula4Coops resolution at your co-op
CHF Canada is asking all Boards of Directors to pass a resolution calling on the province to Fix the Formula for Co-ops at your co-op and send it back to us.
It's important that the province understands that all co-ops, whether federal or HSA, strongly support this campaign to ensure HSA co-ops have a reasonable funding formula included in the service agreement regulation. With 47 different service managers across the province, the government of Ontario needs to make sure all housing co-ops are protected and continue to receive vital funding for rental assistance.
Find out more about this issue and download a sample resolution at www.fixtheformula.ca.
---
Don't miss out on the latest co-op news, success stories, and helpful resources for your co-op. Sign up here to receive our eNews every two weeks straight to your inbox!