Rainbow Housing Co-op receives 2020 Award for Co-operative Achievement
Published June 04, 2020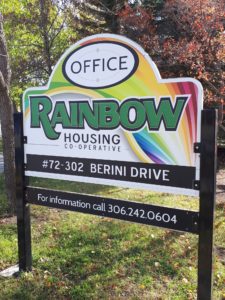 As told in this new video, Rainbow Housing Co-operative in Saskatoon, SK is being awarded CHF Canada's 2020 Award for Co-operative Achievement for leading an inspired and determined advocacy campaign, for sharing their personal stories, and for raising the profile of co-op housing in their community and across Canada.
Established in 1984, the name 'rainbow' is fitting for this co-op. A caring, welcoming and diverse community, Rainbow Co-op is home to young families, seniors, single parents and people with disabilities. Life-long friendships are made at this co-op that has a full social calendar with multi-cultural potlucks, summer carnivals, and Christmas dinners. It's this diversity and affordability that makes Rainbow Co-op what it is – a great place to live.
A grassroots campaign to maintain rental assistance
With their operating agreement coming to an end in July 2021, and no commitment from the Saskatchewan government to renew rental assistance, the leadership and staff at Rainbow launched their energetic campaign. Working with other co-ops across the province, their grassroots advocacy work included multiple meetings and co-op tours with government officials, a letter-writing campaign, a petition that gathered over 2,500 signatures and a rally at the Saskatchewan legislature. Since 2018, the team behind the campaign has championed the needs of the most vulnerable members of their community.
Raising awareness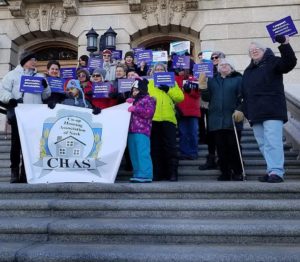 Their sustained and dedicated efforts resulted in significant local media coverage and broader awareness of the importance of co-op housing.
Frank Wheeler, CHF Canada's President and member of the Award committee, was particularly impressed with the courage and determination members showed in sharing their personal stories. "From the very young to the most senior members, Rainbow held strong and continued to engage and reengage, accessed and leveraged supports from the sector to increase the magnitude of their efforts, traveled great distances to ensure their message was taken seriously, and showed courage in sharing their personal stories. The sheer scope and persistence of their effort is exemplary."
Recently, the Minister responsible for Social Services, Paul Merriman, agreed to a conference call with Rainbow Co-op. There may be good things in store at the end of this rainbow after all!
CHF Canada's Award for Co-operative Achievement recognizes an inspiring program or project by a CHF Canada member co-op that creates a lasting legacy. This award is given out annually and celebrates why housing co-ops are such remarkable places to live.
Congratulations Rainbow Co-op, and thank you for all that you have done and continue to do to speak up for co-op housing.
---
Don't miss out on the latest co-op news, success stories, and helpful resources for your co-op. Sign up here to receive our eNews every two weeks straight to your inbox!