Co-ops rally in Regina to protect affordability
Published December 04, 2019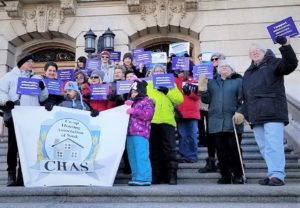 On Wednesday, CHF Canada members in Saskatchewan held a rally on the steps of the provincial legislature lobbying the government to continue rent assistance for housing co-ops.
The provincial government continues to pressure co-ops to provide internal subsidies once their operating agreement ends. CHF Canada's position is that this is unacceptable. It is unreasonable to ask small housing providers to be responsible for assisting vulnerable people in Saskatchewan without government support.
Co-ops want to be a part of the solution to eliminate affordable housing needs in the province. CHF Canada members in Saskatchewan are calling for a renewal of the existing rental assistance program that is already working for low to moderate income earners and seniors.
You can support co-ops in Saskatchewan by signing the online petition.
---
Don't miss out on the latest co-op news, success stories, and helpful resources for your co-op. Sign up here to receive our eNews every two weeks straight to your inbox!