CALL TO ACTION: Help #FixtheFormula4Coops – Respond to Service Agreement consultation
Published January 27, 2022
CHF Canada offers guide, webinar on how to participate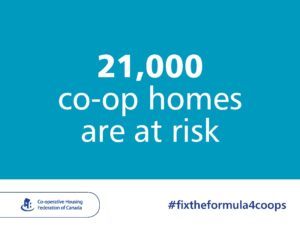 Calling all Ontario co-ops, members and supporters: we need your help to protect the homes of tens of thousands of members in the province. The government's consultation on the Service Agreement regulation and other changes is our best opportunity to find the solution we've been pushing for in our Fix the Funding Formula campaign.
We need you. End of mortgage is the most crucial issue facing Ontario's housing co-ops. In this consultation, we need government to hear, loud and clear, what they need to do to protect HSA co-ops.
We have a guide. We created a Guide to help co-ops and supporters respond to the consultation. It describes the three issues the government is seeking input on, and shares CHF Canada's position on these issues.
Join us in one week. On Thursday, February 3, 12-1pm EST, join us for a lunchtime webinar. If you can't make it at that time, register so we can send you the recording. We'll take you through the Guide and answer your questions so that you are equipped to participate in the consultation.
We have three weeks:
to submit your input by the deadline, February 18, 2022. We are calling on every Ontario co-op, member and supporter to participate in the consultation;
to write your input. Whether you write a paragraph or many pages – it all helps;
to help spread the word, especially in co-ops, and help those who may have difficulty participating; and
to tell the government you want to protect these co-ops when they come to the end of mortgage.
CHF Canada will also be sharing your #FixtheFormula4Coops resolutions with the government. If you haven't passed one yet, have your co-op send in a passed resolution with its submission!
---
Don't miss out on the latest co-op news, success stories, and helpful resources for your co-op. Sign up here to receive our eNews every two weeks straight to your inbox!