Co-op Housing Day at Queen's Park
Published November 06, 2019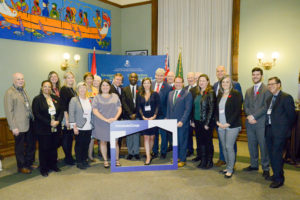 On October 28, CHF Canada hosted Co-op Housing Day at Queen's Park.
CHF Canada staff, Ontario Council members and representatives from regional co-op housing federations spent the day at the Legislature meeting with MPPs, including the Minister of Municipal Affairs and Housing. The event was an opportunity to promote co-op housing and advocate for protection of Housing Services Act (HSA) co-ops when they come to the end of their mortgages.
The day was successful on many counts:
Our delegation was introduced at Question Period.
Several new MPPs elected in 2018 met with us to learn about housing co-ops, and many expressed interest in meeting or touring a co-op in their riding.
Close to 50 Ontario MPPs, including five cabinet members, attended our reception to discuss co-operative housing.
The Honourable Steve Clark, Minister of Municipal Affairs and Housing, met with us to discuss ways to support the development of more co-op housing, including the use of surplus lands.
Our work to develop support for co-op housing in all political parties continues to show success.
"With 76 MPPs newly elected in 2018, we've been busy introducing co-op housing and building support," said CHF Canada Deputy Executive Director Harvey Cooper. "Co-op Housing Day gives us an opportunity to reach a large number of politicians. This year's event helped us make new connections and solidify existing support."
Does your co-op have an upcoming community event, or would like to invite your MPP for a tour? We can help! Contact Dillon Waldron, Government Relations Co-ordinator, at Dwaldron@chfcanada.coop or 1-800-268-2537, ext. 223.
---
Don't miss out on the latest co-op news, success stories, and helpful resources for your co-op. Sign up here to receive our eNews every two weeks straight to your inbox!