CHF Canada's key recommendation for the Ontario budget is to Fix the Funding Formula for Co-ops
Published January 19, 2022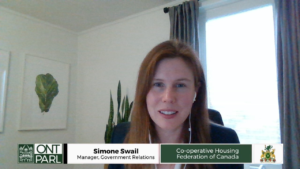 Across the province, Ontarians are desperately looking for an affordable place to call home. The current state of the housing market requires real and decisive action in order for people and local economies to thrive.
Simone Swail, CHF Canada's Manager of Government Relation, appeared before the Standing Committee of Finance and Economic Affairs to make two key recommendations:
FIX the funding formula for existing community housing
INCREASE the supply of community housing, including co-ops
Fix the Funding Formula
Over 260 Housing Services Act (HSA) co-ops and many more non-profits are near the end of their mortgage. An outdated funding formula could put these co-ops—and the low- and moderate-income residents who live there—in a worse position.
At the end of their mortgage, a co-op could end up losing crucial municipal assistance that covers the cost of property taxes and offering rental assistance to low-income households. This will leave the co-ops without enough funding to offer rental assistance while keeping their building in good working order, putting the entire community at risk.
Co-ops are united in calling on the government to fix the funding formula issue.
Increase the supply
Safe, secure, affordable housing is essential for health and well-being.
While the housing crisis is now experienced in almost every corner of this province, not all Ontarians are experiencing it equally.
Ontario needs new housing supply across the entire housing spectrum, including housing for low and moderate income Ontarians. This increasingly means more mixed-income community housing options, including co-ops.
To increase community housing options, as well as the availability of relatively affordable market housing, we recommend:
Partner with co-ops and non-profits to help them acquire affordable housing from the private market.
Invest in building 69,000 units of new affordable co-op and non-profit housing units over the next ten years.
Prioritize provincial land for the development of new community housing, including co-ops.
Partner with existing co-ops and non-profits to build more affordable housing on land owned both by the co-ops and non-profits, either by infill or redevelopment.
Expand the province's inclusionary zoning policy to ensure more municipalities are able and encouraged, to use it.
Read CHF Canada's Ontario pre-budget submission.
---
Don't miss out on the latest co-op news, success stories, and helpful resources for your co-op. Sign up here to receive our eNews every two weeks straight to your inbox!