CHF Canada and ONPHA launch #Vote4Housing campaign
Published April 27, 2022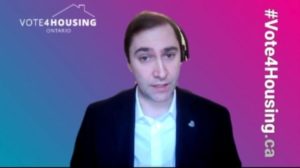 Today, CHF Canada and the Ontario Non-Profit Housing Association (ONPHA) launched Vote4Housing to ensure that the critical need for affordable housing is a key campaign issue. Vote4Housing makes the case for five key actions to address Ontario's affordable housing crisis.
At the launch, CHF Canada Executive Director Tim Ross and Board Director Sarah Jensen and ONPHA CEO Marlene Coffey spoke about the need for immediate action.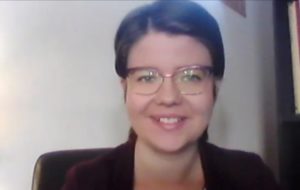 Tim Ross said, "We know the costs of inaction. It's 200,000 Ontarians waiting years for access to housing. It's 12,000 households losing access to vital funding support, and most critically, it's the prospect of homelessness for thousands. So we're taking action."
The Action Plan outlines five key policies to implement:
BUILD and acquire 99,000 affordable homes
REINVEST in existing community housing
IMPLEMENT an urban, rural and northern Indigenous housing strategy
COMMIT to preventing and eliminating homelessness
MAKE renting a secure and viable option for Ontarians
---
CHF CANADA CALLS ON ALL ONTARIO HOUSING CO-OPS, MEMBERS AND SUPPORTERS TO JOIN THE VOTE4HOUSING CAMPAIGN!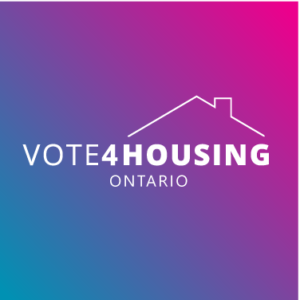 WRITE A LETTER to candidates and leaders
SEE our growing list of endorsers
LEARN MORE of our action plan
---
Don't miss out on the latest co-op news, success stories, and helpful resources for your co-op. Sign up here to receive our eNews every two weeks straight to your inbox!