Rainbow Housing Co-op hosts tour for Saskatchewan Minister of Social Services
Published January 24, 2019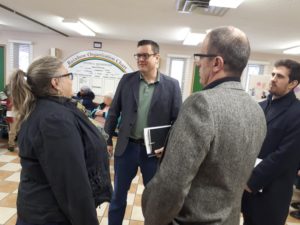 On January 4, The Honourable Paul Merriman, Saskatchewan's Minister of Social Services, toured Rainbow Housing Co-operative in Saskatoon.
The tour was organized by Rainbow Co-op President, and CHF Canada Regional Director for Saskatchewan, James Gilliard, Vice President Lorna Martin and Property Manager Maria Vaiaso to show the Minister their co-op, which had just completed renovations, and encourage him to continue funding for the subsidy program.
The Minister and his assistant first visited a newly renovated townhouse to meet a family of new Canadians who benefit from the subsidy program. The Minister was surprised that they were showing him an occupied unit to which they replied, "We have a long wait list; we never have vacant units to show."
The family invited them to stay for coffee, which gave an opportunity to discuss the co-op's relationship with the Saskatchewan Housing Corporation (SHC), the government housing agency for which he is responsible.
They told the Minister they had a good working relationship with SHC and valued not only the subsidy program, but also the support and education that SHC has offered over the years. They explained that SHC had informed them that once the operating agreement ends in July of 2021 their relationship with government will end, including the subsidy program. SHC believed that once the mortgage is paid in full, Rainbow Housing Co-operative will have more than enough money to offer an internal subsidy program.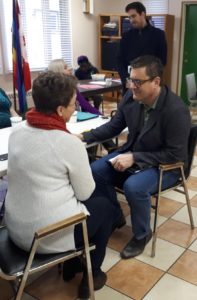 They explained to the Minister that the buildings are nearly 35 years old and that if they want to continue to offer high quality affordable housing they need to reinvest in their community. They also explained that internally subsidizing is not fair; the people who pay full housing charges are not wealthy – they are middle income workers who already pay taxes for the government to offer support such as the subsidy program available at Rainbow.
Because Rainbow Housing does not require economic assistance from the government to operate – only the difference between already affordable rates and 30% of eligible members' income – supporting the subsidy program at Rainbow Housing Co-operative is a bargain for government. The co-ops pays the management salaries, supplies the buildings, provides the maintenance to provide quality housing to people who meet SHC's criteria, which comes at a huge cost savings over traditional subsidized housing.
Next, they visited an accessible apartment where a senior woman resides. Although they had done some upgrades to the unit, they were able to show the Minister how, after 35 years, many of the kitchens and bathrooms were in need of renovations. They explained their plans for further increasing the accessibility of these units during their upgrades.
The member in the senior's unit told the Minister about how she had experienced a lot of instability in the rental market before moving to Rainbow and how she felt safe in co-operative housing because she knew that nobody was going to sell the place out from under her.
The tour finished with a stop at the co-op's community centre where members had gathered for a coffee and craft hour. Minister Merriman seemed pleased to spend time meeting with members from and listen to their stories about what Rainbow Housing Co-op meant to them and how much they appreciate the subsidy program.
"We feel the Minister heard our message about the subsidy program clearly" said Maria Vaisio, Property Manager at Rainbow. "We are hopeful this will assist him in deliberations over future programs at SHC".
"After Rainbow Housing Co-op and CHF Canada met with the Minister to make the case for co-op housing, Rainbow followed up with an invitation for a tour of their co-op," says CHF Canada's Manager, Co-op Services, Prairie Region Blair Hamilton. "Rainbow did the best kind of government relations there is: they showed their community and they told their stories. CHF Canada is very proud of Rainbow for putting their best foot forward on behalf of our movement."
"Congratulations and thanks to Rainbow Housing Co-op for showing this kind of great initiative," says CHF Canada's Manager, Government Relations Simone Swail. "We encourage other co-ops to reach out to elected representatives like this, especially MLAs in the downloaded provinces SK, MB, NB, NS and NL to help build support for continuing co-ops subsidies."
---
Don't miss out on the latest co-op news, success stories, and helpful resources for your co-op. Sign up here to receive our eNews every two weeks straight to your inbox!