Federal government launches Phase Two of FCHI program: 20,000 low-income co-op households protected to 2028
Published June 25, 2019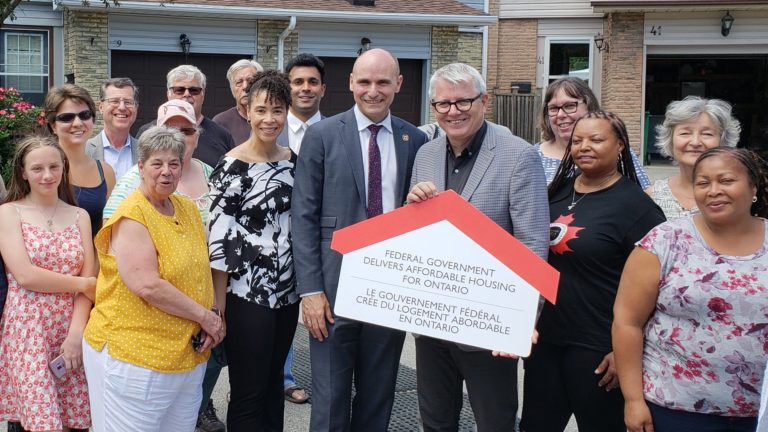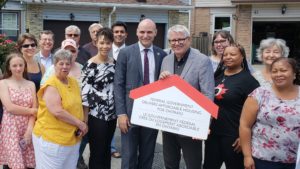 At an announcement held today at Briarview Housing Co-op in Mississauga, CHF Canada welcomed the launch of the second phase of the federal government's plan to protect housing affordability for low-income co-op households.
The announcement was made by the Honourable Jean-Yves Duclos, Minister of Families, Children and Social Development, attended by his Parliamentary Secretary, Adam Vaughan, MP for Spadina-Fort York, and Peter Fonseca, MP for Mississauga East-Cooksville.
"Today's announcement provides vulnerable co-op households the comfort of knowing that their housing is secure for many years to come." said CHF Canada President Frank Wheeler. "We thank CHF Canada members, regional federations and supporters who have been advocating for this for a long time and are such an important part of this good news."
The National Housing Strategy, launched by the federal government in November 2017, contained a two-phase plan to protect these vulnerable co-op households for the next decade. Phase One of the Federal Community Housing Initiative (FCHI-1) extended rental assistance for federally-administered housing co-ops to March 31, 2020. Phase 2 (FCHI-2), the details of which were announced today, extends this assistance to March 31, 2028.
Today's announcement confirms that the transition to FCHI-2 will be timely and seamless and that all households currently in receipt of assistance will continue to receive the same level of assistance.
"We commend the federal government for confirming this important step, and we look forward to further strengthening our partnerships to tackle the housing crisis," said CHF Canada Executive Director Tim Ross. "We know that the 1.7 million Canadians are still in core housing need, and they want the affordability, security and communities that co-ops provide."
FCHI-2 also includes funding for other forms of community housing, providing similar security of tenure for a total of 55,000 households.
CMHC will communicate details in the coming weeks, and enrollment will begin this fall. CHF Canada will continue to advocate, serve and inform members through this transition.
---
Don't miss out on the latest co-op news, success stories, and helpful resources for your co-op. Sign up here to receive our eNews every two weeks straight to your inbox!