Mimico Co-operative Homes hosts tour for Ontario's Minister of Municipal Affairs and Housing
Published December 16, 2021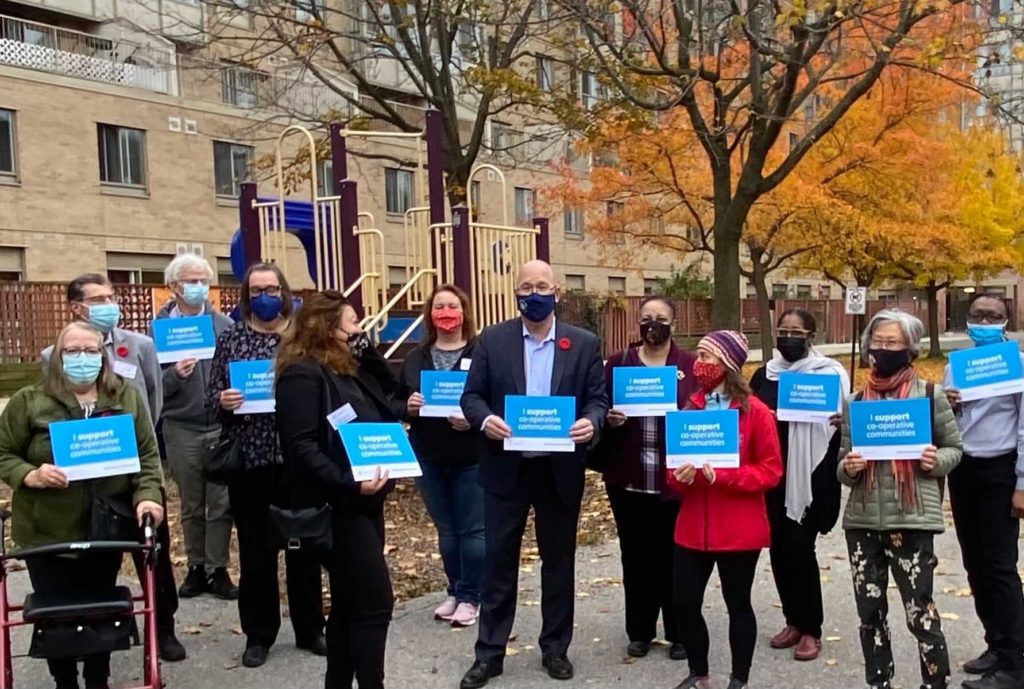 On November 9, The Honourable Steve Clark, Minister of Municipal Affairs and Housing took part in a tour of Mimico Co-operative Homes in Etobicoke.
The tour was organized by CHF Canada and led by Mimico Co-op's Manager Jennifer Miller, with members of the co-op's Board of Directors, and CHF Canada's Board of Directors and staff in attendance.
The tour offered us an opportunity to show Minister Clark first-hand the vibrancy of a co-op community, and highlight the importance of resolving the end of mortgage issue for HSA co-ops. Mimico Co-op's mortgage ends in 2024. Like all HSA co-ops, Mimico does not know what the funding formula will be for the co-op after their mortgage ends, and more importantly if they will be able to continue to look after the buildings and welcome low-income households into their community.
As part of the tour, the Minister and his senior advisor were able to visit inside one of the homes and heard from members who were able to share how co-op housing has transformed their lives, and helped them build a better future.
The Minister also heard about the capital investment that will be needed to keep Mimico Co-op (and its nearly 35-year-old buildings) in good repair for generations to come.  The co-op and CHF Canada board members were able to share the importance of having a funding formula in provincial regulation that protects low-income households and allows housing co-ops to maintain their buildings, to ensure that our communities remain healthy and vibrant.
The tour took over 45 minutes and was very positive in tone. CHF Canada organized the tour as part of our  #FixtheFormula4Coops campaign. CHF Canada is calling on the province to update the funding formula for Housing Services Act co-ops at the end of mortgage so that thousands of families living in affordable housing and their communities, are protected for the future.
---
Don't miss out on the latest co-op news, success stories, and helpful resources for your co-op. Sign up here to receive our eNews every two weeks straight to your inbox!