Co-op housing champions Linda Ferguson and Sandra Hardy honoured by Manitoba Co-operative Association
Published November 02, 2022
Last month, at the annual meeting of the Manitoba Co-operative Association (MCA), two housing co-op leaders were honoured for their long and accomplished service in support of co-operative housing.
Former CHF Canada Director Linda Ferguson received the MCA 2022 Distinguished Co-operator award, and Sandra Hardy received the Co-operative Merit Award awarded to her in 2020.
MCA's Executive Director, Vera Broussaert says that housing co-ops are an important part of the Manitoba co-operative community. "All co-ops exist to serve their members' needs, and no service is more important than providing safe, quality housing.  We are lucky to have a strong, engaged and resilient co-op housing sector in Manitoba that helps MCA achieve its mission to enhance and support the development of a strong, united and influential co-operative community in Manitoba."
Linda Ferguson, Village Canadien Co-operative, 2022 Distinguished Co-operator Award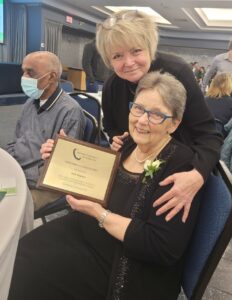 Linda originally moved into Village Canadien in 1999.  Two years later she was on the Board of Directors, and has been actively involved ever since. Linda also served on CHF Canada's Board of Directors for six years, four of them as Treasurer.
Linda pushed CHF Canada to advocate on behalf of housing co-ops looking to refinance but were locked into high-interest rate mortgages. When the campaign succeeded, Village Canadien was one of the first housing co-ops to refinance.
Over the years, Linda has served on the Board of Directors of numerous associations, and assists other Manitoba housing co-ops besides her own.
"Linda was instrumental in leading Village Canadien to achieve many firsts for housing co-ops in Manitoba", says MCA Executive Director, Vera Goussaert. "At CHF Canada, Linda brought to light many of the challenges facing  housing co-ops and helped find ways to overcome them. And at MCA, Linda was active in our work to develop and strengthen a diverse, strong and united cooperative community here in Manitoba.
CHF Canada's Regional Director Coral Hetherington nominated Linda for the award. "Given all of her contributions, I knew she was a great candidate. She exemplifies the co-operative spirit: always active and supportive, with a certain amount of fearlessness!"
Sandra Hardy, Old Grace Housing Co-operative, 2020 Co-operative Merit Award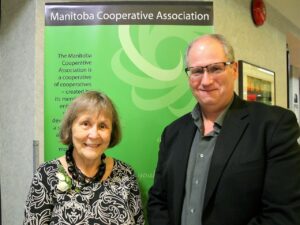 MCA's Co-operative Merit Award recognizes someone who has been instrumental in the development and success of their local co-op.
Sandra was involved in Old Grace Housing Co-op from its inception. It started as an idea to use the old Grace Hospital site to build new co-op homes. Sandra's dedication continued, from idea to moving day to serving on the Board. Today, 64 families call the Old Grace Co-op home.
"Sandra's contributions were essential to the co-op being created," said MCA's Vera Goussaert. "Now, as an active and engaged member of the co-op, Sandra's contributions continue to make a lasting impact on the success of Old Grace Co-op."
While she was selected by MCA for a 2020 Co-operative Merit Award, the pandemic prevented her from being celebrated in person until this year's awards banquet. Sandra was profiled in CHF Canada's Humans of Co-op Housing where you can learn more of her work in the development of the co-op.
---
Congratulations to Linda Ferguson and Sandra Hardy on your well-deserved awards!
---
Don't miss out on the latest co-op news, success stories, and helpful resources for your co-op. Sign up here to receive our eNews every two weeks straight to your inbox!