Western Manitoba Seniors Co-op launches 63-unit second phase
Published September 11, 2018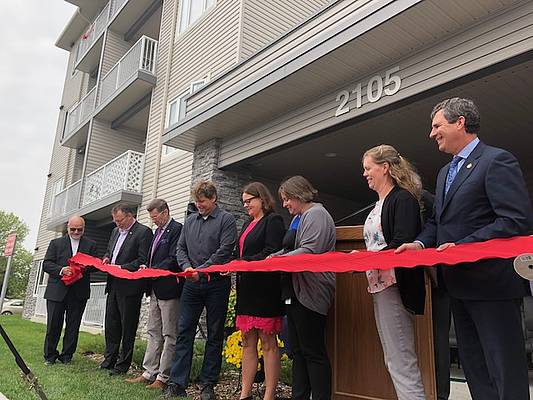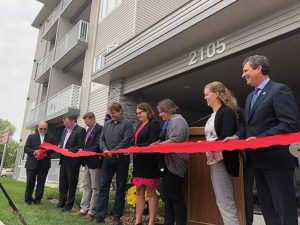 You might think that the members of the Western Manitoba Seniors Non-Profit Housing Co-operative would have been satisfied with finishing their 2013 development of 34 affordable homes in Brandon Manitoba. If so, you would be wrong.
When two city councillors contacted the co-op that same year, to propose that a little-used city-owned baseball field could be developed for affordable seniors housing, they responded. Co-op President Harvey Douglas knew firsthand from the co-op's waiting lists that seniors housing in Brandon was badly needed.
On August 28, surrounded by representatives from the federal, provincial and municipal governments, Western Manitoba Seniors proudly opened its brand new four-storey phase two, a $14 million property that will serve 63 seniors households.
"Western MB Seniors' new  development  shows how partnerships among housing co-operatives and governments can deliver new co-op housing to solve housing shortages," said Blair Hamilton, CHF Canada Program Manager for Manitoba.  "All three levels of government are rightfully taking a lot of pride in the collaboration that made this new housing happen."
Each partner helped to keep the housing affordable. The City of Brandon transferred the land to the co-op at no cost, and provided a long term reduction in municipal taxes. The governments of Canada and Manitoba, through Canada Mortgage and Housing Corporation and Manitoba Housing, added a $3.1 million capital contribution in the form of a 15-year forgivable loan.
Western MB Seniors itself raised $2 million in share capital from incoming members (who receive their share value back when they leave the co-op). The co-op secured a $6 million 35-year mortgage from Westoba Credit Union.
The partners' affordability goals were met – of the 63 new apartments, market value rental rates are charged on just fifteen; housing charges on the other 48 are set below market, adjusted annually based on CMHC market data. The building is accessible, visitable, smoke-free and pet friendly, with common areas on each floor, an outdoor sitting area and a shared garden.  The co-op says that it will allow its members to age in place gracefully.
Even with 97 units now occupied, the co-op's commitment to address Brandon's seniors housing shortage has not decreased.
"Our co-op volunteers thank everyone who helped to make this dream a reality for the people now living in the co-op," said Harvey Douglas. "We will always be looking forward to more opportunities to provide housing options for our seniors' community."
---
Don't miss out on the latest co-op news, success stories, and helpful resources for your co-op. Sign up here to receive our eNews every two weeks straight to your inbox!