Local 75 Hospitality Workers Housing Co-op
Published March 15, 2016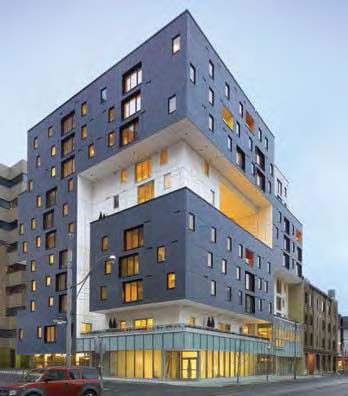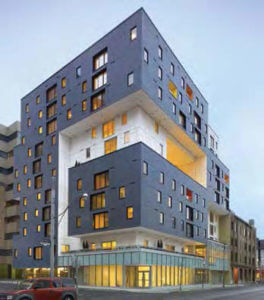 Toronto Councillor Pam McConnell had multiple pieces to a puzzle:
Toronto Community Housing needed to replace social-housing units that were being demolished.
Local 75 (Hospitality Workers) needed a permanent home for their training program. They also wanted housing for hospitality workers, who often spent long hours travelling to their downtown jobs.
Toronto needed more housing co-ops; Co-op Housing Federation of Toronto (CHFT) member co-ops had a growing demand – but closed waiting lists.
McConnell, who raised her family in co-op housing, fit the pieces together. The result: a partnership that led to the beautiful and innovative Local 75 (Hospitality Workers) Housing Co-op in the heart of downtown Toronto, which opened in 2010.
Along with 85 co-op homes, the Local 75 building also houses the non-profit Hospitality Workers Training Centre and its social enterprise restaurant, Hawthorne Food and Drink. In 2016, Now magazine called Hawthorne Food and Drink "one of the city's tastiest social enterprises." Employers have taken notice too; they know that hiring graduates from the training centre saves them time and money.
Designed by Teeple Architects, the award-winning building is a striking example of an urban landfill project. As the jury presenting the 2014 Governor General's Medal in Architecture commented: "It is extremely gratifying to see a social housing project rise so far above mere accommodation."
Co-op housing, training centre and restaurant rolled into one. Now that's some food for thought!
Living at 60 Richmond: 'I love this place': Toronto Star, July 30, 2010
---
Don't miss out on the latest co-op news, success stories, and helpful resources for your co-op. Sign up here to receive our eNews every two weeks straight to your inbox!