Côte-des-Neiges co-op: A neighbourly Montréal co-op community
Published July 25, 2019
In 1975, the residents of Lacombe Street in Montreal banded together to stop the demolition of their apartment block and the dismantling of their community. These buildings were in good condition, rented at a reasonable price and were among the few remaining family dwellings in the Côte-des-Neiges village. After another fight in 1979, the co-op took possession of another building. The evolution from community to co-operative was an important phenomenon in all major cities across Canada at that time.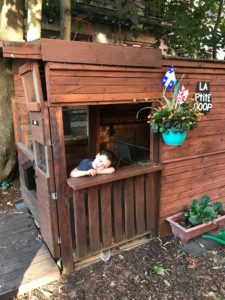 Pierrette Trudel, who has lived in the co-op for 41 years, has just left the presidency, a position she held for the past six years, in order to make way for younger members of the co-op. The board reaches out to Pierrette for advice, which she does with pleasure, but she finds it important to let them make their own decisions. "Self-management can cause conflict, but by respecting other people's ideas and with some flexibility we learn to live together. In addition, the health of the co-op goes hand in hand with the responsibility of members," according to Pierrette.
The co-op's children also learn at a young age how to live in a co-op. The parents built a small house called "La P'tite coop" (The Little Co-op) where children can gather and organize games.
"Here in the co-op we say hello to one another, a bit like in the countryside. Everyone knows each other," according to Pierrette.
---
Don't miss out on the latest co-op news, success stories, and helpful resources for your co-op. Sign up here to receive our eNews every two weeks straight to your inbox!