Prairie virtual education event: April 26 and 29
Published March 31, 2023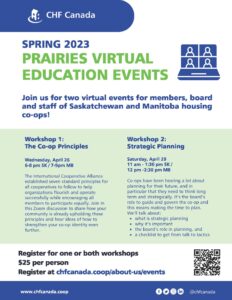 Join us for this virtual education event for Saskatchewan and Manitoba housing co-op members, board and staff! Print this poster to share with your co-op members.
It features two workshops:
Wed April 26 6-8 pm SK / 7-9 pm MB
We're fortunate to have the Executive Directors of both the Saskatchewan and Manitoba Co-operative Associations for this camera-on discussion of the 7 international co-op principles. By joining us, you are demonstrating 2 of the principles: find out which ones!
Sat April 29 from 11 am-1:30 pm SK / 12-2:30 pm MB
How does your board get started on strategic planning, and then ensure that the plan is actively used as a guide for decision-making? Learn how to help your co-op plan for its future!
Register for either or both workshops. Workshops are $25/per person
Maria Viaiso, Prairies Regional Manager, is facilitating both workshops. Maria wants you all to take advantage of this chance to learn and share with others in the region, so we're offering each workshop at the low cost of $25 per person, per workshop.
"I would very much like to attend a workshop facilitated by Maria Vaiaso because she lives and works on the Prairies and understands our needs. With such a positive and friendly personality, I know she would create an inviting environment for stimulating conversations."
Catherine Pulak, Westboine Park Housing Coop, Winnipeg
We encourage you to print this poster to place in common areas of your co-op. The more, the merrier!
---
Don't miss out on the latest co-op news, success stories, and helpful resources for your co-op. Sign up here to receive our eNews every two weeks straight to your inbox!