Linda Wilson: An LGBTQ+ co-op founder
Published June 15, 2022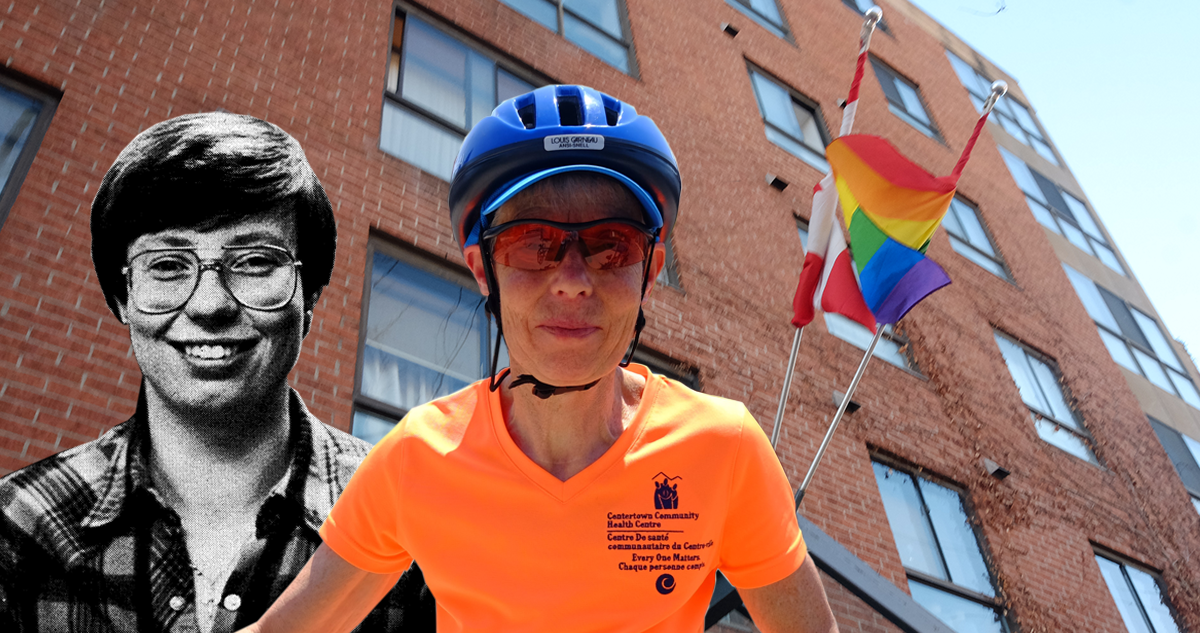 Although many people will have seen the rainbow flag that flies proudly in front of Abiwin Co-op in downtown Ottawa, most will not know that this co-op was founded specifically to meet the housing needs of Ottawa's 2SLGBTQ+ communities.
In honour of Pride Month, we spoke with Linda Wilson, one of the founding members of Abiwin Co-op, about how the co-op came to be.
"Everything in my life changed"
Linda came out in 1981: "My husband at the time and I made the decision that it was better not to live a lie," she remembers, and describes the impact of moving from the suburbs to downtown Ottawa.
"I got involved with Gays of Ottawa, and everything in my life changed. I met a whole new set of people, and it educated me so much."
Linda describes Gays of Ottawa as "a group of men and women who were feminist and aware of the diversity within the gay community." The organization was a hub of community activity, hosting a gay phone line, a speakers' bureau, support groups, dances, community meetings, and political action committees focused on issues like pushing for the inclusion of sexual orientation in Canada's Charter of Rights and Freedoms.
Linda would eventually become Gays of Ottawa's first female president, underscoring its commitment to gender equity within the gay rights movement.
I was so full of piss and vinegar. Every night I had a meeting somewhere.
Developing safe housing for LGBTQ+ communities
One issue that came up frequently at Gays of Ottawa was the need for housing that was safe and welcoming for 2SLGBTQ+ Ottawans.
It was around 1983 when a subcommittee on housing was formed that would eventually result in the founding of Abiwin.
Linda describes much of the co-op housing that was available at the time as "very focused on traditional families, and that didn't match what a lot of the queer community needed." Instead, Abiwin's founders made sure that the co-op would have a mix of different sizes of units, as well as accessible homes, so that its membership could be representative of the broader community.
Wanting to create space for community gatherings, Linda recalls that "we designed the co-op to have a large patio in the back where we could have barbecues, events, get-togethers, potlucks… you got to know your neighbours, it wasn't like an anonymous apartment building. There was really a community feeling."
The land where Abiwin would come to be located was owned by Co-operators, who sold it to the group at a good price. With development support from Peter Trotscha through the Ottawa Federation of Housing Co-operatives (which is now the Co-operative Housing Association of Eastern Ontario), the group got to work.
They first renovated a row of heritage homes that stood on the property. Linda and her partner moved in after this first phase, and were present as the co-op added infill units between the existing homes, and tore down an existing four-story apartment building to replace it with a taller one. They even acted as a volunteer security patrol during construction, walking around the site with flashlights every night.
"They were just part of our community": Co-operation during the AIDS crisis
It was around 1982 or 1983 that people Linda knew in Ottawa first started to become sick with AIDS.
At Abiwin, Linda doesn't remember any discussion about how to treat current or prospective members who were HIV-positive: it was just taken for granted that they were part of the community and would be welcomed and cared for.
In 1986, one of Linda's neighbours became sick with AIDS. Along with other co-op members, Linda and her partner helped him as much as they could. They met his parents, who lived out of town, and shared their phone number so that they could keep in touch to check in on him.
Linda describes this as a natural result of living in such a tight-knit community: she remembers also helping out another co-op neighbour, who was quadriplegic, with personal care every second night for eight months while she lived there.
"If I hadn't been in a co-op, I don't think one of my neighbours would have been able to ask me for help."
Looking back, looking forwards
Linda and her partner lived at Abiwin from its opening in 1985, to 1990, when they bought the home where they still live today.
In the 35 years since Abiwin's founding, Linda has seen many changes in the 2SLGBTQ+ community in Ottawa and beyond. She attended Ottawa's first Pride parade in 1986, and took part as it got bigger and bigger over the years.
Linda and her partner, who both worked for the federal government, were part of a test case that, with the support of their union, sued the federal government to give pension benefits to same-sex couples working as federal employees. In May 1996, when Parliament voted to include sexual orientation as one of the prohibited grounds of discrimination in the Charter of Rights and Freedoms, Linda and her partner were able to be there in the House of Commons gallery to watch, knowing that this would lead to a resolution of their suit.
Looking back on the 1980s, Linda reflects:
"I'm glad I got involved in Abiwin back when I did. I was so full of piss and vinegar. Every night I had a meeting somewhere: I was on the founding board of Pink Triangle Services [now Kind Space], Abiwin, volunteering with [Gays of Ottawa's] Gay Line and Speakers Bureau. It made a difference for me: It gave me purpose. Ultimately, I'm a beneficiary."
While life has gotten easier in many ways for 2SLGBTQ+ people in Ottawa since the 1980s, Linda comments, "we know there's still a lot of homophobia, and the queer community are still discriminated against," pointing to the struggles of trans communities in particular. She continues, "So are people in many other groups, and we have to be allies to one another."
Thanks to the work of founding members like Linda Wilson, Abiwin Co-op continues to offer safe, welcoming, affordable homes to a diverse mix of members, in this same spirit of allyship and mutual aid.
---
Don't miss out on the latest co-op news, success stories, and helpful resources for your co-op. Sign up here to receive our eNews every two weeks straight to your inbox!