Housing co-op rock star to headline Annual Meeting
Published April 28, 2017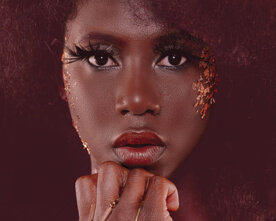 Get ready, CHF Canada! Domanique Grant is headlining at the 2017 Annual Meeting in Niagara Falls, and she's gonna wow you!
This Toronto-based, international performer will help us celebrate CHF Canada's Our Movement. Our Future. initiative in music. The Annual Meeting will also be the first live stop on her tour for her new album, PLAYHOUSE.
Domanique grew up in Toronto's Atkinson Co-op, was a Diversity Scholarship recipient, was elected president of the co‑op when she was 20, and president of CHFT at 21! She has played almost every major Toronto venue on festival bills, and was selected as one of the eight Toronto 2015 Pan Am Games Artist Ambassadors to host and perform inside the Athletes' Village. She has spoken and performed on Parliament Hill, for the United Nations, across North America and East Africa.
She says that CHF Canada approached her to fulfill housing pioneer Mark Goldblatt's bequest to create a cultural project. Domanique suggested a legacy project inspired by Goldblatt to celebrate intergenerational leadership, the legacy of housing co‑op pioneers, how today's young leaders have learned from these pioneers and are continuing this legacy. "Together, CHF Canada and I decided to use Voicing Our Vision as some of the inspiration for the project."
Her album, PLAYHOUSE, explores the process of growing up in co‑op housing while being an artist who has traveled and worked internationally. Grant's choice to make CHF Canada's AGM the first live stop on her tour is based on her deep roots in the movement. "Members have supported me as an artist since I was very young: executive directors, housing advocates, supporters of co‑op housing."
Domanique says the big message in PLAYHOUSE is that "A home is more than a physical structure: it is the people, places and experiences that help us imagine and create new spaces around us. Co‑operative housing played a role in inspiring this album, because I grew up in one, and there is a magic to co‑operative housing that is unexplainable."
Visit the Annual Meeting website for details and registration.
---
Don't miss out on the latest co-op news, success stories, and helpful resources for your co-op. Sign up here to receive our eNews every two weeks straight to your inbox!