Meet an AGM workshop leader: Sarah Jensen
Published April 15, 2019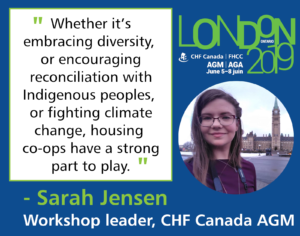 CHF Canada's AGM is coming up in June, and we've got over 50 workshops for you to choose from. We'll be introducing you to a few of our workshop leaders.
This week, meet Sarah Jensen, Vice-President of Castlegreen Housing Co-operative in Thunder Bay and chair of her co-op's Youth Committee and Landscaping Committee.
What are you most looking forward to about CHF Canada's AGM?
I am most looking forward to seeing all of the wonderful, incredible people that make up the diverse and amazing housing co-operative sector across Canada.
If there is anything I have learned over the past few years of working, volunteering (and playing!) in the co-op sector it's that people are at the heart of all things co-operative.
When our voices come together from all across Canada, that's when real, meaningful, positive changes can be inspired in our communities across the country.
What will you be teaching people about in your workshop?
My workshop is called "Greener Communities" and it's about exactly that: how you and your co-op can become a more environmentally friendly community.
In my housing co-op, I've tried to incorporate that idea as well—working in our community garden to increase sustainable food security, creating rain gardens to purify rainwater, encouraging composting and waste management, and raising monarch butterflies. To me, it makes sense for co-ops to incorporate environmental sustainability as part of our mission to provide a better present and a better future.
What do you think is the most pressing issue (or exciting opportunity) facing co-ops right now?
I think both the most pressing issue and the most exciting opportunity facing co-ops right now is the question of sustainable growth. Whether it's embracing diversity, or encouraging reconciliation with Indigenous peoples, or fighting climate change, housing co-ops have a strong part to play in all of these things.
---
Don't miss out on the latest co-op news, success stories, and helpful resources for your co-op. Sign up here to receive our eNews every two weeks straight to your inbox!