Faisa Hussein describes her first CHF Canada Annual Meeting
Published November 20, 2019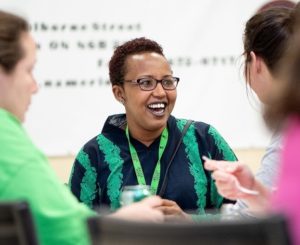 Faisa Hussein has lived in Ottawa's Co-op Voisins for four years, and this year she attended CHF Canada's Annual Meeting for the first time.
Co-op Voisins has an strong culture of volunteering and community, with many social events and committees, and Faisa is an active member of this community. Neighbours describe Faisa as the ultimate co-op neighbour: enthusiastic, caring, supportive and a true believer in the co-op movement.
Faisa is a member of her co-op's board, as well as its social and garden committees, helps out with the co-op newsletter, and is passionate about environmental sustainability. She's always willing to help out at clean-up days, organize social events, and surprise her neighbours with her famous samosas. As Faisa puts it, "I live to volunteer for all aspects of our little community."
Taking part in Canada's co-op housing movement at a national level was a natural next step for this active co-op member.
We asked Faisa about her experiences attending CHF Canada's 2019 Annual Meeting as a first-time attendee.
What was the most exciting part?
The most exciting part about attending the annual meeting was having the opportunity to meet many different co-op members that have come across the country to share their beliefs and values about what makes a co-op unique. It was exciting to see the dedication and hard work of the individuals who have made the co-op movement for what it is. It is inspiring to witness the future that co-op plays in providing people with safe and affordable housing.
What did you learn?
I have learned that the government plays a vital role in developing affordable housing for its citizens. I have learned that it is imperative to put the work in for the future success of the co-op.
If you were talking to someone else who was thinking of going to go to the Annual Meeting for the first time, what would you tell them?
I would highly recommend that they take the chance to experience being a part of the Annual Meeting so that they can see the structure and history of co-op housing in Canada.
CHF Canada's 2020 Annual Meeting will take place in Halifax, NS, June 11-13, 2020.
---
Don't miss out on the latest co-op news, success stories, and helpful resources for your co-op. Sign up here to receive our eNews every two weeks straight to your inbox!