Toronto, November 20: "Under Pressure: 5 Ideas for Housing Now"
Published October 24, 2018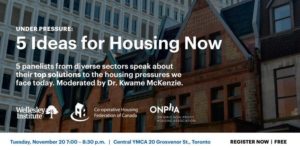 Register now for a free event on Tuesday, November 20th, at the Metro YMCA in Toronto (20 Grosvenor Street).
Rents are at an all-time high, newcomers and young people can't afford to live in the city, and people who need subsidized and supportive housing are being left in the cold. From affordability problems and precarious housing to homelessness across the region – housing is a big issue in the GTHA, that requires a government response.
We have new political leaders, strategies, and housing talk at all 3 levels of government – so what's next? National Housing Week, Nov 19 – 23, is an opportunity to talk about these issues.
In a panel discussion, moderated by Dr. Kwame McKenzie, CEO of Wellesley Institute, housing experts with a range of experiences tackle these issues head-on and share their #1 idea for what the city, province or federal government should to do right now to address the housing crisis.
The event is presented by the Wellesley Institute, CHF Canada, and the Ontario Non-Profit Housing Association.
This event is free but registration is required. Click here to register, or visit the Facebook event page for more information.
---
Don't miss out on the latest co-op news, success stories, and helpful resources for your co-op. Sign up here to receive our eNews every two weeks straight to your inbox!