CMHC: "Ontario vacancy rate drops to the lowest level since 2000"
Published November 28, 2017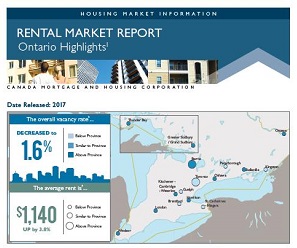 CMHC released its 2017 Rental Market Reports, including Ontario Highlights. Their key findings:
Ontario vacancy rate is at its lowest level since 2000
Lower vacancy rates pushed rents above provincial guideline increases
Lower vacancy rates resulted in low turnover rates, particularly in Toronto and Peterborough
A report on the GTA market shows a grim reality for renting households, with CMHC noting that various factors "rising costs of home ownership and lack of new rental supply kept vacancy rates at historic lows."
With demand outstripping supply, "the urgency of implementing the National Housing Strategy has never been more clear," says Harvey Cooper, Managing Director of CHF Canada's Ontario Region. "Ontario's co-op housing sector is ready to get to work."
There are individual reports for a dozen Ontario cities. You can browse the CMHC Rental Market Reports for Major Centres to look at average rent and rent increases in your area.
---
Don't miss out on the latest co-op news, success stories, and helpful resources for your co-op. Sign up here to receive our eNews every two weeks straight to your inbox!