Introducing CHF Canada's Young Member Network champions
Published February 19, 2020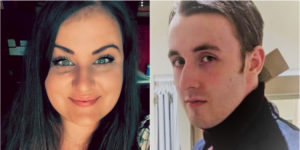 Lindsey Reed and Cameron O'Hara are excited to be teaming up as CHF Canada's first-ever Young Member Network co-champions.
Formed in 2019 as a way to connect young co-operators with each other and with CHF Canada, the group includes members and managers from across the country. Early on, the group established their hopes and goals, including that of diversifying the leadership of CHF Canada's Board and Ontario Council.
Lindsey, who works as a Regional Director for Apex Property Management in southwestern Ontario, realized the power of forming connections with other young managers and members when she attended CHF Canada's Vision Summit in 2018. The ideas and conversations that she took part in left her feeling inspired – and planted the seed for the Young Member Network to take shape.
Cameron O'Hara knows a thing or two about shaking things up at the board level, having started a youth board at his co-op, La Petite Maison Co-op in Vancouver, BC, at age 15. He and his fellow board members did so as a way to hone their governance skills from a young age and make their voices heard on issues of importance to them.
Cameron is excited to bring that same energy to his role as co-champion, and both he and Lindsey are looking forward to working on a few key projects in the year ahead.
First up is re-energizing the Think Young Facebook page with fresh content, news and polls. Expect to see a lot more activity on this page as they look to get a pulse on how young members are playing active roles within their communities, and at the regional and national federation level.
We're looking forward to what these two champions have in store. As Lindsey and Cameron note, "we've only just begun, but we're optimistic that this network will allow young co-op members and managers to stay connected and allow us to act as champions for our co-op communities and co-op housing."
If you're interested in getting involved with the Young Member Network, connect with Lindsey and Cameron.
---
Don't miss out on the latest co-op news, success stories, and helpful resources for your co-op. Sign up here to receive our eNews every two weeks straight to your inbox!