Young member profile: Mary Ho on the importance of mentorship
Published March 06, 2019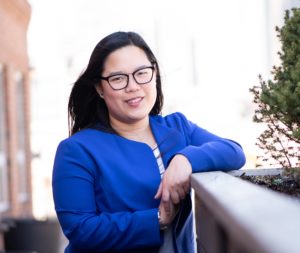 "The best thing about co-ops is the people," says Mary Ho.
And she would know: Mary not only lives in a co-op, she's now also worked in three co-ops, served on her co-op's Board and committees, been an external director at another co-op, and been a delegate for the Co-operative Housing Federation of Toronto (CHFT) and CHF Canada.
She's also gotten involved in the broader Canadian co-op movement. She's currently a member of CHF Canada's Diversity Committee, and has enjoyed learning from other members' lived experience and expertise, and seeing how projects like CHF Canada's Regional Diversity Grants support communities. Mary also took part in the Co-operatives and Mutuals Canada's Emerging Co-operators mentorship program, which gives young co-operators (aged 18-35) the opportunity to be mentored by experienced co-op leaders.
Mary first learned about co-ops when a long-time friend moved into one, helping dispel some misconceptions Mary had had about co-op housing. Living in Toronto, she found the idea of an affordable home with security of tenure very appealing.
About her work in co-ops, Mary says, "Many members are very invested in their community. They are grateful for a home they can afford to live in and not worry about losing suddenly due to unreasonable and profit-driven housing cost increases. Many feel connected and supported by their neighbours. I feel like my job is to do the behind-the-scenes work to provide people with housing they can turn into homes, so it is a joy to witness people enjoying their homes and lives."
At co-op sector events, she's especially enjoyed meeting co-operators from many regions and from co-ops both urban and rural, small and large, and "feeding off each other's passion for co-ops and how they improve our lives."
Asked about her vision for the future of the co-operative housing movement, Mary points to the need for more co-op housing units to be built, and especially more homes that are universally accessible, so that more people can have the option for co-op living.
Mary also spoke to the importance of mentorship for younger people getting involved in the co-op sector. "There need to be more educational opportunities, and more advice and help for young people, especially people of colour and of other marginalized backgrounds." She also recommends that young co-operators "go out to local co-op events and meet other members, make connections, keep in touch, and support each other".
Mary's story shows the many paths available to young co-op members looking to get more involved in the co-operative housing sector and the broader co-op movement. And she encourages people to get involved: "Working in the co-op sector is really essential, unique work, and a great way to empower people and build community."
---
Don't miss out on the latest co-op news, success stories, and helpful resources for your co-op. Sign up here to receive our eNews every two weeks straight to your inbox!