Congratulations to newly elected Board and Ontario Council members!
Published May 18, 2018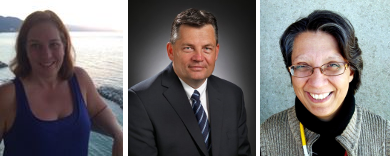 With online voting now closed, congratulations to the newly elected members of CHF Canada's Board of Directors:
Lisa Berting (Regional Director, British Columbia/Yukon) (left photo)
Stephen Davies (Regional Director, New Brunswick) (centre photo)
Tina Stevens (Regional Director, Aboriginal Community) (right photo)
As well, Louis-H. Campagna will be acclaimed as regional director for Québec/Nunavut, and Frank Wheeler will be acclaimed as Regional Director for Manitoba.
On Ontario Council, Carine Nind will be acclaimed as Member Representing Staff Associations, and Sharon Carolan-McKinnon will be acclaimed as Member Representing Northern Ontario.
Elections for one at-large position on the Board, one position on the Finance and Audit Committee, and two at-large positions on Ontario Council will be held at the AGM. Visit the AGM website to learn about the candidates.
These positions take effect after the business meetings (national and Ontario) at the Victoria AGM.
---
Don't miss out on the latest co-op news, success stories, and helpful resources for your co-op. Sign up here to receive our eNews every two weeks straight to your inbox!