Co-op housing champion Christopher Wilson dies at 68
Published June 26, 2018
Canada's housing co-ops are mourning the loss of Christopher Wilson, a significant force in the co-op housing movement.
In his mid-twenties Christopher worked alongside his sister Alexandra Wilson (currently the CEO of the Agency for Co-operative Housing) to convert Toronto's Bain Apartments into one of the first co-ops in the city. A few years later, they were involved in the successful campaign to convert a seniors' property that the Borough of York had decided to close. Christopher made a film about the experience called The Battle of Beech Hall:

He also worked as a co-op housing developer and led several national government relations campaigns for CHF Canada.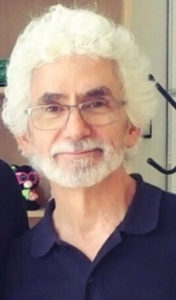 Longtime housing co-op advocate and former CHF Canada staffer Merrilee Robson worked with Christopher on campaigns in the 90s. "I was impressed by the energy and focus he brought to his work on behalf of co-ops and his availability to talk regularly about campaign issues," says Robson. "He put together a tight group and inspired the rest of us to work with the same level of energy."
In their final joint effort, the Wilson siblings persuaded the federal government to transfer administration of co-operative housing programs under federal jurisdiction to a sector-based agency  ¾ what became the Agency for Co-operative Housing. "Christopher was brought in two years into that campaign and drove it past the finish line," says Alexandra.  "He organized a ground-level lobbying effort that brought hundreds of MPs to our side."
Beyond his work in co-op housing, Wilson was an award-winning documentary film maker and assistant director for TV and feature films. He led the drive to create the Toronto Islands Residential Trust and was its first manager. His advocacy firm, Civica, Inc., served many health charities and co-operatives. He was a member of the multi-stakeholder committee whose groundbreaking achievement was the creation of Canada's Air Quality Management System.
Wilson gave his time to Project Life War Orphans Program and to the Global Nuclear Awareness Program. He traveled around the globe visiting active warzones, from Afghanistan to Chechnya, to meet with families to help war orphans.
In lieu of flowers, donations to World Life Institute would be appreciated: Project Life War Orphans or the Center of Excellence.
---
Don't miss out on the latest co-op news, success stories, and helpful resources for your co-op. Sign up here to receive our eNews every two weeks straight to your inbox!