Co-op Housing for All: a vision to grow and strengthen the sector 
Published August 12, 2022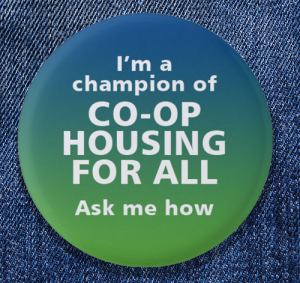 The Community Housing Transformation Centre is helping us get another step closer to our vision of Co-op Housing for All, the centrepiece of our vision for the sector's future.
Adopted by members, the Co-op Housing for All vision aims to protect and grow strong and inclusive co-op housing so it's an option for anyone willing to take on the responsibilities of membership.
The Centre funding will help us create, grow and share among peers undertaking innovative, new governance solutions that help build resilience, build community, and provide better and more co-op housing options!
It will also help us do more outreach and engagement to housing co-op members, staff, managers, management firms and partners interested in exploring the Co-op Housing for All vision, as well as provide them with needed tools and advice to do so.
"This is a critical time in co-op housing history," says Patricia Tessier, CHF Canada's Director, Member Services. "Time to pull together, to remember our roots, and to draw strength from the values and principles upon which housing co-ops and community are built.  There are changes happening and co-ops can lead the way into a new era of strong co-op housing communities and values-based living."
---
Don't miss out on the latest co-op news, success stories, and helpful resources for your co-op. Sign up here to receive our eNews every two weeks straight to your inbox!