Greener Co-op Microgrant supports kids' garden in Kingston
Published December 08, 2021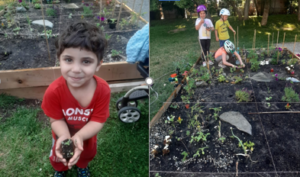 Given the difficult circumstances created by the pandemic, the children living in Kingston Co-operative Homes created a way of taking care of one another and their environment during the summer of 2021.
With funding from a CHF Canada Greener Co-op Microgrant, they built a community garden next to the playground, learned how to take care of different species of plants, and how to increase food self-sufficiency in their co-op.
The project started with children learning about planting seeds, watering, and transplanting them. They were then able to transplant their little plants in the garden plot that volunteers from the co-op building. The youth were encouraged to decorate their micro-plots with painted rocks to help them recognize the plants they put in the soil. They also noticed the changing shapes of each plant and learned to recognize good and bad "weeds."
Come harvest time, the children learned to gather vegetables, wash them and make a salad. At the end of the season, the children learned how to put the garden to bed by keeping the perennials uncovered and planting garlic in the middle. The children recognized the importance of adopting environmentally sustainable ways of growing their own vegetables and committed to continue gardening next year.
Learn more about CHF Canada's Greener Co-op Microgrant program and the many partners and sponsors that make this initiative possible, including the Community Housing Transformation Centre.
---
Don't miss out on the latest co-op news, success stories, and helpful resources for your co-op. Sign up here to receive our eNews every two weeks straight to your inbox!