Observing the National Day for Truth and Reconciliation
Published October 13, 2022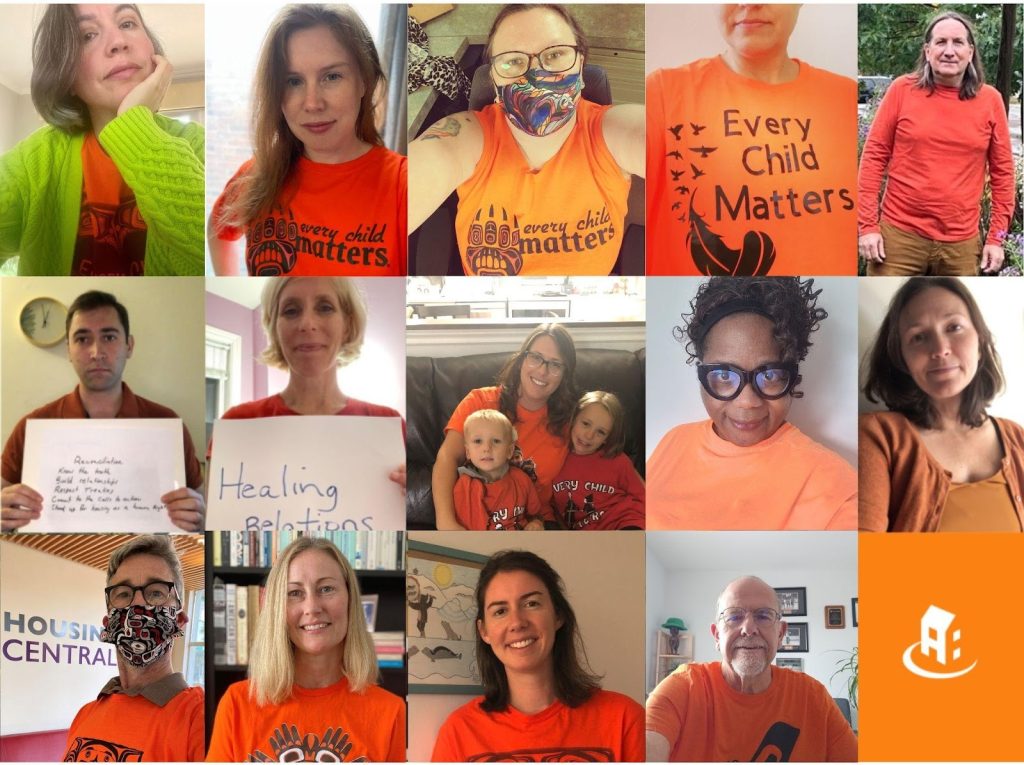 Sept 30 was Orange Shirt Day and the second National Day for Truth and Reconciliation. CHF Canada members and staff took time to listen, learn and support.
Here are how some CHF Canada staff observed September 30.
Barbara S: In the last year I have been following along two free online courses: Indigenous Canada as well as U of T's Aboriginal Worldviews and Education.  I have covered roughly 80% of the content, so on Sept. 30 I will most likely continue and see if I can finally complete at least one of them.
Caroline C: Like Barbara, I am taking the Indigenous Canada online course from the University of Alberta. I'm grateful for the opportunity to spend time on this day reflecting on this painful part of our history
Cynthia M: Albert Dumont has been leading efforts to change the name of the 'Sir John A. Macdonald' parkway here in Ottawa to the Kichi Zibi parkway. He wrote a blog about his efforts last year, calling for folks to join him on a walk on September 30th. I'll be joining the walk.
Dallas A: I plan to watch a selection of the NFB short films that have been curated for National Truth and Reconciliation Week, featuring stories about residential schools and their Survivors, and the impact that residential schools still have on Indigenous families.
Daniele B: I will be spending the day reading In My Own Moccasins By Helen Knott, watching various Indigenous made movies on the NFB website and making a larger donation to the Native Woman's Association of Canada.
Jessica B: I will be reading CHF Canada's Reconciliation Toolkit, listening to In My Own Moccasins audiobook  and hoping to dig into some research on the street where I grew up, Indian Grove.
Scott J: I will be joining an Orange Shirt Day march in my neighbourhood of East Vancouver.
Simone S: I plan to read the 2022 Massey Lecture 'Laughing with the Trickster' by Tomson Highway.
Tim R: Every month, I've been invited to a talking circle organized by folks from Thunder Woman Healing Lodge and the Toronto Council Fire. The group is exploring the development of culturally appropriate, by Indigenous, for Indigenous housing. I'm mostly attending in listen/learn mode, and focused on relationship building.
Patricia T: I will be reading the Five Little Indians book by Michelle Good  I just bought, having dinner time trivia with my kids about the Algonquin People and lands we live on and hoping to visit the Friendship Center.
---
Reconciliation with Indigenous peoples is something that CHF Canada continues to work towards.
In 2018, CHF Canada members passed a resolution calling on both CHF Canada and its member co-ops to work towards reconciliation.
CHF Canada worked with consultant Jackie Hogue to create Building Better Relationships: A Reconciliation Toolkit to help us on our reconciliation journey.
If you have stories or photos of how your co-op observed Orange Shirt Day and the second National Day for Truth and Reconciliation, please send them to info@chfcanada.coop or share them on CHF Canada's social media channels.
---
Don't miss out on the latest co-op news, success stories, and helpful resources for your co-op. Sign up here to receive our eNews every two weeks straight to your inbox!