"Homes Within Reach": Rental assistance campaign launched in Nova Scotia
Published November 08, 2023
At CHF Canada's Atlantic Summit on October 21, we launched a new Homes Within Reach campaign for provincial rental assistance in Nova Scotia.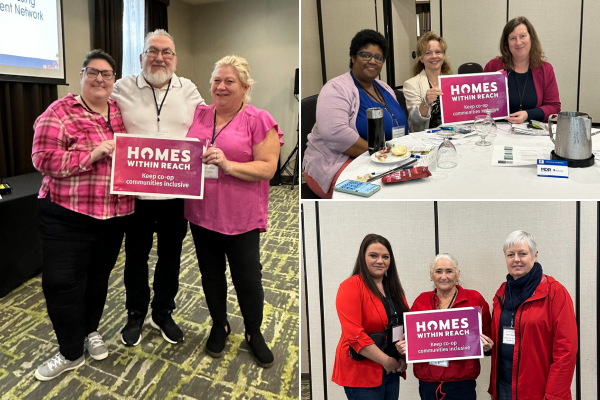 At our 2023 Annual Meeting, delegates passed Resolution #4 which prioritizes advocacy for long-term rental assistance for low-income households living in co-ops. This provincial campaign is one result of the resolution.
Rental assistance programs are a simple way to help low-income households cover the cost of rent and weather the increasing cost of living. The Nova Scotia government needs to commit to long-term rental assistance programs for low-income households in co-op and non-profit housing, so people can live and thrive in Nova Scotia.
The first goal of Homes Within Reach is to have Nova Scotia co-op Board of Directors pass a resolution in support of the campaign. If you live in or work for a Nova Scotia co-op, make sure the resolution is on the agenda for your Board of Directors' November meeting, and return it to us by December 15. Two co-ops managed to get the resolution passed before their November meeting – thanks for your speedy participation!
The co-op housing movement gets things done by working together so our voices are heard. Let's get as many co-ops as possible to pass this resolution!
Visit the campaign webpage to download the resolution, request posters, or share on social media.
It's time to fight for rental assistance. Together, we can make homes within reach for everyone.
---
Don't miss out on the latest co-op news, success stories, and helpful resources for your co-op. Sign up here to receive our eNews every two weeks straight to your inbox!